Unique LED Cocktail Table, Rechargeable Battery Powered
Brand: Colorfuldeco
Manufacturer: Colorfuldeco
We are a professional LED furniture factory offering customized various models of LED cocktail tables, stools, chairs & other LED furniture.
These LED bar tables light up your party event, of your aisle, or around your event. Make the atmosphere exciting. Soft LED light diffuses from these free-floating spheres in static white, chromatic or ever-changing colors for a magical effect. Made of unbreakable waterproof polyethylene.
Elevate Your Bar and Events with LED Cocktail Table C116 - Factory Wholesale Price
Your bar and event planning business demands a touch of brilliance. Our LED Cocktail Tables are here to ensure that every cocktail you serve and every event you plan is nothing short of magical. These tables illuminate your space with an enticing array of colors, casting a spell of sophistication and wonder.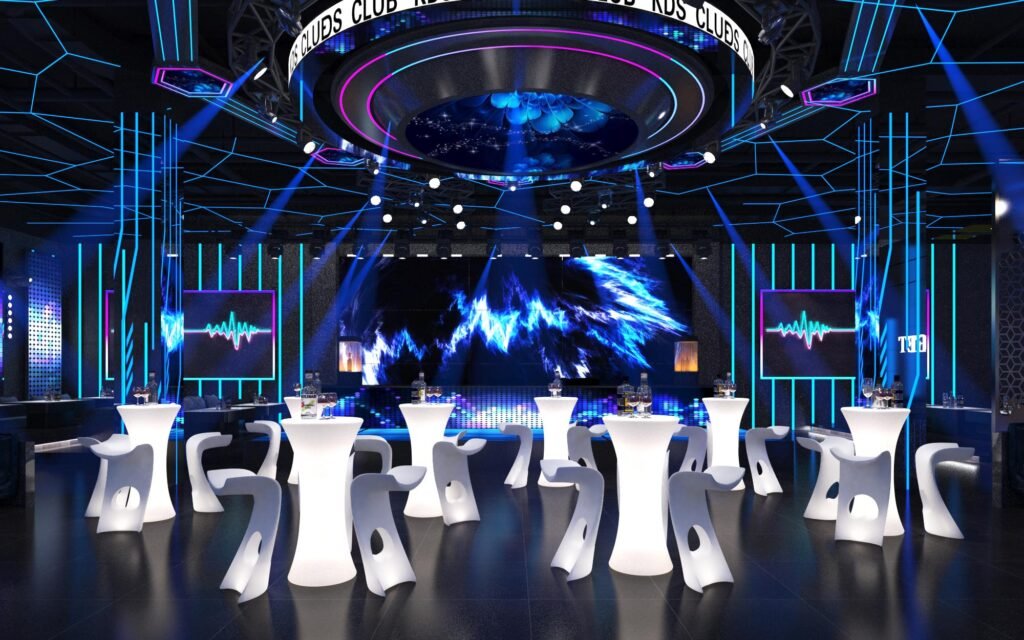 Our product C116 is an LED cocktail table. We also usually call LED cocktail tables that light up cocktail tables or LED tables. In a word, it is a luminous table consist of Line Low Density Polyethylene(LLPE). These cocktail table lights are a great alternative to the regular high-boy table. The light table is battery-powered and can stay illuminated for up to 8-10 hours without recharging. They can be set to a single color, different top, and bottom colors to create fades, fade colors, or various other programs.
Lighted Cocktail Table - Create the Perfect Ambiance
Whether it's a bustling bar night or a swanky corporate event, the right ambiance is everything. Our glow Lighted Cocktail Tables offer you complete control. Pick from various lighting effects and colors to set the mood you desire. Watch as your guests revel in the vibrant, immersive atmosphere you've crafted.
Shine Bright in Your Industry
Illuminated cocktail tables allow you to stand out in your industry, impress your clients, and set new standards in the bar and events world. Be the go-to destination for those seeking unforgettable nights and spectacular gatherings. They're the key to building your reputation as an event planner or bar owner who consistently delivers extraordinary experiences.
Our Colorfuldeco LED cocktail table display video
Colorfuldeco Event cocktail table decor furniture with LED Lights
Perfect for trade show center tables and special event furniture. Visual color combinations can be aligned or matched individually by strategically placing tables in areas while utilizing color controls. If you're looking for new and unique party furniture, keep checking out our unique custom-designed LED cocktail table furniture!
Our illuminated cocktail tables is suitable for outdoor weddings by pure white theme symbolizes the purity and beauty of love. You also can put LED cocktail table in front of the hotel, where the RGB color of the light up bar table will attract customers. If it's you or your client who wants to host an outdoor drinking party, our LED cocktail table can be easily handled day and night.
You can also place LED cocktail tables indoors. Especially in the bar, nightclub, the environment colorful and our RGB colors are a perfect match! Of course. If you want to create a pure, stylish atmosphere, choose single color from thousands of colors will completely meet you.
Product features of light up tables
1. Polyethylene (PE) is a kind of thermoplastic material, not easy to broken but suitable for long time delivery
2. Non toxic, safe for human healthy
3. Rechargeable battery and remote control
4. Multi-colors change & color selection
5. Anti UV & waterproof
6. Adopt the EPISTAR led chip to ensure the color quality and life time
7. Certificate: CE, ROHS, etc.
The advantages of light up cocktail tables
On the outside, the curving LED cocktail table comes with a very elegant look. The top is a circle, which makes people feel very harmonious. Especially compared to other illuminated cocktail tables, such as the C111 the top is a square LED RGB cocktail table.
For color selection, we use RGB color. This means you can download a mobile APP and pick any color you want from the three colors of light.
At the same time, our glow bar stool is perfect for matching outdoor LED cocktail tables. If you are interested in it. Now click here!
1. The Advanced light panel.
Usually, red, green and blue constitute the three primary colors of sun light. When the concentration of the three reaches 100%, the color of light is white.However, it is a very power-hungry way of doing it. Therefore we added a white light bead, so that our panel can work 25% longer than normal products.
2. Customized functions
Another great feature to these tables are the option to customize with a logo or design. Whether you have a company party or your wedding date in mind, these Cocktail tables will make a great fit!
3. The warranty period
We offer a 1-year warranty on the lamp holder and a 3-year warranty on the housing. This means that as soon as it breaks down, we'll give you a brand new one within a year. Similarly, if the shell is broken, we will send it to you by international express without any reason to replace the shell.
4. The Quickly reply
If you would like to know more details about LED cocktail table, please contact our salesman. Due to the time difference, we may reply to you later, but generally it will not take more than 8 hours.
The Application of outdoor illuminated cocktail table
Make your place gorgeous, sparkling:
1. Home use, like the garden, patio, home bar, living room, etc.
2. Party and events, like birthday, dancing party, festival decoration, Christmas decor, music
concert, wedding, company events, etc.
3. Entertainment, like the bar, nightclub, KTV, disco, bistro, pub, salon, SPA, cabaret, etc.
4. Catering, like the hotel, restaurant, tea house, coffee shop, etc.
Product name: LED cocktail table
Product model: C116
Product color: white
Product material: PE plastic
Product size: 58 x H110 cm
Product weight: 8 kg
Product battery powered: Li-ion Rechargeable Battery(4000mAH)
Voltage: AC 100V-240V
Adaptor: DC 5V adaptor
Light: RGB Light
Charging time: 4-8hours
Working time: 10-12hours
Waterproof standard: IP65
Lighting mode: Intelligent remote control
1* Adaptor (Plugs are different in different countries: AU, EU, UK, US)
1* Remote Controller
1* English Operating Manual
You Can Also Choose From Our Elegantly Shaped Event Party Cocktail Tables. This is also one of our most popular cocktail tables
You Can Also Choose From Our Elegantly Shaped Event Party Cocktail Tables. This is also one of our most popular cocktail tables
LED glow furniture China manufacturer
Sell high-quality LED furniture from Colorfuldeco to the world. As long as you place an order, we can deliver the goods to you directly from the factory.
Low MOQ and Door to Door delivery service
The MOQ for most products is 1 piece, and we have a variety of styles to choose from. You can order multiple styles in small quantities. With a variety of mix-and-match options in furniture. And ship them together to save on shipping.
If you are interested in selling our products. Please contact us! You can send an inquiry at the bottom of the page. Due to the time difference, we may get back to you later, but generally within 6 hours.
Q1. When can I get the price?
We usually quote within 24 hours after we get your inquiry.
If you are very urgent to get the price, please call us.
We hope you can provide specific types or pictures, so you can get a more accurate quote.
Q2. Can I order samples?
Yes, we provide a sampling service to our hospitality and trade professionals. You will need to complete our sample request form. Please note we do charge for our samples, however, we can provide a full refund (minus delivery costs) if the samples are returned to us. Alternatively, if a subsequent order is placed after seeing the samples, we will deduct the cost from your final invoice.
Q3. Are your samples free or need cost?
Actually, it depends on the products.it requires spl cost and freight collection. Pls informed that all spls cost and freight costs can be returned to you after the order is placed. You're welcome to email us for checking.
Q4. Can you do the designs for us?
Yes! We have a professional team with rich experience in product design and manufacturing. We can design and manufacture the products as per your idea. Furthermore, we provide OEM or ODM services.
Q5. Do you provide international services?
Yes, we can deliver anywhere in the world using our network of reliable and fast couriers. If you can't see your country during checkout, please contact a member of our team, so we can calculate a rate for you.
Q6. Do you offer discounts?
Yes, we can offer discounts for members of the trade such as designers, architects, contractors, and hospitality professionals. In addition, we may be able to offer special discounts for large volume orders. Please contact our customer support team with any questions.