Embark on a Love Voyage: Illuminate Your Cruise Wedding with LED Furniture
Embark on a Love Voyage: Illuminate Your Cruise Wedding with LED Furniture
Step into a world where love sets sail and moments become memories aboard your very own cruise wedding. Let the gentle sway of the ocean embrace your union, as each area of the ship transforms into a canvas of dreams.
Ceremony Splendor: Exchange vows against a backdrop of endless blue, with the sun kissing the horizon. Our LED furniture illuminates the ceremony area with a soft, romantic glow, making every word spoken more heartfelt. It's not just a wedding; it's a promise etched in light.
Cruise Weddings with LED Furniture: Where Love Sets Sail, and Moments Sparkle
Cruise Weddings with LED Furniture: Where Love Sets Sail, and Moments Sparkle
Just tell us your dream wedding style and we'll go from there. We have a variety of LED furniture style options – grand ceremonies in the plaza, outdoor venues with the ocean in the background – cruise ship wedding LED furniture packages.
From the gentle lapping of the waves to the twinkle of our LED furniture, your cruise wedding becomes a tale of enchantment. With packages tailored to your desires, we create celebrations that resonate with heart – crafting memories that linger as long as the sea breeze. It's not just a wedding; it's a journey of love.
Perfect Weddings for Cruise Lines with LED Furniture: Where Every Detail Glows with Love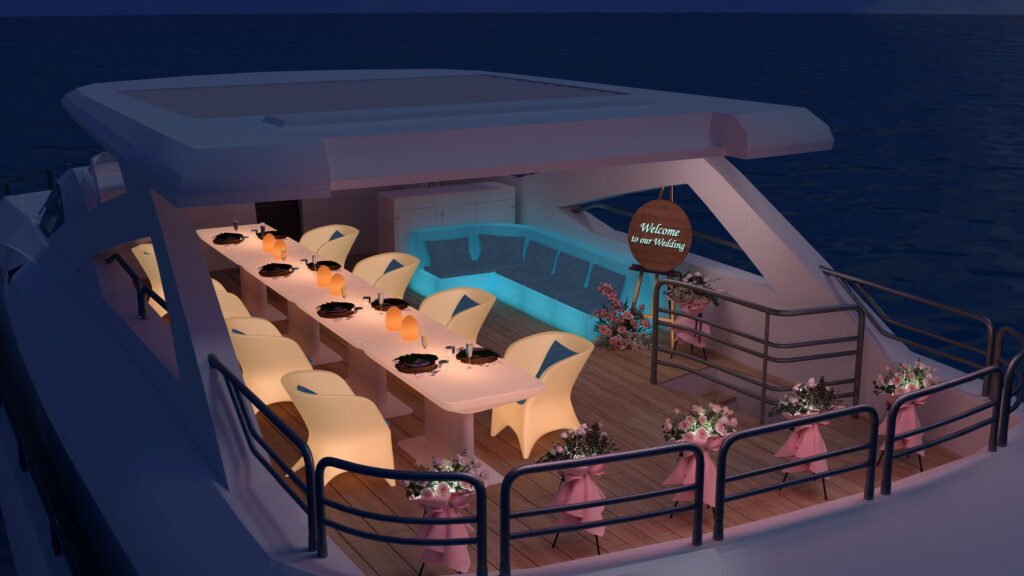 Perfect Weddings for Cruise Lines with LED Furniture: Where Every Detail Glows with Love
As the sun dips below the horizon, the magic of your wedding continues. LED tables and chairs cast a warm, inviting glow on your dining area, creating an atmosphere that's as intimate as it is unforgettable. Enjoy delectable cuisine while the sea breeze carries whispers of enchantment. At the same time, on a cruise or yacht, your guests are sitting on the gorgeous LED glowing party sectionals couch set with Soft cushions and lumbar pillows, feeling unparalleled luxury and comfort.
Joyful Revelry: Cruise ship deck with bar furniture on the High Seas
The LED-lit bar becomes the heart of your cruise wedding reception, where laughter mingles with the soft sea breeze and starlight. The beauty of the night is mirrored in the luminous drinks and the smiles of your loved ones.
Your cruise wedding deserves an extraordinary touch, and our LED bar furniture sets the stage for a celebration like no other. Imagine your guests gathered around a luminous bar, toasting to your love against the backdrop of the open sea.
Our LED bar furniture is more than just functional; it's a piece of art that transforms your wedding's ambiance.
Cruise Wedding Reimagined: Where Elegance Meets the Open Sea.
LED Furniture Magic: Our LED furniture isn't just furniture; it's the touch of enchantment your cruise wedding deserves. From ceremony to celebration, we infuse each moment with an otherworldly glow, crafting an experience that's as unique as your love story.
Tailored to Your Dreams: Every wedding is as unique as the couple, and we understand that. Our LED furniture packages are designed to fit your vision, ensuring that your cruise wedding is a true reflection of your love.
Set Sail on a Love Journey: Your cruise wedding is more than an event; it's an odyssey of love. Let's make your voyage into matrimony a luminous memory that you and your guests will cherish forever.
Dance in the Light: Contact us today to illuminate your cruise wedding with LED furniture. Let's weave the brilliance of light into the tapestry of your love story.
Quality and Service For You
Colorfuldeco glowing LED cruise event furniture supplier is offering its services 24/7 and giving you peace of mind. We provide reliable services and products compared to our other competitors.
Low MOQ and Door to Door delivery service
The MOQ for most products is 1 piece, and we have a variety of styles to choose from. You can order multiple styles in small quantities. With a variety of mix-and-match options in glow yacht furniture. And ship them together to save on shipping.
Order with us today, Request More Purchasing Exclusive Offers. If you have any questions about our range, fill out an online inquiry form, and we'll answer as soon as possible.
In case of any outstanding issues, Colorfuldeco commits to resolving the problems by the agreed date. We pride ourselves on having 100% customer satisfaction since our inception.
Contact Us Now For A Detailed Quotation
The most popular LED furniture products for weddings on a cruise includes: