LED Furniture Transforming Corporate Team Building Event On Yachts
LED Furniture Transforming Corporate Team Building Event On Yachts
Step aboard your luxury yacht or cruise and step into a realm of relaxation and connection. Imagine the Light Up LED Couch Set With Soft Cushion Lumbar Pillow inviting your guests to sink into plush comfort, surrounded by a gentle glow that sets the perfect ambiance. The glow outdoor light cube seats scattered across the deck create cozy corners for intimate conversations under the starlit sky.
At the heart of the gathering area stands the LED Bar End Table, an exquisite piece that not only serves as a functional table but also emanates a soft radiance, making it a focal point for mingling and networking. Nestled nearby is the LED Outdoor Light-up Armchair, a blend of sophistication and comfort that beckons guests to unwind while immersed in the soothing glow.
For larger groups, the Large LED Bar End Table takes center stage, offering a hub of interaction where attendees can indulge in refreshments, share stories, and foster connections. As daylight transitions into dusk, the LED furniture transforms the atmosphere, creating a captivating scene that reflects the spirit of your event.
Whether you're a hotel resort owner aiming to enhance your guest experience, an event planner orchestrating memorable occasions, or a yacht owner seeking to elevate the onboard twilight deck gathering, these LED furniture pieces unite sophistication, relaxation, and vibrant illumination, promising an extraordinary experience that your guests will treasure.
LED Furniture Elevate Your Yacht Poolside Entertainment Oasis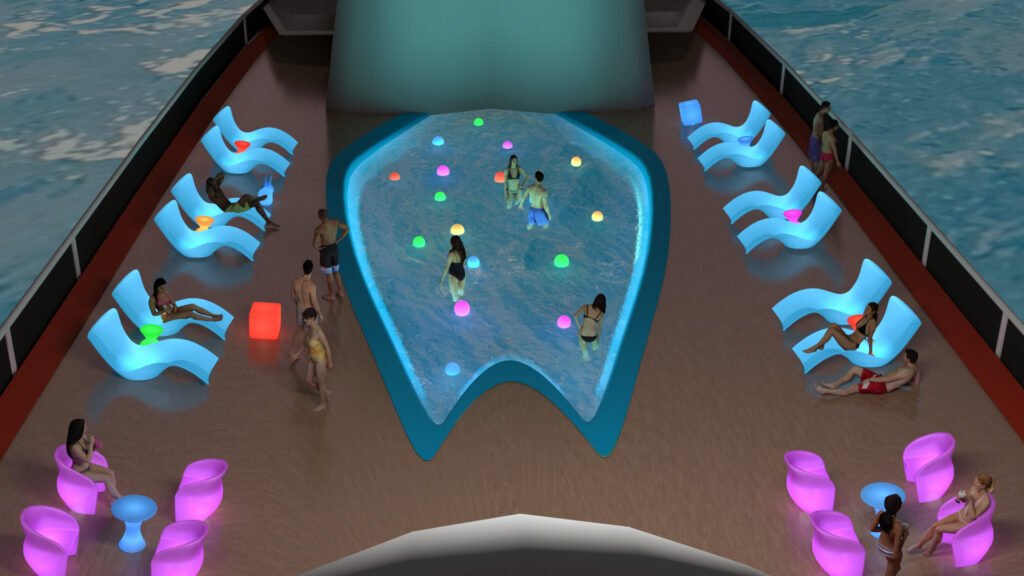 LED Furniture Elevate Your Yacht Poolside Entertainment Oasis
Immerse yourself in a world of elegance and excitement on the deck of your yacht, where the LED lounge chairs for pool deck create a picturesque lounging area by the glistening water. As the sun dips below the horizon, these lounge chairs emit a gentle radiance, turning your poolside into a haven of relaxation and sophistication.
Adjacent to the pool, the LED Single Light Up Couch invites guests to unwind in luxurious comfort, bathed in the soft glow that mirrors the shimmering reflections of the water. This cozy oasis becomes a focal point for conversation and laughter, making it an ideal venue for corporate team-building events to bond and make new connections.
Picture the evening transforming into a spectacle of enchantment with the addition of floating glow balls for pool. These mesmerizing orbs gently drift on the water's surface, casting a captivating glow that dances across the waves. Meanwhile, the LED cube solar lights strategically placed around the pool deck create a magical ambiance, guiding your guests as they navigate this stunning environment.
Whether you're a hotel resort owner seeking to elevate your poolside experience, an event planner envisioning unforgettable aquatic soirées, or a yacht owner aiming to offer an extraordinary recreational space, these LED furniture pieces infuse glamour, relaxation, and a touch of magic into every moment. Let your guests revel in the allure of the LED-lit aquatic wonderland, an experience that captures the essence of luxury and adventure.
Crafting Luxurious Moments: Elevate Your Yacht's Bar Area with Our LED Furniture Collection
Crafting Luxurious Moments: Elevate Your Yacht's Bar Area with Our LED Furniture Collection
Welcome to a realm of opulence aboard your yacht or cruise, where every detail exudes sophistication. As the sun sets over the horizon, the LED bar counter comes to life, casting a mesmerizing glow that sets the tone for an evening of elegance. Imagine your guests being drawn to its radiant charm, savoring drinks and laughter in an ambiance that's beyond extraordinary.
Envision our Glow Drink Stools adorning the bar, their soft luminance adding a touch of allure to the atmosphere. The Drum Shape LED Light Up Stools create a focal point that commands attention, infusing the space with an enchanting aura that's perfect for intimate gatherings or celebratory moments.
For a corner of relaxation and camaraderie, our Small Lounge Lighted Coffee Table of the hookah lounge captures the essence of leisure in its glowing embrace. And when it's time for a larger congregation, our Party Sectionals Couch Set with LED Lights transforms the area into an event lounge space that radiates grandeur.
Whether you're a yacht owner seeking to impress, a resort manager aiming to redefine luxury, or an event planner curating unforgettable experiences, our LED furniture collection is your gateway to crafting magical moments that resonate long after the waves have subsided
Quality and Service For You
Colorfuldeco glowing LED yacht event furniture supplier is offering its services 24/7 and giving you peace of mind. We provide reliable services and products compared to our other competitors.
Low MOQ and Door to Door delivery service
The MOQ for most products is 1 piece, and we have a variety of styles to choose from. You can order multiple styles in small quantities. With a variety of mix-and-match options in glow yacht furniture. And ship them together to save on shipping.
Order with us today, Request More Purchasing Exclusive Offers. If you have any questions about our range, fill out an online inquiry form, and we'll answer as soon as possible.
In case of any outstanding issues, Colorfuldeco commits to resolving the problems by the agreed date. We pride ourselves on having 100% customer satisfaction since our inception.
Contact Us Now For A Detailed Quotation
The most popular LED furniture products for holding company events on yacht includes: