Modular Outdoor LED Lighting Curved Bench
Brand: Colorfuldeco
Manufacturer: Colorfuldeco
Remote control waterproof rechargeable outdoor LED lighting curved bench is an outdoor chair that is designed not only to function as a seat. It is a reliable led lighting furniture too! It can draw much attention with its elegant design and sophistication. Plus, if you want to change the mood and use it for parties, you only need to switch lights, and it is ready for some groovin'! Directly from the China factory to your warehouse.
Modular outdoor LED lighting curved bench for wholesale
Colorfuldeco is proud to introduce another iconic lighting solution that provides an eye-catching effect with utility and style, the multicolor AND modular outdoor LED lighting curved bench for wholesale.
When it comes to appearance, this bench is atypical and stunning. There is balance in function, focus on the latest technology, and lighting efficiency. Hence, it can serve as a bench or a light, and it will work great for both purposes.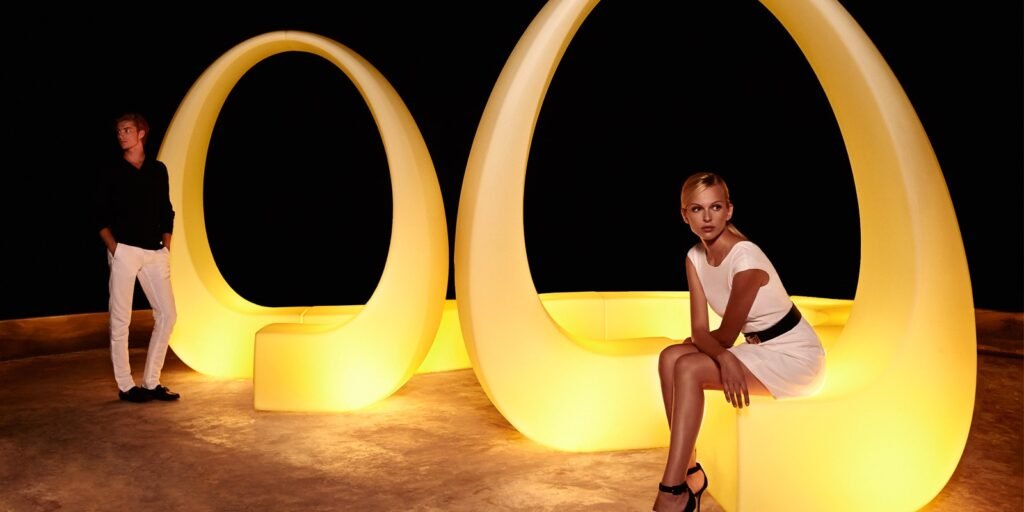 Detail Oriented
This LED lighting furniture has a unique architectural design that draws people's attention. Powered by LED lights, this multicolor RGB LED lighting outdoor curved bench is excellent in illuminating its surrounding environment. This AND Modular RGB bench aims to provide a spectacle that can make the product look better without hampering its productivity. Thus, it only shows that the modular concept focuses on form and function.
Beyond its look, you may also notice the smoothness of its surface that depicts comfortable sitting. It is easy to clean and move around, and children are safe to use the light up bench despite the lighting incorporated into it. The reason is that it is wireless and portable, so electric lights will not be a nuisance at all. However, with its weight, perhaps moving from one place to another may need some effort.
On-Trend Technology
In terms of technology, the AND Modular Bench uses highly efficient LED lights. It utilizes different colors and hues to conform to the demands of the place or location. With the artistic look of the AND modular bench, it will be perfect for offices, hotels, and resorts.
Create an inviting place by setting up good exterior lighting. Aside from the enchanting view, the modular led bench can ensure safety for the elders who can not see clearly in the dark.
So, whether you want to install this to highlight or improve the look of your office, restaurant, hotel, or your garden, you can be sure that it will not only prove its aesthetic attribute but will illuminate the perimeter of the place as to how you intend to.
Product Name: Modular outdoor LED lighting curved bench
Product model: D109A
Product color: white
Product material: PE
Product size: 40 x 70 x 250 cm
Product weight: 35 kg
Product battery powered: Li-ion Rechargeable Battery(2000mAH)
Voltage: AC:100V-240V
Adaptor: DC 5V adaptor
Plug type: US 2 pin plug
Light: RGB Light
Charging time: 4-8hours
Working time: 10-12hours
Waterproof standard: IP65
Lighting mode: Intelligent remote control
1* Adaptor (Plugs are different in different countries: AU, EU, UK, US)
1* Remote Controller
1* English Operating Manual