Winter, a season of wonder and magic, opens its arms to celebrations and joy at winter carnivals. How can we make these moments even more special? The answer lies in the captivating world of LED furniture. In this article, we will unravel the secrets of turning your winter carnival into an enchanting wonderland with the mesmerizing glow of LED furniture.
Glowing into the Festivities: LED Furniture at the Heart of Winter Revelry
As the sun sets early, imagine guests arriving at your winter carnival, guided by a path of softly glowing LED lights. They step into a wonderland where LED Playground Landscape Forms Bench offers a welcoming seat and LED sculptures cast captivating shadows. The ambiance is no longer just cold winter—it's a warm and inviting winter wonderland where every corner tells a tale of light.
The Dance of Colors on Ice – LED stools for seating area
At the heart of your winter carnival is the ice-skating rink, now transformed with Color-changing lights pulsing LED Park Long Benches. Skaters take a break and immerse themselves in a colorful light show. The LED lights dance to the rhythm of the music, a visual spectacle that mirrors the joy of skating on ice.
Creating Lasting Memories: LED Furniture for Winter Celebrations
For resorts and lodges hosting winter events, LED furniture transforms the après-ski experience. After a day on the slopes, guests gather around LED-lit party cocktail tables, warming up with drinks in a cozy, radiant setting. LED Party Sectionals Couch Set with cushion and pillow add a playful touch, creating memorable moments and photo opportunities against the backdrop of the snowy mountains.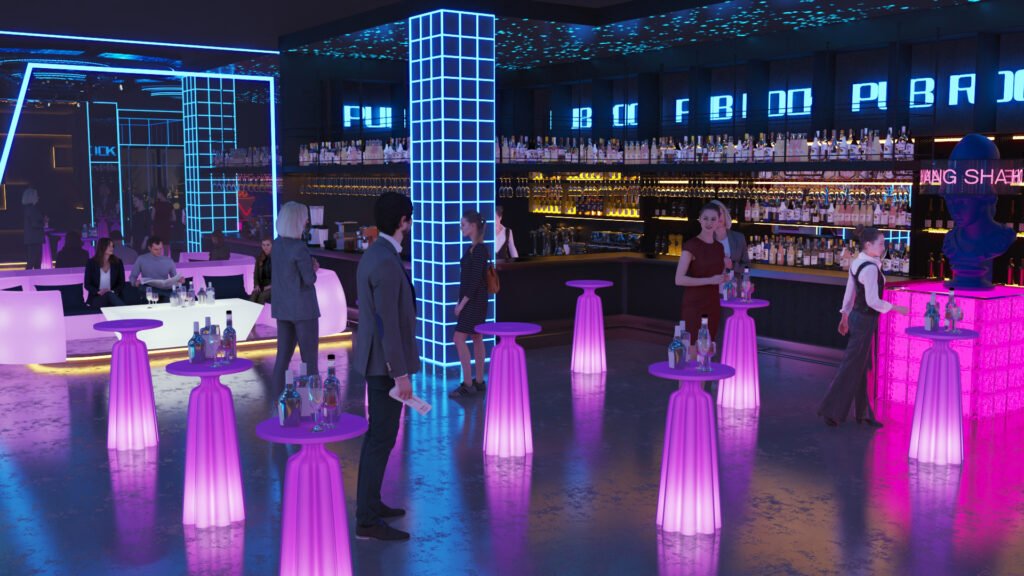 A Toast to Winter Nights at the Bar
Winter nights at the bar take on a new glow with LED bar counters, high tables, and LED stools. The play of lights adds excitement to the air, creating a lively, energetic vibe that resonates with patrons. LED furniture turns a regular night out into a luminous celebration, inviting guests to clink glasses under the vibrant winter sky.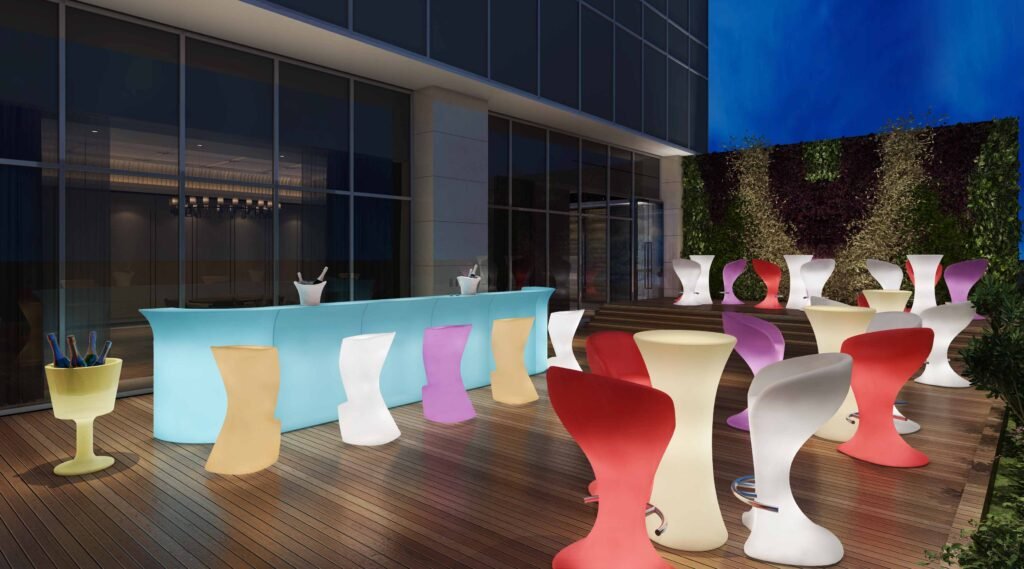 Enchanting Playground: LED Seesaws and Swings
Swinging into the Glow
Imagine a playground in the midst of the winter carnival, illuminated by the soft glow of LED swings. Children and adults alike revel in the playful experience of swinging amidst a shimmering sea of lights. LED swing chairs offer a magical escape, a chance to relive the joy of childhood, all under the enchanting winter stars.
Glowing Seesawing under LED Constellations
LED seesaws, like seesawing under a starlit sky, bring pure delight to the carnival. As riders lift and descend, the LED seesaws emit a gentle, colorful light, adding an element of wonder to the carnival. It's a magical play of balance and light, creating a memorable carnival experience for all.
Radiant Rest: Curving into Comfort LED Arched RGB Outdoor Benches
Arched RGB LED lighting outdoor curved bench offers a delightful seating experience, illuminating the paths and resting areas of your winter carnival. The gentle curve of the bench glows softly, providing a serene spot for tired visitors to rest. Imagine a pathway adorned with these glowing arches, guiding your guests through the carnival with a warm, inviting light.
Brighten Up Your Winter Carnival: Choose Colorfuldeco LED Furniture
As you plan your Winter Carnival, let Colorfuldeco LED Furniture illuminate the magic. Our extensive range of LED furniture, including outdoor luminous game pieces furniture, ensures your event stands out. Imagine the gasps of awe, and the smiles of wonder—all possible with our LED furniture. Let's turn your Winter Carnival into an enchanting experience, leaving lasting memories for all.