Large-scale activities need a very close activity planning plan. As a creative activity, large-scale activities are very difficult for the event planner and organizer. Let's take the example of a Christmas party:
Christmastime is the best time of the year!
If you like Christmas and are looking for fun Christmas decorating ideas. Look at this article. We can guarantee: You'll find lots of inspiring Christmas decorating ideas in this article! Check out our suggestions and let us convince you! Take a look and convince yourself of the glory of the holiday season!
We introduce you to the best Christmas outdoor decoration ideas
Whether it is a residence, work, entertainment and leisure place, or artistic pursuit. Glow games entertainment facilities are a good investment. Because anyone will be attracted by its fun.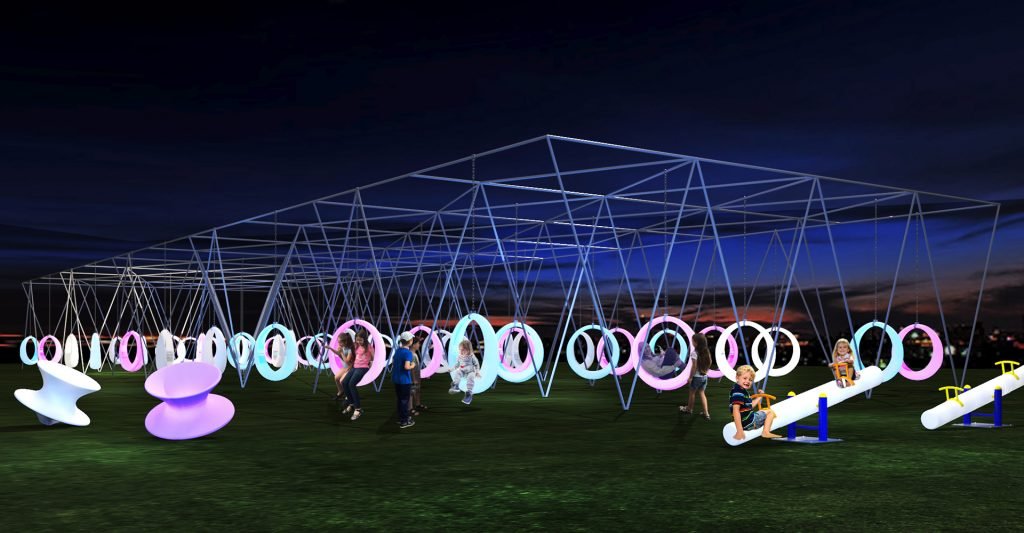 1. Outdoor Hanging LED half moon swings
A beautiful quote goes like this: "Tell me the story of how the sun loved the moon so much that he died every night just to let her breath. "It's not just about romance. So if you're planning a wedding, designing a park, or even in his yard, our moon and your swing – LED half moon swings. More product details…
2. Pendant LED Swing Chair
A pendant word "pendre" and the Latin word "pendere" which means "to hang down"-Wikipedia. But inspired designers add the ability to swing freely on this basis. In Ancient Egypt, Pharaohs normally wore scarab beetle pendants to symbolize their wealth and power-Definitions.net. Because of its shape, we also call that teardrop swing chair.
Use an LED swing chair to show your unique creativity and strong economic strength. Of course, the most important thing is to create a romantic environment and let guests have fun!
3. heart-shaped light up swings
Heart-shaped pendants usually symbolize love, affection, or at least affection for someone. So in the appearance, our talented designers combined the features of the circle and the triangle. Based on the circular swing, heart-shaped light up swings shaped like a thickened ring were made. This kind of lighted swing symbolizes happiness of different ages and people's yearning for colorful life. Just as the meaning of our slogan: make your life colorful!
Colorful outdoor seating
Light swing chair
Advertising play chair
Plaza/park entertainment facilities
4. Bluetooth round glow swings
Different from traditional swings, mostly they are suitable items as outdoor furniture, such as glow swings on the lawn in Boston or light upswings at lighting shows in Vancouver. In addition, our Bluetooth round glow swings are suitable for patio, park, cell, indoor and events. More product details…
Our Colorfuldeco's LED seesaw adds fun and functionality to any entertainment venue. In addition, the design of the seesaw is very user-friendly. For safety reasons, a special design is made on the device. To prevent children from hitting sharp devices. More LED seesaw details.
6. Cheap large spun chair
Because of the spun chair's shape, we also call it the Gyro Chair. The outdoor magic spun chair is a good investment through this pandemic. if you feel bored because the large spun rotating chair can be an excellent start for a surprising upgrade, a play area at home for kids and adults. More spun chair details…
7. LED interactive floor tiles
A good dance led floor tiles is one of the main attractions for people. Especially for children want to go to an amusement park, a lighting show. Well, LED interactive floor tiles to stand out when it comes to the varieties available in the market today. Most of the LED dance floor is prepared for adults. But our LED interactive floor tiles are suitable for kids. If you are looking for the best dance floor for kids to buy, these will be the best buy! More LED interactive floor tiles details.
8. Floating glow balls for pool
Due to glow balls for pool being completely waterproof. So it's perfect for any garden, party, or event you're having outdoors. LED pool balls can also be used for garden pond decorations or pool parties. Because glow balls for pool float on the water. All remotes are available, so you can easily turn them on/off and quickly change colors. More glow balls for pool details…..
Finally, we wish you all a good party
Party ideas for 8 glow games. They are sure to turn your activity into an enjoyable one. Before we kick off our Christmas party, let's take a look at what you need to know to organize the best Glow-in-the-dark party ever!
We are a professional LED furniture manufacturer in China. If you have any questions. Email us at the bottom of this page.