LED Seesaw | Playground Seesaw | Colorfuldeco
Brand: Colorfuldeco
Manufacturer: Colorfuldeco
Colorfuldeco LED seesaw made of a high-grade, durable quality Polyethylene plastic that doesn't fade or crack in the sunlight as cheaper PVC-based plastics would. The polyethylene casing is with a subtle surface texture that helps to diffuse light. 
The Colorfuldeco Playground Seesaw adds fun and functionality to any entertainment venue. In addition, the design of the seesaw is very user-friendly. For safety reasons, a special design is made on the device. To prevent children from hitting sharp devices.
LED Seesaw: A Magical Twist to Playtime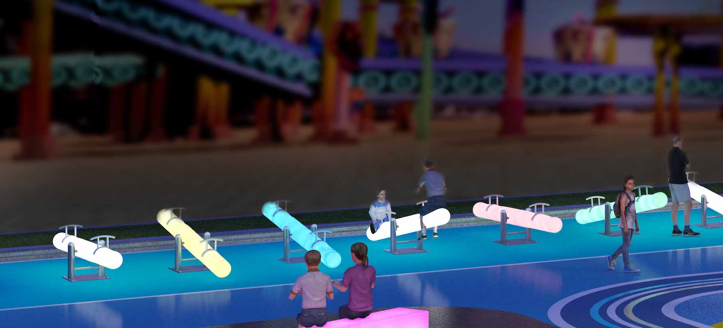 Introducing the LED Seesaw – where playtime takes on a whole new dimension of enchantment and excitement. This captivating playground essential brings the joy of motion and the magic of light together for an unforgettable experience that delights children and adults alike.
Our seesaws for sale are available in innovative styles in a variety of themes, shapes and sizes. To encourage imaginative play and complement your play area. These playgrounds equipment are excellent at helping children develop core upper body strength, coordination, and balance. As the most professional lighting amusement equipment factory in China, safety, and quality are guaranteed.
The functional advantage of our LED seesaw
Our LED seesaw supports 16 color options on the remote control by the free remote control. But if you choose to control the color with your phone, you can choose any color from thousands of RGB colors. Second, there are four color modes to choose from, such fade, smooth, strobe and flash.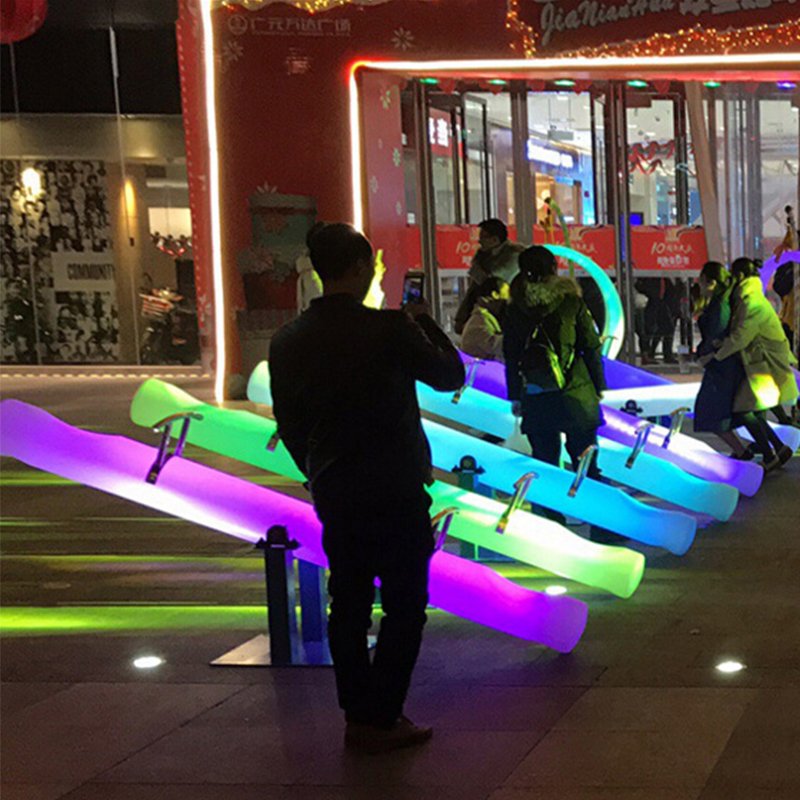 If you forget your remote one day, don't worry. Because any of our LED furniture, including LED seesaw, is perfect for wireless bluetooth phone control. Just download a Happylighting app from the android market or APP store and enjoy the LED seesaw.
Our panel is different from other low-quality panels. Because we use SMD5050 RGB+W leds and 3014 white leds. Its advantage was mentioned in the introduction of Bluetooth glow swing. That is to say our power storage and usage time is 25% higher than other products.
Rainbow of Colors: Watch as the LED Seesaw transforms your playground into a spectrum of hues. With a variety of colors to choose from, every seesaw ride becomes a journey through a world of light.
Interactive Illumination: The LED lights respond to motion, creating a dynamic play of colors that captivates young imaginations. Encourage active play and imaginative adventures with this unique twist on a classic favorite.
Durable Design: Built to withstand the rigors of outdoor play, the LED Seesaw is crafted from high-quality materials, ensuring safety and longevity while adding a touch of wonder to your playground.
1. Public Playgrounds:
Transform community play areas into realms of magic and wonder that captivate the hearts of children and families.
2. School Yards:
Encourage active play and imaginative adventures during recess, making school days even more memorable.
Why Choose Our LED Seesaw
Playground Enchantment:
Elevate your playground's allure with an interactive piece that adds a touch of wonder, encouraging children to engage in active, imaginative play.
Engaging for All Ages:
The LED Seesaw isn't just for kids – it invites adults to join in the fun, creating moments of bonding and laughter that span generations.
Sun-Powered Sparkle:
Our LED Seesaw is equipped with energy-efficient lights that charge during the day, providing a dazzling display of light without the need for external power sources.
The LED Seesaw isn't just a playground addition; it's an experience that turns ordinary playtime into a journey of light and imagination. Let this enchanting seesaw become the highlight of your playground and a cherished memory for all who partake in its luminescent joy.
Our LED seesaw made in China
We are a professional LED entertainment-lighted furniture factory. The factory is in Guangdong, China. So our products are much lower price than the peer in different countries. As long as you place an order, we can deliver the goods to you directly from the factory.
If you want another size of the LED seesaw. Please click here.
If you need to contact us, you can send an inquiry at the bottom of the page. Due to the time difference, we may reply to you later, but generally not more than 6 hours.
Model: A250B-1(small)
Product size: 22 x 22 x 230 cm
Power supply: Connected DC 12V wire directly
Material: PE & Build-in LED lamp wick
Light: RGB Light
Light Color: 16colors changeable or customize a color
Battery: Li-ion Rechargeable Battery(8800mAH)
Lifespan: 50,000h-80,000h
Recharging Time:  3-5hours
Working Time: 10-20hours
Waterproof: IP65
Q1. Do you accept LOGO printing on the product?
Yes, we accept printing. Please send your LOGO to sales people.
Q2. How long is the warranty?
The warranty is one year,under non-human damages.
Q3. What's PE?
Plastic PE, is Polyethylene, characterized by corrosion resistance, electrical insulation (especially high, frequency insulation), low pressure polyethylene suited to make corrosion resistant parts and insulation parts.
Q4. Is it difficult to clean the products after using?
No, you can use alcohol or detergent to clean them, and it will look new.