Party Sectionals Couch Set With Led Lights For Event Lounge Space
Brand: Colorfuldeco
Manufacturer: Colorfuldeco
Elevate your event experience with LED-Enhanced Party Sectionals Couch Set! Immerse your guests in a mesmerizing blend of comfort and style, as LED lights infuse your lounge space with an enchanting glow. Crafted to impress, this couch set is the ultimate choice for hotels, resorts, bars, and event planners seeking to create an atmosphere of luxury and allure.
Ignite your venue with the allure of LED magic and redefine event lounging like never before! LED party sectional couch set with soft cushion lumbar pillow. Now place an order and enjoy exclusive offers.
This product set includes:
1. Corner LED Sectional Sofa With Light.
2. Straight LED Sectional Sofa With Light.
3. Waterproof Soft cushions and lumbar pillows.
Tip:
1. Optional without cushion and pillow.
2. Cushion and pillow and LED lights color can be customized.
Elevate Your Hotel Resort Courtyard Experience with LED Party Sectionals Couch Set
Elevate Your Hotel Resort Courtyard Experience with LED Party Sectionals Couch Set
On this magical night, starlight adorns the peaceful hotel resort courtyard, while your guests are sitting on the gorgeous LED party sectional sofa, feeling unparalleled luxury and comfort. This Party Sectionals Couch Set is equipped with stunning LED lights to transform the yard into an incredible place of brilliance. The soft, water-resistant seat and lumbar cushions provide everyone with the ultimate level of comfort, whether talking about the stars at night or enjoying the first rays of sunlight in the morning.
Whether it's an elegant wine tasting or a chic outdoor gathering, this sofa set will bring a new level of glamor to your hotel resort patio. Activate the LED light to infuse every occasion with a unique glow. Create unforgettable memories with friends, family and guests and make every moment a timeless one. Turn your patio into an inviting event space that immerses everyone in a unique atmosphere.
Let the LED Party Sectionals Couch Set be the shining star of your hotel resort, bringing energy, comfort and beauty to your patio. Let the guests feel the unparalleled treatment and leave a deep impression.
The Colorfuldeco LED sectional couch comes in a variety of colors and can be easily configured to fit any space. At the same time, it can be used with LED Bar End Table landscape patio furniture to create a perfect activity rest area.
Ignite Your Bar's Atmosphere with LED Party Sectionals Hookah Lounge Couches Set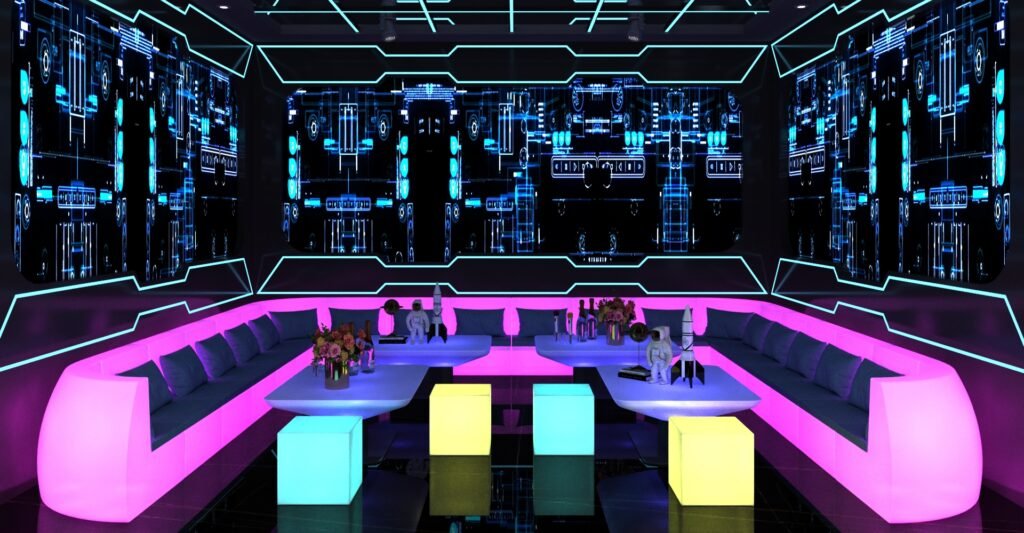 Ignite Your Bar's Atmosphere with LED Party Sectionals Hookah Lounge Couches Set
In your shisha bar, a unique atmosphere is about to bloom. The Party Sectionals Couch Set combines creativity, comfort, and modern technology to bring endless possibilities to your bar. This sofa set is equipped with waterproof upholstery and lumbar pillows for ultimate comfort for your guests.
The lights flicker in the dark, adding a touch of radiance to the entire space. They complement the soft seat cushions and lumbar pillows to create an engaging visual effect. Whether throwing a themed party, special show or simply letting your guests enjoy the night, this hookah lounge couches set will make your bar shine.
In this exciting venue, people come together in unparalleled comfort. This sectional sofa with led light will add incredible charm and bring life to the hookah lounge, injecting endless joy into every moment. Make your bar the highlight of the night and attract more people to experience unique entertainment.
Our LED Party Sectionals blend perfectly with the surround LED cube seat and glow tables in this hookah bar. This is where creativity and fantasy meet, taking your bar to another level. LED Party Sectionals Couch Set will be the corner favorite. Breathe new life into your space, create memorable social occasions for guests, and create fond memories.
Create Unforgettable Beach Club with Glow Party LED Sectional Sofa Set
Against the background of blue sea and blue sky, a unique yacht activity experience is ushered in. We proudly present the LED Party Sectionals Couch Set with Water Resistant Cushion and Lumbar Pillow to add a unique touch of luxury and glamour to your sea club events.
When night falls, LED lights light up this vast ocean. In this striking setting, the Party LED Modular Sofa Set becomes the star of the event. Sitting on soft waterproof cushions, guests were able to bask in the tranquil sea breeze while admiring the soft lights twinkling in the night sky above the stage.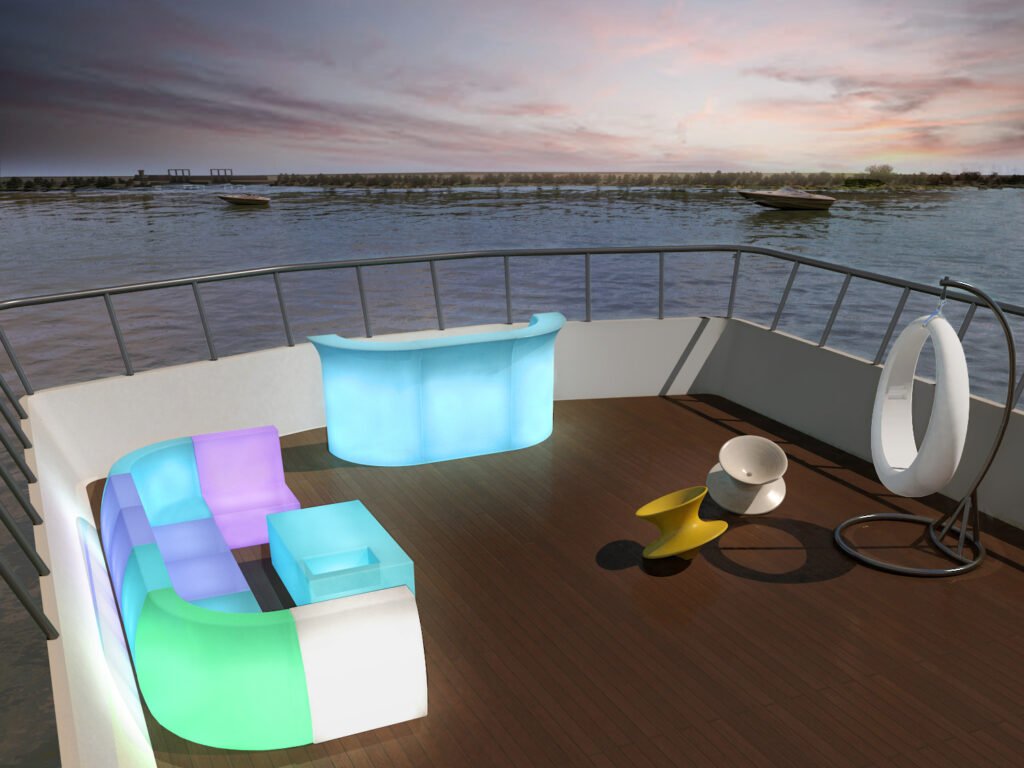 Surrounding LED swing chair, LED counter, and LED bar table pair perfectly with the Party Sectionals couches set in this ecstatic Beach Club event, bringing a unique element to a social gathering, celebration, or dinner. In this immersive light and shadow, event participants will leave indelible memories on board.
Whether it's a sea themed party or a water music festival, our Party Sectionals set will make your event a great addition. Make your marine club a stunning event venue that will appeal to event planners looking for something unique and stunning.
Transform Spaces with Radiant Elegance: Discover LED Furniture Wholesale Solutions with Colorfuldeco
Are you ready to redefine ambiance and captivate your audience? Our LED furniture wholesale collection is your gateway to creating enchanting environments. Elevate events, from exclusive parties to lavish hotels, with our vibrant, waterproof LED furniture pieces that radiate allure and luxury.
Seize the opportunity to mesmerize and innovate! Contact us now to explore our wholesale options and infuse brilliance into your business. Let Colorfuldeco illuminate your path to success. Illuminate, Innovate, Impress – with us, your vision comes to life. Reach out today and embark on a luminous journey!
The individual products included in this night club party sectional couch set with led lights are: