LED Glow Ball for Pool 40 cm, 15.7 Inches, Colorfuldeco
Brand: Colorfuldeco
Manufacturer: Colorfuldeco
LED glow ball for pool 40 cm, decorate, and lightweight up a replacement world of life. This light ball led is that the most versatile light, indoor, outdoor, entertainment, the simplest stage, and prop ideas. Colorfuldeco pool lamp IP68 waterproof, remote control, rechargeable, RGB color change, wireless light ball lamp. Creating a soothing and relaxing environment for both indoors and outdoors.
LED glow ball for pool 40 cm, magnificent LED color changing globe
Stunning luminous sphere with a soft, uniform, and soft color of your choice. LED glow ball for pool 40 cm looks great. And the job is perfect.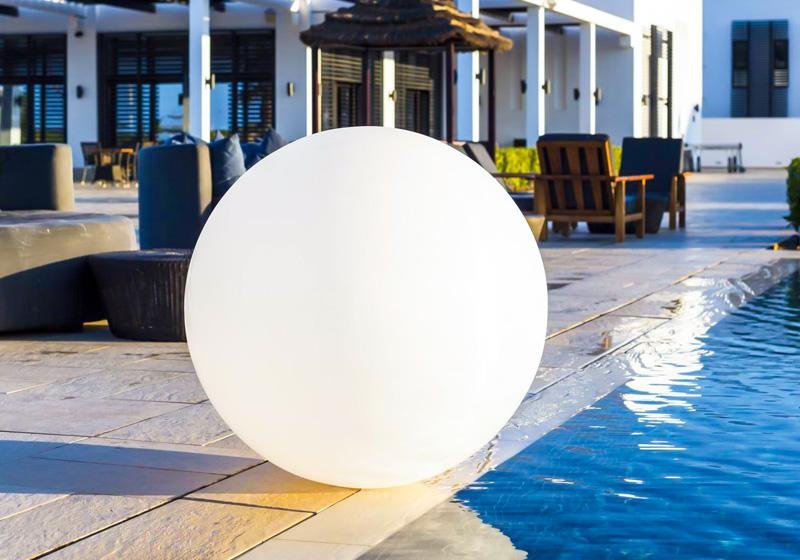 IP68 waterproof: completely waterproof and dustproof.

Throw them within the bathtub or swimming bath.

Portable and rechargeable:  you simply can take with you to bring the simplest light to your event.

It's powered by a chargeable internal battery and lasts 6-12 hours.

Remote control: remote to pick and alter 16 different colors of sunshine, 5 levels of dimming, 4 sorts of cold light transition effect.
Color variations: 16 beautiful RGB colors and 4 lighting modes for perfect indoor and outdoor environments.

Its multiple lighting effects create a special atmosphere.
Great decorative tool - Floating LED glow ball light
Colorfuldeco LED glow ball light is about what you can imagine. Ideal for both indoors and outdoors. Perfect for your yard, pool, garden, patio, home exterior—wherever you need it.
LED glow ball light are suitable for floating on water. It can make any water feature appear bright light.
Floating LED balls are waterproof. Lightweight, they can float in the water. And moving around cleverly. For restful LED functionality. More importantly, floating led pool balls apply to all water features. Including outdoor ponds and ponds, and even running water fountains. 
More novel products are available in LED balls.
Create an elegant, romantic setting for dinner.
At night, it's bright and mesmerizing, the plastic globe is extremely heavy-duty and straightforward to wash. 
Use an LED glow mood lamp to make an awesome atmosphere for a banquet at your rooftop. They're the right touch for your home, rooftop, patio, backyard, pool, more.
40 cm LED glow ball wireless waterproof rechargeable
Waterproof with the IP68 protection class.
Due to light up pool balls are completely waterproof. So it's perfect for any garden, party or event you're having outdoors. LED pool balls can also be used for garden pond decorations or pool parties. Because light up pool balls float on the water.
All remotes are available, so you can easily turn them on/off and quickly change colors.
Light up garden balls are perfect portable lights for our rooftop barbecue area. They work well anywhere on our deck. Because they're waterproof, you don't have to worry about dew or moisture at all.
Portable floating pool ball lights
The 40 cm floating pool ball lights are the ultimate outdoor decorative light for your garden, pool, pond, terrace, wedding, party or outdoor event.
This modern outdoor glowing ball of light floating is the atmosphere light of choice for your home or event. You can even use it as a freestanding modern floor lamp on the terrace. Floating balls for pool is also completely portable. After charging, no main power supply or messy wiring. Great for events. It's certain to impress the guests.
Also, floating light balls are resistant to rain and splashing. The floating balls of light will liven up any pool party, garden pond and water feature. A wide variety of led pool balls can meet all requirements. Available in a variety of colors and sizes, perfect for water displays at home or for decorating indoors and outdoors at large events, parties and weddings.
LED Pool Lighted Balls Showcase Video
Product size: Dia.40 cm
IP Rating: IP68 (completely sealed against dust ingress and moderate water jets)
Rechargeable: 2000mAH, Li-ion Battery
Output: DC 5V 1A
Working time: 8- 16 hours (depending on brightness and color settings)
Recharging time: 2-4 hours
Material Type: Plastic (can float in the swimming pool)
Light Color: RGB 16 color changing freely
Colors and fades controlled by DMX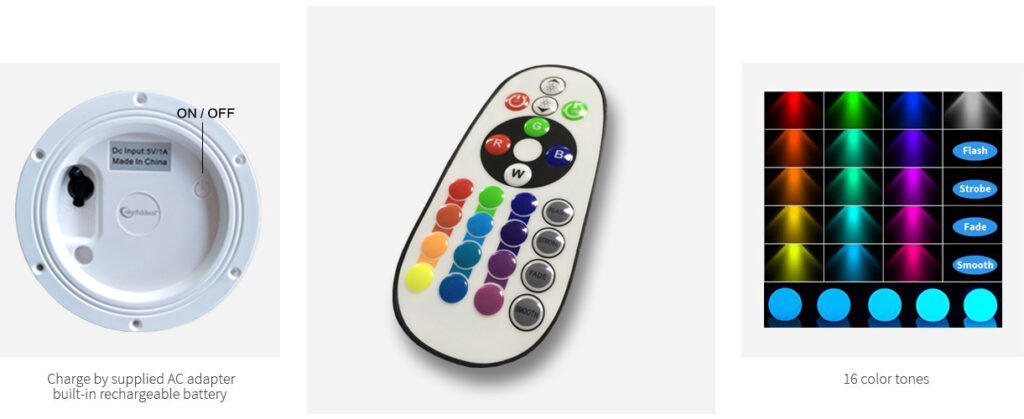 Video of LED lighting balls
The product package includes:
1 x LED shaped light ball
1 x Remote control
1 x USB charging cable
1 x hook
1 x Grounding installation
1 X User manual (with full instructions)
Note:
Because the solar panels are inside the ball lamp. It will need strong sunlight to recharge. This light would be dimmer than light from a non-solar sphere.
If need to use wire charging. Please use the original USB charger to charge the lamp; otherwise,  We could damage the battery.
Application scenario case of light up pool balls
Q1. Do you accept LOGO printing on the product?
Yes, we accept printing. Please send your LOGO to sales people.
Q2. How long is the warranty?
The warranty is 1 year.
Q3. What's PE?
Plastic PE, is Polyethylene, characterized by corrosion resistance, electrical insulation (especially high, frequency insulation), low-pressure polyethylene suited to make corrosion-resistant parts and insulation parts.
Q4. Is it difficult to clean the products after use?
No, you can use alcohol or detergent to clean them, and it will look new.
Q5. What should we concentrate on when using this type of product?
Do not attempt to dismount any LED section and don't place it too on the brink of the hearth and heat area. Use only the charger provided by our company, and skim the user guide sheet within the package carefully before using it.