Outdoor Solar Light Balls LED Solar Powered Sphere, Colorfuldeco
Brand: Colorfuldeco
Manufacturer: Colorfuldeco
The outdoor solar light balls of Colorfuldeco have versatile settings. It can blend in your garden or backyard and provide different kinds of lighting. Its body is durable and made of waterproof polyethylene. So, you can be sure that this solar-powered glow ball can withstand heat and rain.
Outdoor solar light balls, 30x30x30cm
Waterproof and shock-resistant, this is the latest technology for garden lamps, and the outdoor solar light balls 30x30x30cm is the most trusted piece in the market in recent years. 
Cordless, self-charging, made up of polyethylene (plastic), and light-weight- With its new design, the solar-powered ball light soared the market with very high demand. 
The outdoor solar light balls with their clean edges and lines can blend harmoniously into your surroundings. Its design manifests that it can withstand weather elements. 
Solar power - Glow in the dark ball
Honestly, Solar power – Glow in the dark ball, is an excellent combination! Outdoor solar light balls use inbuilt LED lights. The outdoor LED ball with light sources energy from a battery, wherein the converted sunlight passes off as electricity. Solar power is the secret for us to witness a warm glow in the middle of our lawn or patio. 
Another thing to be grateful for is its color changing ball light effect. Since the solar balls use LED lights, you have the option to use a warmer glow from its cool white without fear of causing fire anytime throughout the night. 
There is a broad range of materials we can use to illuminate our outdoors. For one, LED glowing led balls lights have become on-trend for generating lesser heat and consuming lower electricity. But how about led lights coupled with solar power? 
If your garden is full of flowers and grass, which they should be, it can be dangerous to install a piece of electric-powered furniture. There is a higher probability of getting electrocuted. 
Fortunately, the new design and technology of outdoor solar color changing led balls pose lower risks than wired lights. These lights are solar-powered, so the electricity comes from the sun. The built-in battery stores and continuously recharges after every sun exposure. Thus, you can be sure you will not run out of resources just like that.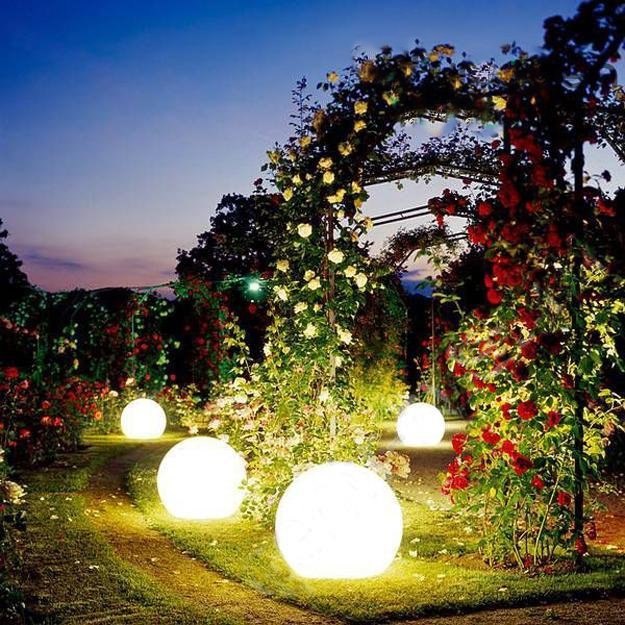 Ground plug solar power - glow ball light color changes video
The product package includes:
1 x LED shaped light ball
1 x Remote control
1 x USB charging cable
1 x hook
1 x Grounding installation
1 X User manual (with full instructions)
Because the solar panels are inside the ball lamp. It will need strong sunlight to recharge. This light would be dimmer than light from a non-solar sphere.
If need to use wire charging. Please use the original USB charger to charge the lamp; otherwise,  We could damage the battery.
Q1. Do you accept LOGO printing on the product?
Yes, we accept printing. Please send your LOGO to sales people.
Q2. How long is the warranty?
The warranty is one year,under non-human damages.
Q3. What's PE?
Plastic PE, is Polyethylene, characterized by corrosion resistance, electrical insulation (especially high, frequency insulation), low pressure polyethylene suited to make corrosion resistant parts and insulation parts.
Q4. Is it difficult to clean the products after using?
No, you can use alcohol or detergent to clean them, and it will look new.