Whether you're looking for decorative accents or functional lights that can illuminate your pool for nighttime swims, the best floating led pool balls light come in all shapes, sizes, and colors that cycle between colors. At the same time, you can customize it according to your experience. However, since every pool is different, there are a few things you need to consider when shopping.
How many LED pool floating balls lamp do you need?
The number of LED pool floating balls lights needed to properly illuminate a swimming pool obviously depends on the size of the pool. As a rule of thumb, the general recommended requirement is to aim for 5.4 watts per square meter (0.5 watts per square foot).
Generally speaking, spherical pool lights range in diameter from 3 inches to 14 inches. However, if you're looking for pool-friendly tea candles or floating portable lanterns, you may find smaller options. It's crucial to find the right size for your pool, so they don't take up too much space and get in the way of your nighttime swims.
What color pool lights do you need for your backyard?
If you want a variety of shades, be sure to choose color-changing LED pool lights. You can choose the colors of the lights with a tap of the remote, and you can change them at any time. Another option is a pack of lights in different colors. Or, if you want to keep it simple, you can always use white pool lights.
If you are not sure how to choose the best float lights for your swimming pool. As a professional swimming pool decorative light manufacturer, we can provide you with many options. And, if you want to dress up your entire pool, here are some of the best pool entertainment for adults and kids alike.
Recommend the best solar floating LED pool lights for your backyard that will beautify any pool
Solar floating LED pool lights can be used for a variety of purposes. On the one hand, they add a wonderful aesthetic to your backyard oasis, bringing light and color to your home's favorite features, even at night. They also have important safety features. Because you can have a pool bikini bar party in the dark. Or floating pool lights for wedding.
1. Various sizes and colors of pool light up balls lights
You can try different combinations of sizes. Every Earth is solar-powered, so they charge naturally throughout the day. They also turn on automatically once it gets dark. These floating solar white glow balls for pool. If they are out on a sunny day, they will glow at night. Super cute pool decor. The waterproof ball is made of high-quality polyethylene and has bright LEDs. Each light also contains a rechargeable lithium battery that glows for up to 12 hours per charge.
Click here for more light up balls lights in different sizes.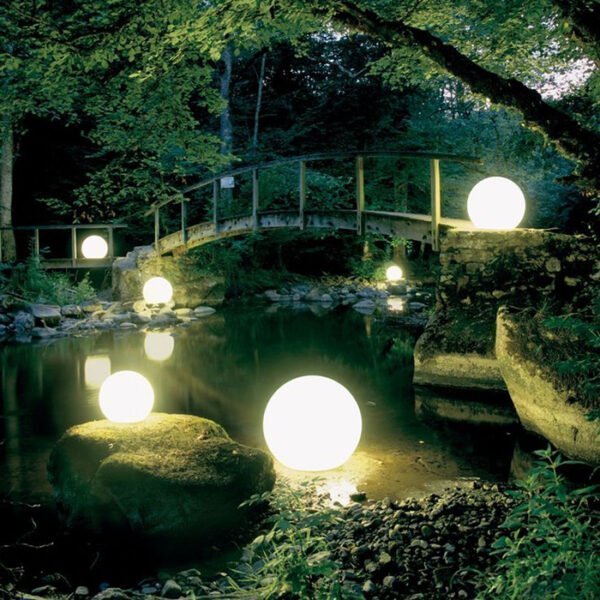 2. Bluetooth LED floating pool ball speaker and pool light combination
Our battery-powered waterproof LED Wireless Speaker Ball Lights not only adds fun to your pool but also double as a floating Bluetooth speaker. This roughly 9-inch ball light features seven different color-changing themes, and you can even set it to flash slowly or quickly. You can also set it to red, blue, or green for consistent colored light only. On top of that, this floating light also includes a high-fidelity Bluetooth speaker, so you can listen to your favorite songs while swimming. This Bluetooth pool light has a lithium-ion battery that lasts 8 to 10 hours on a single charge and can be easily charged with the included USB charging cable. See more swimming pool Bluetooth LED speaker lights in different sizes.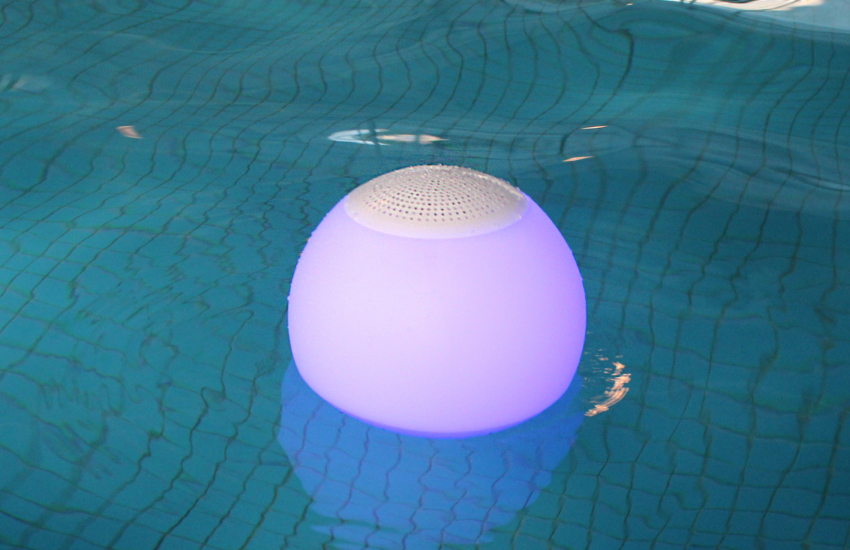 3. Poolside with luminous lighting LED lounge chair furniture
What's better than basking in the sun? Lie in the sun! A suitable outdoor LED lounge chair can help you relax. Pool loungers to relax in or out of the water. Patio, sunroom, porch, poolside, or backyard.
Hanging out by the pool has never been better when you incorporate these floating loungers into your summer fun! This pool lounger is made of high-quality materials. Designed to stay afloat while keeping you cool and incredibly comfortable in the water. You can enjoy luxurious relaxation in the pool while soaking up the sun. Easily inflate the loungers and have your pool ready in just a few minutes!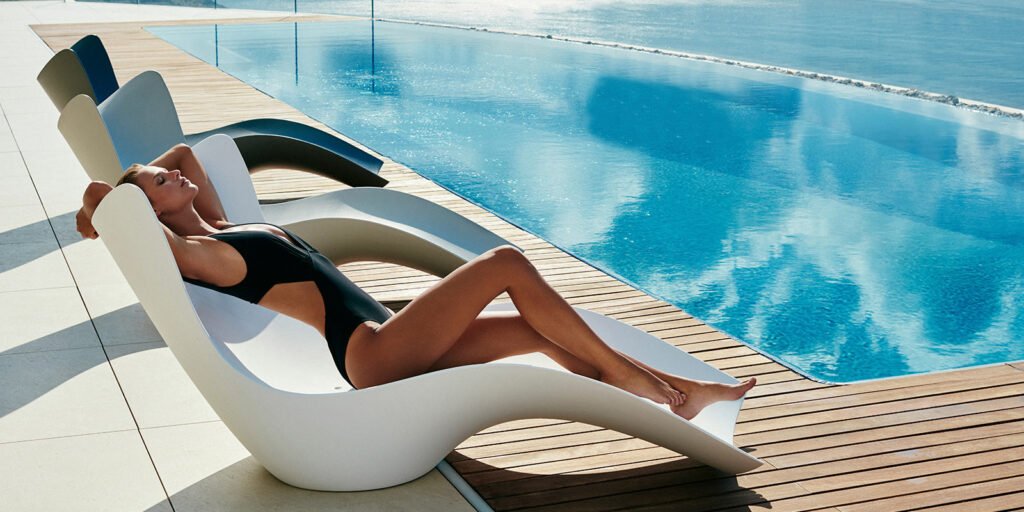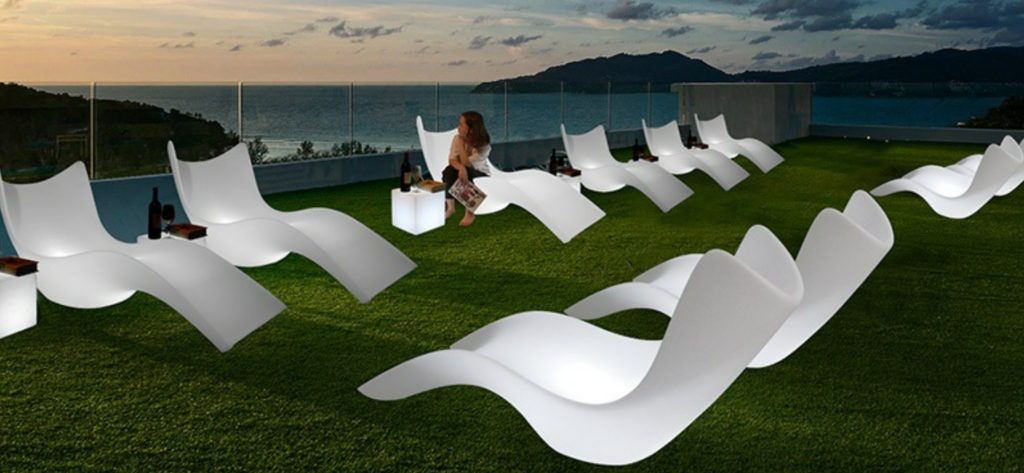 4. Other lighting stereo LED cube tables and chairs 40 cm
The main difference between outdoor and indoor furniture is its ability to withstand changing weather. Can be used as a chair or as a table. Colorfuldeco's LED cube tables and chairs 40 cm is a stylish, easy-to-clean pieces that can be used for any occasion. It's the same material as the floating pool balls lamp. It's all rolled plastic material, and will not breed bacteria. Light up your pool party activities!
5. Luminous solar flower pot
The 40 cm tall rectangular Luminous solar flower pot is perfect for growing small shrubs or larger potted plants. This eye-catching planter is perfect for indoor use. It is IP54 rated for outdoor use, ideal for garden lighting and decoration. This solar planter is, a perfect match with your decorated floating LED pool balls! you can light up your events, hotels, parks, bars, zoos, and more.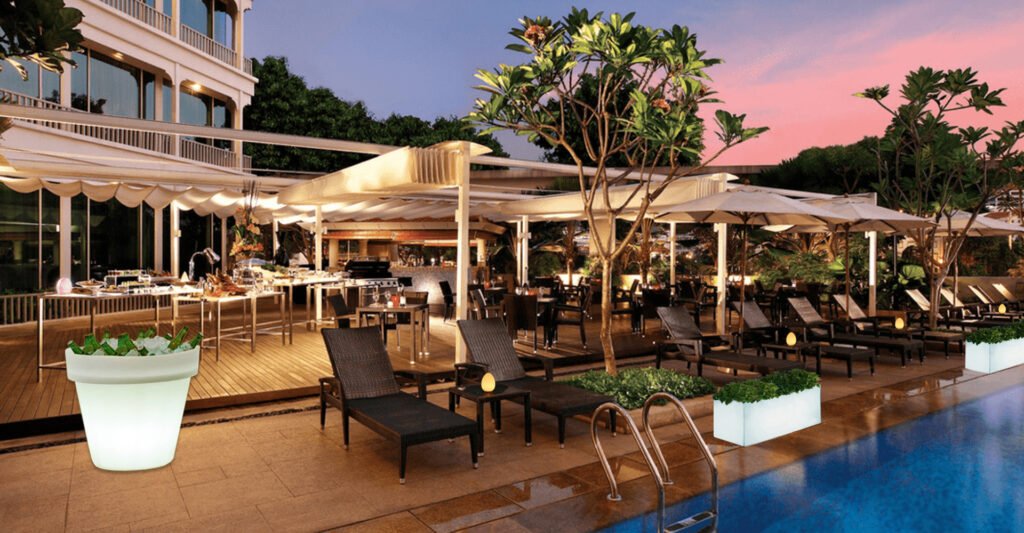 Whether for kids, outdoors or indoors, you can choose from a range of unique glowing swings. We prioritize safety and ergonomic design. Luminous swing products are available in materials such as plastic and metal. The beautiful items on the site are designed with comfort and beauty in mind. This great round swing chair is the perfect addition to any home, outdoor space, or backyard pool-like hotel.
You can also check out more interesting entertainment furniture, such as seesaws, spun chairs, and an LED  dance floor.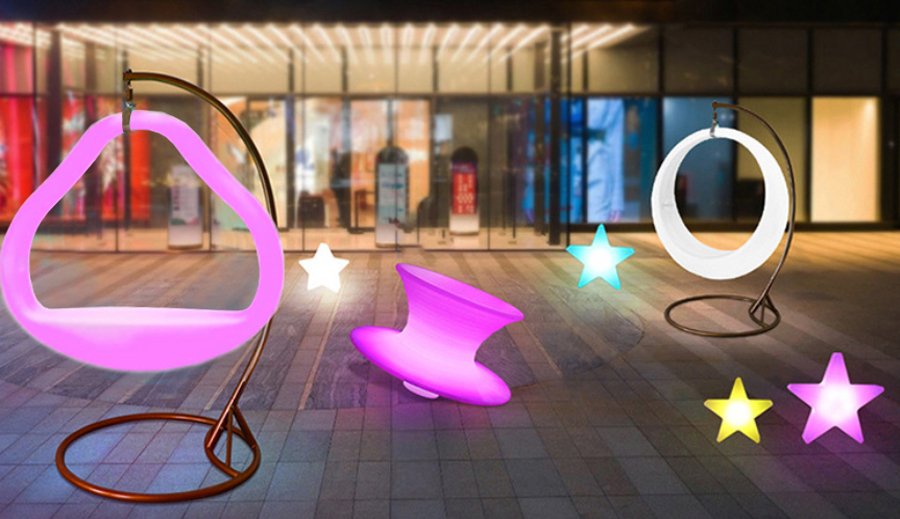 Customize your outdoor backyard floating pool balls decor light furniture
Purchasing waterproof different-sized floating LED pool balls light. providing customized various models of solar pool LED glow balls for wholesale. All of our LED furniture can be made to order. Our outdoor luminous decorative furniture is specially designed to add a logo and branding somewhere. Whether you're promoting your brand at trade shows and events, or just want to add your pub logo. We have options for all occasions. Because we do all the graphic design and print at home ourselves, the options are limitless! We can all work with you to make it the perfect fit for your application!
Offering low MOQ and door to door delivery
The MOQ for most products is 1 piece, and we have a variety of styles to choose from. You can order a variety of styles in small quantities.
Location: Jiangbei of Huizhou Road, Huizhou City, Guangdong, China
Tel: +86 18923606158
Email: info@glowfurniturefactory.com
What's app: +86 18923606158