glowfurniturefactory.com provide 28 types of glow balls products. Including ordinary and customized glow balls. Colorful and modern LED ball to add fun to your events and projects. In addition, our outdoor LED ball lights are also very popular. Decorate your environment with Colorfuldeco glowing ball lamp. Bring elegance and romance into your life. 
As a glow LED furniture manufacturer, We are LED furniture factory in China. Specialize in the design, production, and selling of LED lighted furniture. Colorfuldeco specializes in production and sales so that customers all over the world can buy LED illuminated furniture cheaper and with higher quality.
Colorfuldeco has more than two hundred types of modern LED furniture since its creation in 2016, and strives to make it possible for every customer to buy any LED glow furniture they want from us.
Our LED sphere balls contains at least 16 beautiful RGB colors and 4 lighting modes, perfect for both indoor and outdoor environments. Glow in the dark balls suitable for furniture decor, hotels, clubs, and bars seeking a relaxed atmosphere.
Recommend our hot sale glow balls
Colorful and modern LED glow balls to add fun to your events and projects. Decorate your environment with a Colorfuldeco outdoor light up balls. Bring elegance and romance into your life. In your next event, use our glow in the dark balls to light up the entire event!
Whether you are organizing a small gathering or hosting a large event, our multi-size LED ball lights outdoor are suitable for all events. Available in a variety of sizes, choose the ideal decorative for your home or place – light up ball lamp.
4.7inches in cm small LED glow balls
These small LED glow balls are the most versatile light both indoors, outdoors, entertainment. Such as glow balls for swimming pool. And restaurant table lighting mood lamp.… All for your extraordinary experiences.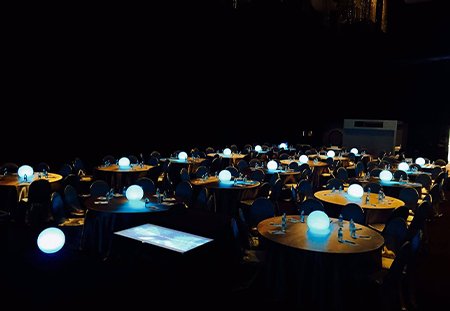 Small LED balls 5.9 inches
The most fun & beautiful event outdoor hanging small LED balls lamp, decorate and light up a bright new world.  It creates an elegant and romantic outdoor environment. We can hang it up for lighting. Or as a toy of small light up balls for play. Ideal for indoors and outdoors. More about small LED balls, check out.
Colorfuldeco Outdoor waterproof floating LED ball 60 cm are sure to create a unique and colorful atmosphere in any indoor or outdoor space. Also, can be used for your pool, backyard or balcony decoration. It's 100 percent waterproof.
This solar glow balls light is very suitable for home decoration, pool, garden, party, lawn patio, bedroom, bar, KTV, restaurant, etc. Great decorative tool for any entertainment venue.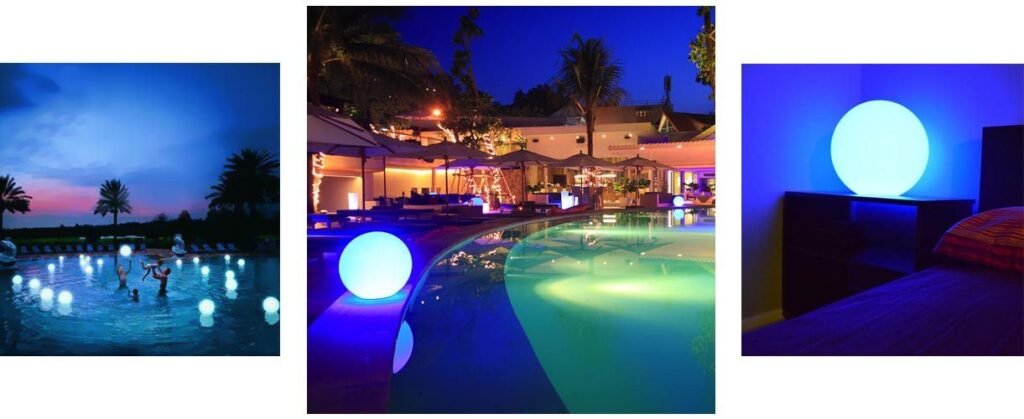 glow balls for pool 40 cm
Glow balls for pool are suitable for floating on water. It can make any water feature appear bright light. Floating LED pool balls are waterproof. Lightweight, they can float in the water. And moving around cleverly. For restful LED functionality. More importantly, floating glow balls apply to all water features. Including outdoor ponds and ponds, and even running water fountains. Click here to learn more about the LED ball.
Personalized LED Ball Lamp
Personalized LED ball lamp 60 cm with hand-drawn, we offer a variety of different paintings, including letters, numbers, and pictures.
Also, if you would like to customize this painting, please let us know, and we can provide it. Spice up your indoor, outdoor, or party decor. More details……
The charm of glow balls lights
When night comes, the fun begins. Glow balls make your living room/pool/garden/camping more enjoyable. You can use it as a festive decorative light for special occasions such as parties. Not only that, but it can be placed on the doorpost and other fixed devices to achieve the best use effect. You can even bring them to your campsite! Great decorative tool for any entertainment venue.
Our glow in the dark balls are directly from the China factory. Our offers best price quotes for you. Please contact us without hesitation!
Location: Jiangbei of Huizhou Road, Huizhou City, Guangdong, China
Tel: +86 18923606158
Email: info@glowfurniturefactory.com
What's app: +86 18923606158