Personalized LED Ball Lamp 60 cm, 23.8 Inches, Colorfuldeco
Brand: Colorfuldeco
Manufacturer: Colorfuldeco
Personalized LED ball lamp 60 cm with hand-drawn, we offer a variety of different paintings, including letters, numbers, and scene pictures.
Also, if you would like to customize this painting, please let us know, and we can provide it. Spice up your indoor, outdoor, or party decor.
Hand drawn personalized led ball lamp 60 cm
Add some of the trendiest personalized LED ball lamp 60 cm to the bars and restaurants. To create a very cool atmosphere for your event or party. 
Colorfuldeco personalized LED ball lamp 60 cm with hand drawn uses beautiful color LED lighting technology. A cool fashion accessory for any environment.
Decorate as you please! Brighten your mood anytime, anywhere. Decorate your home and garden!
Besides, this personalized lamp is sure to leave a memorable impression. More novel products are available in glow in the dark balls.
Characteristics of LED lights
Various kinds of painting:

We offer a variety of paintings.

Also, if you want to customize the painting. Please let us know, and we can provide it.

Multifunctional: 16 beautiful RGB colors and 4 lighting modes; Use the included AC adapter for remote control and charging.
Environmental protection: completely free of ultraviolet, infrared, lead, mercury and other toxic elements. Suitable for bedroom decoration.
Waterproof: IP68 grade.

Fully waterproof and dustproof.

Fully suitable for indoor and outdoor use.
LED ball lamp specifications:
Product size: Dia.60 cm
IP Rating: IP68 (completely sealed against dust ingress and moderate water jets)
Rechargeable: 2000mAH, Li-ion Battery
Output: DC 5V 1A
Working time: 8- 16 hours (depending on brightness and color settings)
Recharging time: 2-4 hours
Material Type: Plastic (can float in the swimming pool)
Light Color: RGB 16 color changing freely
How do we produce your colour changing lamp?
Your Colorfuldeco decorative lights will be hand. Customized using ultra-thin, waterproof, precision-cut vinyl.
This will provide a high quality look and feel. Far superior to direct printing.
All lights are hand-assembled and personalized in our own workshop.
Note: Severe use (e.g. scratching with a sharp object) may damage vinyl or lamp surfaces.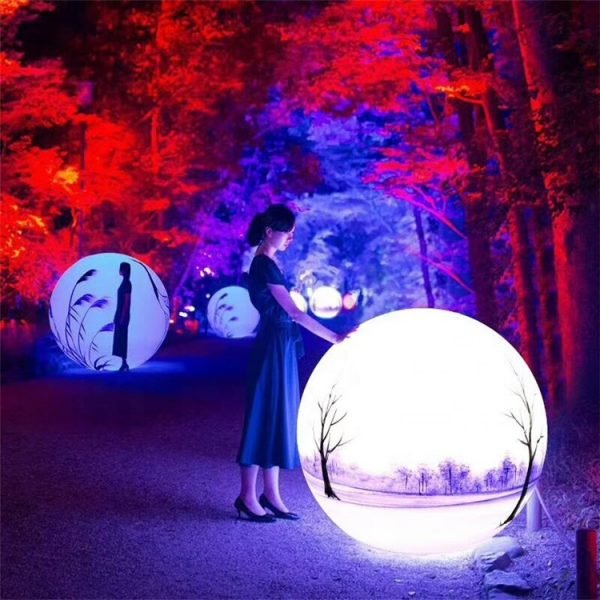 Q1. Do you accept LOGO printing on the product?
Yes, we accept printing. Please send your LOGO to sales people.
Q2. How long is the warranty?
The warranty is 1 year.
Q3. What's PE?
Plastic PE is Polyethylene, characterized by corrosion resistance, electrical insulation (especially high, frequency insulation), low-pressure polyethylene suited to make corrosion-resistant parts and insulation parts.
Q4. Is it difficult to clean the products after use?
No, you can use alcohol or detergent to clean them, and it will look new.
Q5. What should we concentrate on when using this type of product?
Do not attempt to dismount any LED section and don't place it too on the brink of the hearth and heat area. Use only the charger provided by our company, and skim the user guide sheet within the package carefully before using.