Indoor and outdoor lighting can complement different feelings, moods, and tones. Today, LED lamps for decorative lighting are in high demand. They are the most commonly used lamps because they do not produce UV light. If you are looking for high-quality LED lighting furniture, then you must check out Colorfuldeco, a professional LED furniture lighting factory located in China. Specializing in Corporate Event Decor and Party Lighting. Creative and innovative energy-efficient products to create unique interior and exterior finishes.
Colorfuldeco is a leading specialist and manufacturer of decorative lighting products for event parties
Our vast selection includes every accessory you can think of to decorate and illuminate your marquee and your home, including modern and high-quality LED lighting for weddings decorating furniture. Our beautiful selection of LED lighting decorative lights offers modern designs with great functionality and remote control color options.
Whether it's floating lights or lighting furniture. Their products are completely waterproof, so you can use them around your spa or swimming pool. They offer some unique and colorful designs that can enhance any restaurant, bar, or hotel setting. They can provide a pleasant, peaceful atmosphere and add to the overall beauty of the surroundings.
1. LED Pool Floating Ball Light
One of the most popular lights for lighting pool areas is the LED floating pool ball light. At glowfurniturefactory.com there are many colors and styles for everyone. They can bring a subtle glow to the pool area and provide festive and fun lighting for a barbecue or pool party. , making it ideal for adding a special touch to the pool area at night. You can check the website for floating pool lights in different sizes. These floating pool lights can add an enchanting glow to your pool area or garden at night. Make your corporate event party perfect!
2. Remote control LED cube light
LED cube lights on event tables or greet customers with cube pendant lights. We can control the lighting range through the remote control or the mobile app, giving us freedom of choice. It can be a great addition to your corporate event decor as its elegant look and changing colors can impress your guests. You can place them in playground areas, bars and gardens. Don't worry about the LED lighting power, because the luminous cube decorative lights are completely waterproof and they can withstand showers.
3. Cup Shaped Rechargeable Table Lamps For Restaurants
We are a professional portable lamp factory in China. Providing various models of rechargeable cup-shaped table lamps for restaurants decor lights. Stylish mug table lights are a real eye-catcher in your indoor-outdoor. It can also be used as a table lamp for home decoration.
4. Large Animal Solar Lights Geometry LED Polar Bear Decor Lights For Garden
Polar bear decorative lights combined with Christmas tree lights. Meanwhile, pair with our other animal-shaped lamps. Your corporate event project becomes a fairy tale world. Beautiful Christmas decorations and bright lights.
Interesting and unique large LED polar bear animal solar lights. Shopping mall outdoor landscape lighting. Designed for parks, zoos, halls, and town halls. Enrich the holiday spirit with wonderful colors.
5. Large Water Drop Floor Lamp Rechargeable Garden Lighting
 I can tell you that if you use a large water drop floor lamp at your corporate event party, you can make your cold activities exciting. Made of durable white opaque polyethylene, it diffuses warm or cool light around. Easily change the light intensity, effects, and mood with its RGB LED module. Also, suitable for outdoor lighting.
6. LED Wireless Speaker Ball Lights
Portable LED wireless Bluetooth speaker ball lights. This speaker ball light has 16 LED colors. High waterproof rating. Can be used indoors and outdoors. The hanging LED Bluetooth speaker ball lamp controls the change of light and music size through wireless remote control. The lights change with the rhythm of the music.
7. Customized LED decorative lights numbers and letters
Whether you are organizing small gatherings or large-scale events, our various shapes of led light numbers and led light up letters decorative lights are suitable for all events. Choose the ideal decorative atmosphere for your home or place. Customized LED decorative lights numbers and letters.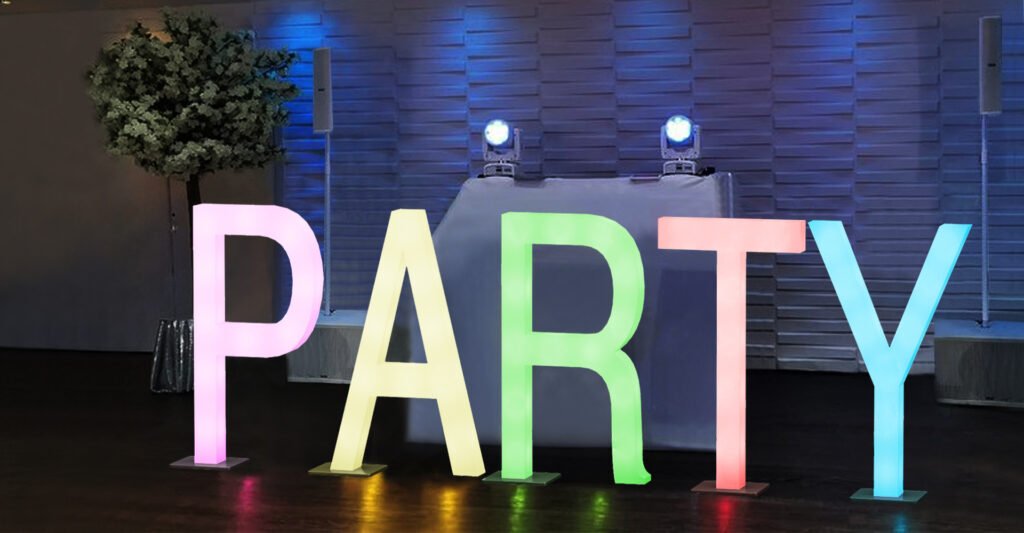 8. Illuminated flower pots decor lighting furniture
If you use our illuminated flower pots outdoor to Light up your garden in a cool and unique way. Make your garden look beautiful during the day and glow at night! This luminous flowerpot is the mid-to-high model of our illuminated planters outdoor series, which adds wonderful color to your garden, home, or business.
You can use it to host unforgettable and unique events, perfect for party decorations such as weddings, birthdays, or any other social events.
9. Color changing LED champagne buckets
When the sun goes down, and you use the remote to turn on the LED bucket lights, your LED bucket is sure to be the talk. If that's your drink of choice, it's ideal for beer, whiskey, wine, champagne, and even soda bottles. Eco-friendly glow LED bucket lights are an impressive addition to any party or event.
This color-changing LED champagne buckets will transform your bottling service by presenting your beverages in a whole new way! This glowing LED ice bucket party cooler is a fun and stylish way for a nightclub or bar to present and/or serve drinks to customers.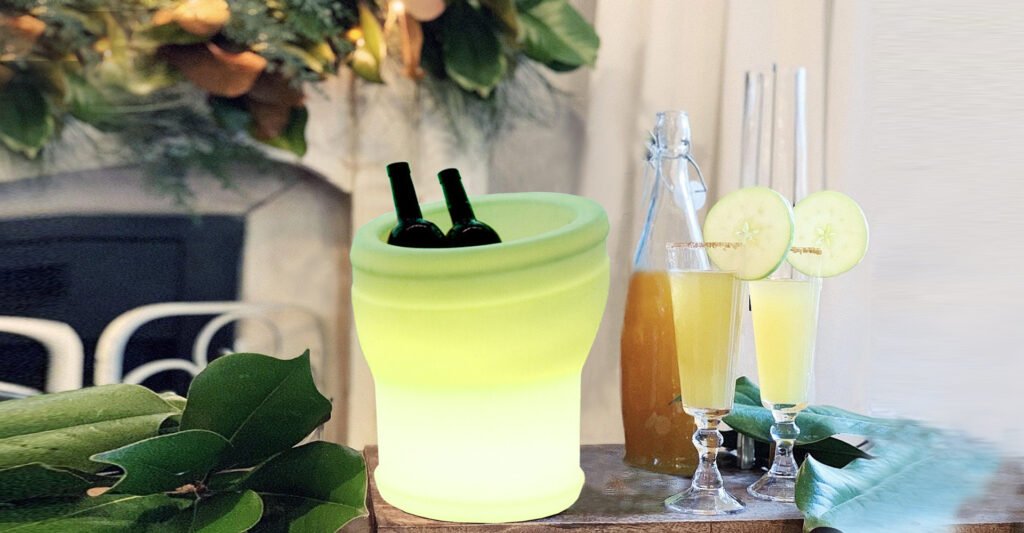 10. A wide variety of LED lounge furniture to light up and beautify your event!
Whether you are organizing a small party or hosting a large event, our multi-sized outdoor LED lounge furniture lights are suitable for all events. Available in a range of sizes, choose the ideal decorative mood furniture for your home or venue.
Our LED furniture set contains at least 16 bright colors and some 4 glow patterns for those hotels, clubs, nightclubs, and bars that are looking for a relaxing atmosphere.
Choose more professional LED lighting furniture
Colorfuldeco LED furniture for events manufacturer knows how to bring light to life and give your event planning a unique atmosphere. We specialize in the design, production, and selling of indoor-outdoor LED lighting furniture. Colorfuldeco specializes in production and sales so that customers all over the world can buy LED event lounge furniture of higher quality.
Colorfuldeco has had more than two hundred types of light-up party furniture since its creation in 2016 and strives to make it possible for every customer to buy any LED event party lighting furniture they want from us.

Low MOQ and delivery from factory to your warehouse
The MOQ for most products is 1 piece, and we have a variety of styles to choose from. You can order a variety of styles in small quantities. It can meet your promotional business very well.
Location: Jiangbei of Huizhou Road, Huizhou City, Guangdong, China
Tel: +86 18923606158
Email: info@glowfurniturefactory.com
What's app: +86 18923606158