LED Garden Ball Light 70 cm, 27.6 Inches, Colorfuldeco
Brand: Colorfuldeco
Manufacturer: Colorfuldeco
Durable LED garden ball light 70 cm are sold at competitive factory price. Ship now from China. All sizes are available for you. Contact us!
LED garden ball light 70 cm
Durable LED garden ball light 70 cm are a very interesting solution. So you'll be lighting up your surroundings in style.
Among the rich products offered in our store, the main feature of LED garden ball light 70 cm is their high quality. They can withstand all kinds of weather conditions.
70 cm LED garden ball light as an elegant accessory
As a very elegant accessory, they light up their surroundings and act as original decoration.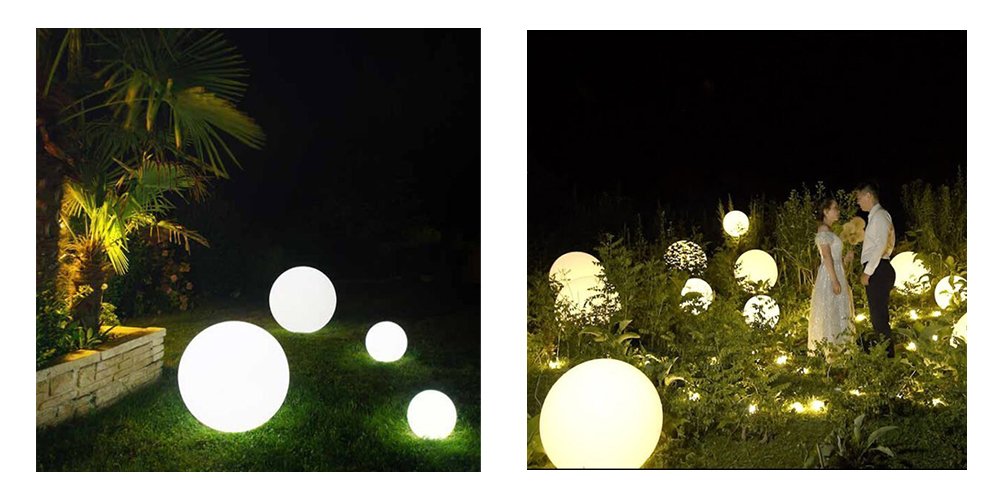 Colorfuldeco 70 cm LED garden ball light  is suitable for any type of space — as a decoration for a private property, a modern garden, or as a decoration for a restaurant terrace or an outdoor wedding.
"When you place the ball from smallest to largest in the garden, you will create an interesting and harmonious composition. Get the guests' attention. There are really many possibilities. So all you need is a little creativity."
LED ball light of features
IP68 waterproof: Completely waterproof and dustproof. 

Throw them within the bathtub or swimming bath.

Portable and rechargeable:  

It's powered by a chargeable internal battery and lasts 6-12 hours.

Color variations :16 beautiful RGB colors and 4 lighting modes for perfect indoor and outdoor environments. 
Remote control: Remote to pick and alter 16 different colors of sunshine, 5 levels of dimming, 4 sorts of cold light effect.
Solar-powered: It is a perfect decorative addition to any indoor or outdoor ball lights space.

 Don't worry about running out of batteries.
Product size: Dia.70 cm
IP Rating: IP68 (completely sealed against dust ingress and moderate water jets)
Rechargeable: 2000mAH, Li-ion Battery
Output: DC 5V 1A
Working time: 8- 16 hours (depending on brightness and color settings)
Recharging time: 2-4 hours
Material Type: Plastic (can float in the swimming pool)
Light Color: RGB 16 color changing freely
Colors and fades controlled by DMX
Colorfuldeco factory video
The product package includes:
LED shaped light ball
Remote control
USB charging cable
Hook
Grounding installation
User manual (with full instructions)
Q1. Do you accept LOGO printing on the product?
Yes, we accept printing. Please send your LOGO to sales people.
Q2. How long is the warranty?
The warranty is 1 year.
Q3. What's PE?
Plastic PE, is Polyethylene, characterized by corrosion resistance, electrical insulation (especially high, frequency insulation), low pressure polyethylene suited to make corrosion resistant parts and insulation parts.
Q4. Is it difficult to clean the products after using?
No, you can use alcohol or detergent to clean them, and it will look new.
Q5. What should we concentrate on when using this type of product?
Do not attempt to dismount any LED section. And don't place it too on the brink of the hearth and heat area. Use only the charger provided by our company. Skim the user guide sheet within the package carefully before using it.