Corner LED Sectional Sofa with Light, Party Furniture
Brand: Colorfuldeco
Manufacturer: Colorfuldeco
Empty corners have the potential for your nook. You can decorate it by utilizing an accent chair. The Corner LED Sectional Sofa with Light from Colorfuldeco can be a great addition to have. It can give soft and warm hues for your relaxing days, and it can also be an item of party furniture in a delightful way!
Corner LED Sectional Sofa with Light, Party Furniture
An easy way to have a visual interest indoors is to maximize every corner, hence, you will need a Corner LED Sectional Sofa with Light, the party of led outdoor furniture from Colorfuldeco. It is perfect for gazing at the sunny skies too, and it can withstand warm temperatures outside. The corner sectional corner sofa can be a piece of classic accent furniture for your balcony or patio. 
An Indoor Corner LED Lights Sofa
Realize your dream of having a personal space despite the relatively small corner of your house. These empty corners can be meaningful once you transform them into a creative nook. Perhaps, during the pandemic, you can convert the corner into a working space of a homeschooling area.
The Corner LED Sectional Sofa with Light, Party Furniture can blend excellently in your mini-bar, study, or your kids' play zone. These features are common to modern houses nowadays, and surprisingly, you can use the corner led lights sofa in any of these spaces. 
An Outdoor Party Illuminated  Furniture
You know better when it comes to your needs at home, and what is appealing to your guests is possibly noticeable to you as well. So anticipate all these in crafting your spaces, or simply put, make your house comfortable and homey. No one wants chaos anyway, so include the LED sofa in your redesigning plans for a chic upgrade.
Unleash your skillful and creative mind. And with some technical knowledge, make a sustainable choice by opting to use LED Furniture. For your outdoors, safety issues are so important. To assure you of a lower chance of accidents, you should use Corner LED Sectional Sofa with Light as exterior seats and additional lighting.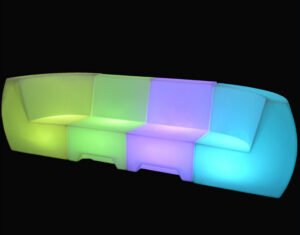 The LED lights are energy-saving, and they do not produce heat that can lead to a fire. With just these thoughts in mind, you can be sure to have a night of party and fun from dusk 'til dawn. Match it with an LED Outdoor Lighted Table and small led glow balls for a better look.
Specifications:
Length: 78 cm.
Width: 78 cm.
Height: 72 cm.