Straight Luminous Sectional Sofa with LED Light, Party Furniture
Brand: Colorfuldeco
Manufacturer: Colorfuldeco
Energize the walls and design your corners with a view. Colorfuldeco's Straight Luminous Sectional Sofa with LED Light is a good match for your windows. It fits in an all-white design, although you have to add a bit of texture. With its contemporary and functional make, it can transform a bare corner into a useable place.
Straight Luminous Sectional Sofa with LED Light
It is alright to trust your gut with some other things but with furniture inspirations, trust Colorfuldeco and its Straight Luminous Sectional Sofa with LED Light for your lighting needs. 
A luxurious and distinctive style in a modern white shade, the Straight Luminous Sectional Sofa with LED Light is a great led furniture piece for the outdoors and the family lounge. Any interior enthusiast will approve of having this couch for social gatherings since you can join two chairs to provide more seats.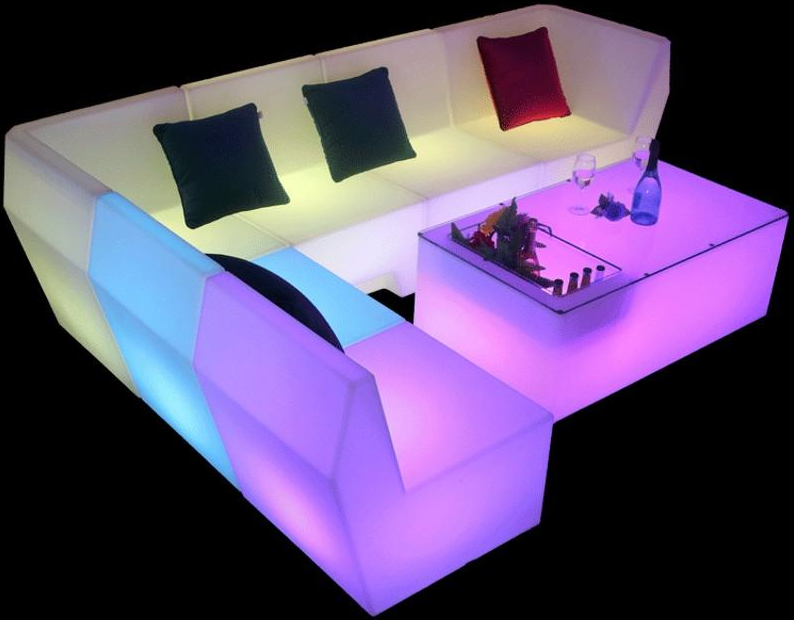 Right Set-Up Is Material
Sectionals are versatile. They can suit small or big spaces, and they can stand alone or with a couple of led sofa. Although they do not have an armrest, these have a lighting option that makes them perfect for movie dates. 
Since it is a reclined straight sectional LED couch, you may lie down while having a romantic night. It is a cozy seating that is appropriate even for formal events. You can rearrange from time to time to cater to your business events.
Smart Controls
Wherever you are, you do not need to make your guests feel uncomfortable by excusing yourself to switch the lights on. Since it is a contemporary piece, you only need to recharge batteries to power up the LED lights in it.
Yes! It is a battery-operated light-up couch. So, you can make it a point of interest during the event by using the lights. Draw attention and switch the lights off for a dramatic scene. Program the lights to exude a certain feel. All these you can do, in just a click! 
Most furniture pieces from Colorfuldeco use the LED lighting system. If you want to check out some other glow furniture options, feel free to browse in Colorfuldeco's official website. 
Length: 62 cm.
Width: 77 cm.
Height: 79 cm.