Straight Luminous Sectional Sofa with LED Light, Party Furniture
Brand: Colorfuldeco
Manufacturer: Colorfuldeco
Energize the event site or business venue and design your corners with a view. Colorfuldeco's Straight Luminous Sectional Sofa with LED Light is a good match for your windows. It fits in an all-white design, although you have to add a bit of texture. With its contemporary and functional make, it can transform a bare corner into a useable place.
Straight Luminous Sectional Sofa with LED Light
It is alright to trust your gut with some other things but with LED furniture inspirations, trust Colorfuldeco products and its Straight Luminous Sectional Sofa with LED Light for your lighting needs. 
A luxurious and distinctive style in a modern white shade, the Straight Luminous Sectional Sofa with LED Light is a great glow furniture piece for the outdoors and the family lounge. Any interior enthusiast will approve of having this couch for social gatherings since you can join two chairs to provide more seats. 
The Corner LED Sectional Couch with Light is easy to clean, and its material is highly durable too, so there is no need to worry if you spill your cup of coffee or liquor. The LED couch exudes a soft touch that is ideal for a Glow Lighting Ice Bucket Table. It looks even more perfect.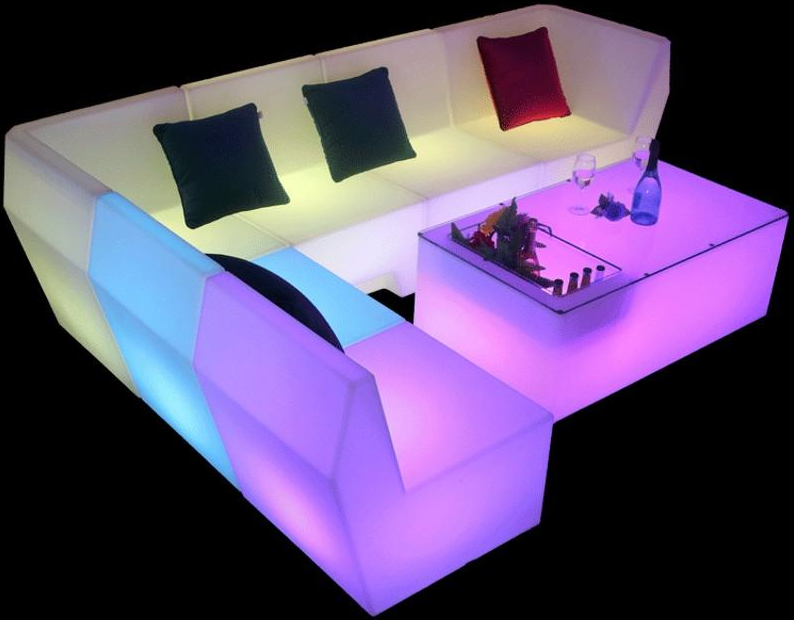 Sectionals are versatile. They can suit small or big spaces, and they can stand alone or with a couple of LED sofa. Although they do not have an armrest, these have a lighting option that makes them perfect for movie dates. 
Improve the warm and comfortable feel in your customer's favorite space by incorporating the Corner LED Sectional Couch With Light patio furniture to provide ambient light. With its white case, the LED Sectional couch will bring contrast to existing colors in the lounge. You may lie down while having a romantic night. It is a cozy seating that is appropriate even for formal events. You can rearrange from time to time to cater to your business events.
Wherever you are, you do not need to make your guests feel uncomfortable by excusing yourself to switch the lights on. Since it is a contemporary piece, you only need to recharge batteries to power up the LED lights in it.
Yes! It is a battery-operated Straight Luminous Sectional Sofa With LED Light. So, you can make it a point of interest during the event by using the lights. Draw attention and switch the lights off for a dramatic scene. Program the lights to exude a certain feel. All these you can do, in just a click! 
The illuminating sectional couch is a great choice to bring a modern touch to your event venue, office, or convention hall. Create ambiance with suitable RGB color and brightness settings to match the mood. Add to events like bars and banquets with our trendy luminous LED furniture set that's sure to kick things off. Whether it's a nightclub, trade show lounge, or a wedding, our LED sofa seats with lights are supreme for adding to the environment.
Colorfuldeco modern sectional sofa with LED lights furniture is ideal for your business event party
If you love things that glow, find excellent furniture pieces that match your taste and style from Colorfuldeco glow furniture. These pieces are great for business establishments, spas, formal events, hookah bars and lounges, dinner boat lounge areas, and holiday celebrations. 
Most furniture pieces from Colorfuldeco use the LED lighting system. If you want to check out some other glow furniture options, feel free to browse in Colorfuldeco's official website. 
Brand: Colorfuldeco
Model: B104B
Product name: Straight Luminous Sectional Sofa With LED Light, Event Party Furniture
Size: 62 x 77 x H79 cm
Weight: 12 kg
Color: 16 colors change and customize the color
battery powered: Li-ion Rechargeable Battery(4000mAH)
Light source: RGBW LED SMD5050
Material: LLDPE plastic material
Protection: IP65
LED life (hours): 50,000-80,000
Power: AC110-240V or replaceable options
Q1. When can I get the price?
We usually quote within 24 hours after we get your inquiry.
If you are very urgent to get the price, please call/WhatsApp us: +86 18923606158.
We hope you can provide specific types of pictures, so you can get a more accurate quote.
Q2. Are they wireless or hardwired?
All glow product is crafted to work wirelessly or with direct power, making them accessible to a variety of locations, and event durations.
Q3. Are your samples free or need cost?
Actually, it depends on the products. it requires spl cost and freight collection. Pls informed that all spls cost and freight costs can be returned to you after the order is placed. You're welcome to email us for checking.
Q4. Can I order samples?
Yes, we provide a sampling service to our hospitality and trade professionals. You will need to complete our sample request form. Please note we do charge for our samples, however, we can provide a full refund (minus delivery costs) if the samples are returned to us. Alternatively, if a subsequent order is placed after seeing the samples, we will deduct the cost from your final invoice.
Q5. Can you do the designs for us?
Yes! We have a professional team with rich experience in product design and manufacturing. We can design and manufacture the products as per your idea. Furthermore, we provide OEM or ODM services.
Q6. Do you provide international services?
Yes, we can deliver anywhere in the world using our network of reliable and fast couriers. If you can't see your country during checkout, please contact a member of our team, so we can calculate a rate for you.
Q7. Do you offer discounts?
Yes, we can offer discounts for members of the trade such as designers, architects, contractors, and hospitality professionals. In addition, we may be able to offer special discounts for large volume orders. Please contact our customer support team with any questions.