Brand: Colorfuldeco
Manufacturer: Colorfuldeco
Are you working or winding up to rest? Well, whatever you are up to, this LED Cube Table lamp from Colorfuldeco is the best for you! With just a click, you can transform your working space from its upbeat working vibe to a homey and comfortable mood or visually declutter your desk with its easy and plain style to boost work productivity. LED Cube Table Lamp's colorful displays can be your mood night light that can effectively relieve stress. It's great for your next outdoor activity too! Portable, lightweight, and wireless, buying this led light is surely something you won't regret!
LED Cube Table Lamp 10 cm
Lighting is valuable wherever we go. Getting the right kind of light in our homes, workplaces, and business establishments will not only set the mood and give us an ambient glow. LED cube table lamp is good lighting protects our eyes too. 
Knowing where to position your table lamp in the right spot is one thing to consider but choosing the right kind of lamp to use is a small change that can make a big difference in your place.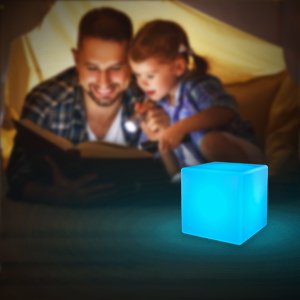 Importance Of Using A LED Table Lamp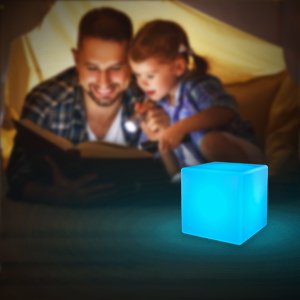 Often overlooked, but studies show that using suitable types of led lights can prevent damaging our eyes. Since we are in the computer age, we can always feel discomfort due to being stuck in our computer monitors. Although laptops and desktops can provide ample light, the vision glare can weaken our eyes. 
However, with the LED lamp on the table, there will be diffusion of light which can tone down vision glare and prevent eye strain. We can use table lamps for reading and for extra light to brighten up the room.
LED cube lights technology
 If you want to create your personal space into something that can jibe with your mood, a LED desk lamp is a perfect choice. With LED cube light technology, you may change the lights to the color that suits your need. 
Do you want to feel fresh and easy? Switch it to green. Are you feeling a bit romantic and passionate? Then switch it to red. This color-changing effect is one of the best aspects LED lamps boast.
Subtle Multifunctionality glow cube table lamp
Glow cube table lamp is a cube, and its shape makes it stable, and on a serious note, multifunctional. It is easy to clean, it is beautiful for its symmetry, and a calming focal point in aesthetics. 
The LED table lamp fulfills its purpose of adding light to your desk, but more than its principal function, it can also serve as your moon night light or paperweight. 
So, is it a worthy buy? Definitely! LED Cube Table Lamp can make your room super comfy and your desk well-lit. More novel products are available in Colorfuldeco LED cube light.
Decoration mood lighting cube video
Model: D101
Product size: 10 x 10 x 10 cm
Plug type: Without plug
Voltage: AC 100V-240V
Material: PE
Light Color: RGB or custom colors
Battery: No need
Lifespan: 50,000h-80,000h
Q1. Do you accept LOGO printing on the product?
Yes, we accept printing. Please send your LOGO to sales people.
Q2. How long is the warranty?
The warranty is one year,under non-human damages.
Q3. What's PE?
Plastic PE, is Polyethylene, characterized by corrosion resistance, electrical insulation (especially high, frequency insulation), low pressure polyethylene suited to make corrosion resistant parts and insulation parts.
Q4. Is it difficult to clean the products after using?
No, you can use alcohol or detergent to clean them, and it will look new.