Brand: Colorfuldeco
Manufacturer: Colorfuldeco
Want some coffee after dark? Make your coffee timeless traditional, and refined. The Light-up Cube Table 80cm from Colorfuldeco is the secret to kick in with a different style. Smattering your old space with a pinch of contemporary furniture is a leap to break away from the usual. The led coffee table furniture is a stylish revamp to have at home.
Elevate Your Space with the Mesmerizing Light-Up Cube Table 80 cm
Introducing the Light-Up Cube Table, a true fusion of function and style that will transform your space into a captivating haven of light and sophistication. This innovative piece of furniture is not just a table – it's an experience, a conversation starter, and a modern marvel that will leave a lasting impression on anyone who encounters it.
Imagine a cube that emits a soft, enchanting glow, casting a warm ambiance that instantly elevates your surroundings. Whether you're hosting an intimate gathering, a stylish cocktail party, or simply want to add a touch of magic to your home, the Light-Up Cube Table is the perfect choice.
Crafted with precision and designed with aesthetics in mind, this LED cube table is a testament to modern design sensibilities. Its clean lines and minimalist form ensure it seamlessly integrates into any décor style, while its light-up feature adds a touch of otherworldly charm.
Practicality meets artistry with the Light-Up Cube Table. Use it as a side table to showcase your favorite art pieces, or let it take center stage as a unique accent table that sparks conversations. Its versatility knows no bounds – indoors or outdoors, residential or commercial spaces – this table shines in every setting.
Control the ambiance at your fingertips. With an easy-to-use remote control, you can effortlessly adjust the brightness and choose from a spectrum of colors to match your mood or event theme. Whether it's a serene blue, a passionate red, or a calming green, the LED cube furniture adapts to your desires.
LED cube coffee table furniture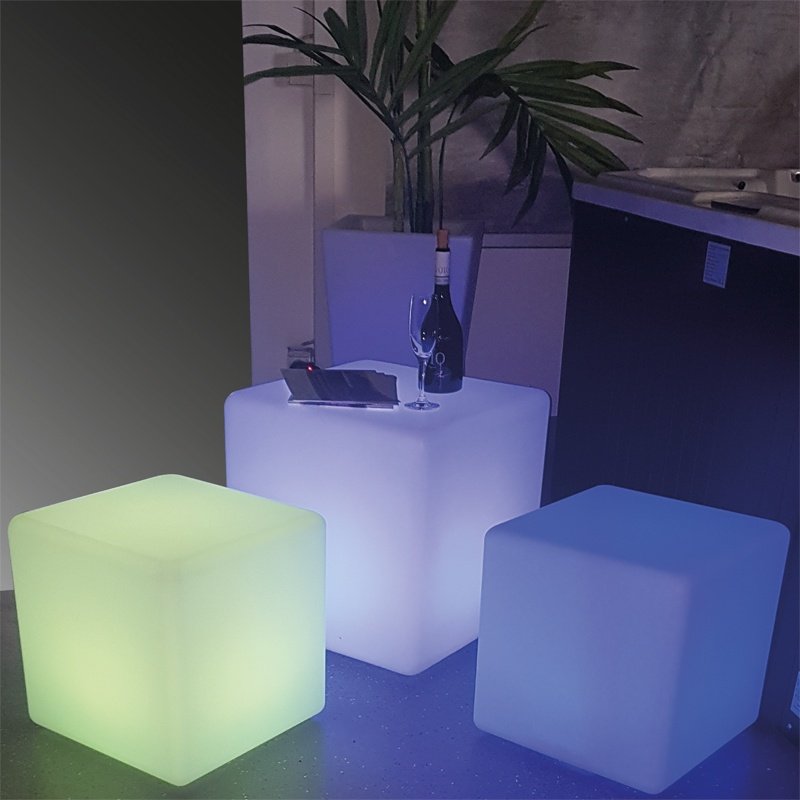 The light-up cube table 80 cm can withstand harsh weather conditions. It is the reason why outdoor coffee houses love to create serene spaces at night using this backyard furniture. Chances are you also love drinking coffee. It is somehow a way of life. So, set up an excellent outdoor coffee area with this light up table. It can elevate your casual coffee time. 
Perfect for small spaces - Glow cube table
Everyone wants to have enough space to move around at home. Using this light-up coffee table in your living room will give you plenty of space since it is only 80cm in length, width, and height. Its geometric design is a feature on-trend that shows clean lines and perfect symmetry. Its beautiful lights make it Instagram-worthy and naturally up-to-date.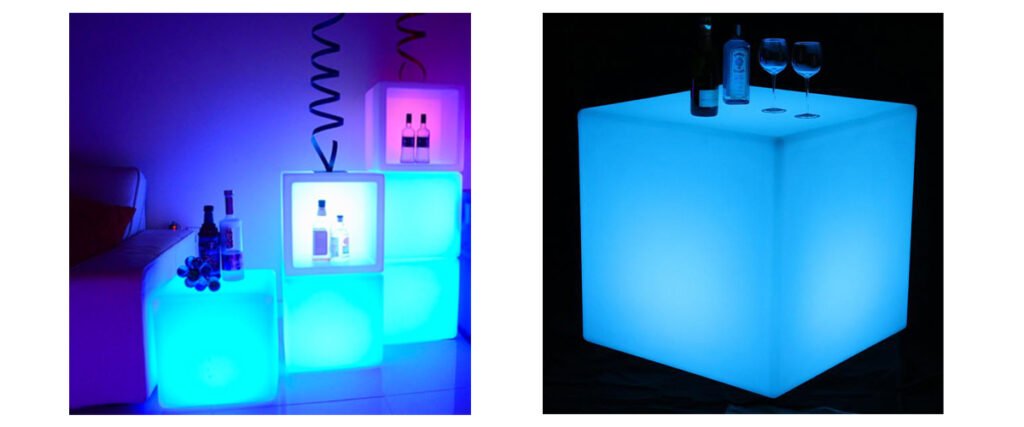 Add a touch of enchantment to your environment with the Light-Up Cube Table. Elevate your home, office, or event with a modern masterpiece that seamlessly blends form and function. With this table, you're not just adding furniture – you're infusing your space with light, style, and a touch of magic.
Colorfuldeco color changing LED light cube
Model: D108A
Product size: 80 x 80 x 80 cm
Adaptor: DC 5V adapto
Votage: AC 100V-240V,  DC 5V
Material: PE & Build-in LED lampwick
Light: RGB Light
Light Color: 16colors changeable or customize a color
Battery: Li-ion Rechargeable Battery(2000 mAh)
Lifespan: 50,000h-80,000h
Recharging Time:  3-5hours
Working Time: 10-20hours
Waterproof: IP65
Q1. Do you accept LOGO printing on the product?
Yes, we accept printing. Please send your LOGO to sales people.
Q2. What's PE?
Plastic PE, is Polyethylene, characterized by corrosion resistance, electrical insulation (especially high, frequency insulation), low pressure polyethylene suited to make corrosion resistant parts and insulation parts.
Q3. How long is the warranty?
The warranty is one year,under non-human damages.
Q4. Is it difficult to clean the products after using?
No, you can use alcohol or detergent to clean them, and it will look new.
Q5. Do you offer discounts?
Yes, we can offer discounts for members of the trade such as designers, architects, contractors, and hospitality professionals. In addition, we may be able to offer special discounts for large volume orders. Please contact our customer support team with any questions.