Brand: Colorfuldeco
Manufacturer: Colorfuldeco
Want some coffee after dark? Make your coffee timeless traditional, and refined. The Light-up Cube Table 80cm from Colorfuldeco is the secret to kick in with a different style. Smattering your old space with a pinch of contemporary furniture is a leap to break away from the usual. The led coffee table furniture is a stylish revamp to have at home.
Light-up cube table 80 cm for events
Highlight the architecture of your home by complementing it with the Light-up Cube Table 80cm from Colorfuldeco. With its perfect height, you can comfortably arrange seats to create ambiance for whatever occasion.
Perfect for use as seating, a table or a fantastic light source…these cubes add incredible fun and color to any event, party or wedding, our cubes have been tried, tested and prove.
Do you want to have furniture that is worth your money? Make your mornings extra sunny and your nights more dramatic with this LED cube table you may enjoy with a cup of coffee! 
It changes its colors to conform to your taste and style. However, it looks more captivating when used in bars, restaurants, and hotel lounges. The unique design and color-changing mode of this led cube furniture make it appropriate for night parties too. And because it is polyethylene, it is interesting to have in swimming pools as well. 
LED cube coffee table furniture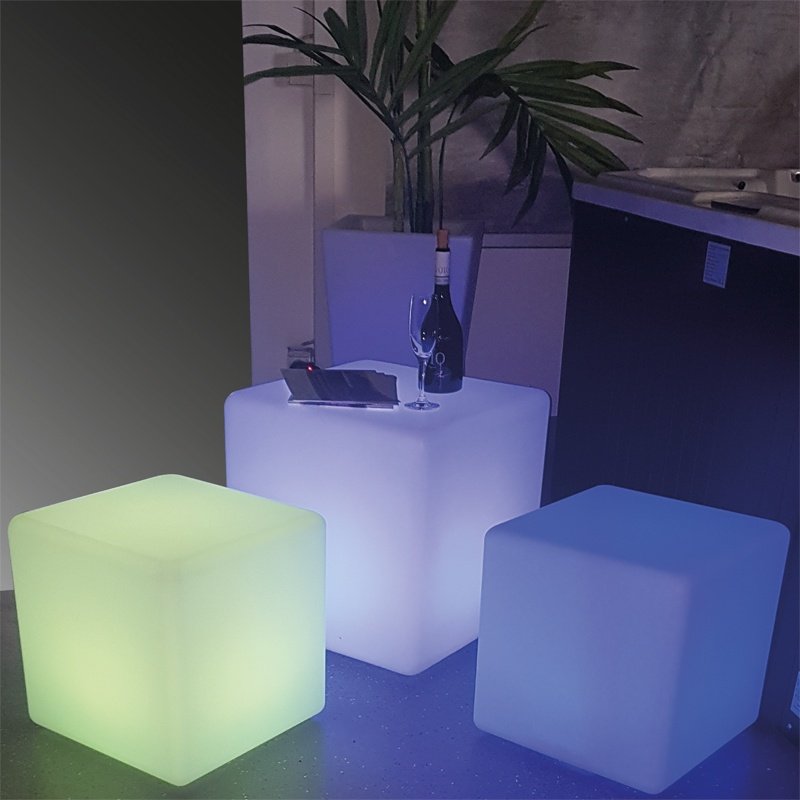 The light-up cube table 80cm can withstand harsh weather conditions. It is the reason why outdoor coffee houses love to create serene spaces at night using this furniture. Chances are you also love drinking coffee. It is somehow a way of life. So, set up an excellent outdoor coffee area with this led table. It can elevate your casual coffee time. 
Perfect for small spaces - Glow cube table
Everyone wants to have enough space to move around at home. Using this light-up coffee table in your living room will give you plenty of space since it is only 80cm in length, width, and height. Its geometric design is a feature on-trend that shows clean lines and perfect symmetry. Its beautiful lights make it Instagram-worthy and naturally up-to-date.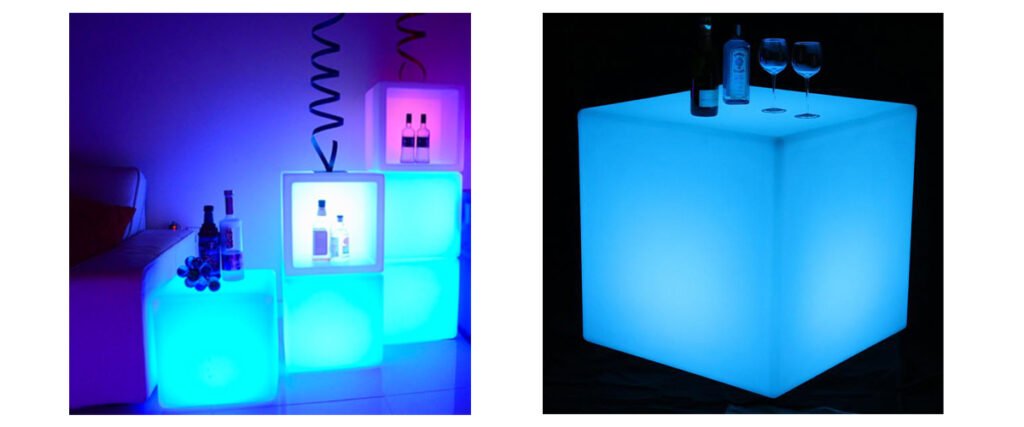 Lastly, it may look a bit expensive, but if you purchase from Colorfuldeco, you can be sure that you get quality furniture for a reasonable price. The key is to buy from your trusted merchant and make this light-up cube table 80cm adds a striking punch to your usual coffee catch-up.
Colorfuldeco color changing LED light cube
Model: D108A
Product size: 80 x 80 x 80 cm
Adaptor: DC 5V adapto
Votage: AC 100V-240V,  DC 5V
Material: PE & Build-in LED lampwick
Light: RGB Light
Light Color: 16colors changeable or customize a color
Battery: Li-ion Rechargeable Battery(2000 mAh)
Lifespan: 50,000h-80,000h
Recharging Time:  3-5hours
Working Time: 10-20hours
Waterproof: IP65
Q1. Do you accept LOGO printing on the product?
Yes, we accept printing. Please send your LOGO to sales people.
Q2. What's PE?
Plastic PE, is Polyethylene, characterized by corrosion resistance, electrical insulation (especially high, frequency insulation), low pressure polyethylene suited to make corrosion resistant parts and insulation parts.
Q3. How long is the warranty?
The warranty is one year,under non-human damages.
Q4. Is it difficult to clean the products after using?
No, you can use alcohol or detergent to clean them, and it will look new.
Q5. Do you offer discounts?
Yes, we can offer discounts for members of the trade such as designers, architects, contractors, and hospitality professionals. In addition, we may be able to offer special discounts for large volume orders. Please contact our customer support team with any questions.