The light up cube seats device emits a soft light source, providing children with a soothing and relaxing experience. It can be used as a chair or a table. Besides, it can be used as a glow decorative light. Especially suitable for night lighting. In general, the light up cube seats can be used as home decoration furniture.
Who better to have light up cube seats?
This amazing light up cube seat is the perfect outdoor/indoor light up furniture. Light up furniture is great for nighttime parties or making a fun statement in your home decor. Both practical and interesting. Use one as a unique night light in your child's room. And it will definitely impress your guests at the party. Enhance brand image. Very suitable for young people and adults to sit on them. And for night functions.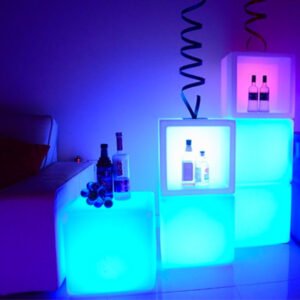 Why do we use light up cube seats?
LED cubes are one of our favourite reserved products. Our LED cubes are of course adaptable and can provide excellent seating or decoration for any celebration.
Use a glowing cube as a unique night light in your child's room. They can sit on it during the day. The charming light of the LED Cube seat can be set to blink, strobe, fade in and out, or smooth. And as 16 different colors of LED lights play their magic in this lighting furniture, the multi-color will change.
When filled with these gorgeous portable rechargeable LED cube seats, clubs and other venues look great. They really bring an interesting look to any event. Let every day be like a party! Choose from several led cube seats to make your wedding, company event, or special party unforgettable!
Where can I buy high quality light up cube seats?
Glowfurniturefactory.com offers a wide variety of LED cubes products. As glow furniture manufacturers, we specialize in the design, production, and selling of LED furniture. Colorfuldeco specializes in production and sales so that customers all over the world can buy LED furniture cheaper and with higher quality.
We use high-quality materials and components to manufacture light-up cube seats. Just like our other LED cube seats furniture, provide them with a longer life and better performance. Such as lighting systems, rechargeable batteries, and remote controls.
We use more LED lights inside the led cube seat to get stronger lighting. Our white light is pure white light. Unlike other glow cubes, there is a combination of red, blue and green. Will give you a dirty white light that looks like purple.
Characteristics of the led cube seat
1. 16 different colors of the remote control and 4 different options can be set to flash, strobe, fade in and fade out or smooth.
2. Indoor/outdoor LED lighting furniture-rechargeable, cordless, portable, waterproof, programmable, light weight, UV resistant.
3. The rechargeable lithium battery works for 8-10 hours after fully charged (about 4 hours).
4. Provide exquisite decoration for your garden, terrace, swimming pool, bar, club, spa, night camping, etc.
If you require learn more information about company, factory as well as detail of product , or contact us, please click follow site to contact us.
ABOUT US:
https://glowfurniturefactory.com/about-us/