Brand: Colorfuldeco
Manufacturer: Colorfuldeco
There is no hard and fast rule when it comes to decorating your home. You can go with contemporary, classical, or Zen. Your house, your choice! But the quality must always be your priority. Colorfuldeco has a long list of Rechargeable RGB LED Furniture for you, and the LED Cube Table 73cm is among its remarkable gems.
Enliven your dining area by upgrading to a LED cube table, 73 cm. It is a rechargeable RGB LED furniture that can provide your color choice to complement the interiors. You may opt for a yellow or soft white lighting to exude warmth and sophistication or bright colors like red, green, or blue for a subtle contemporary view.  
Do not be afraid to add a different vibe by adding this piece of a fixture in your home. Even if it is not a common sight, this can highlight your personality through your choice of hue and glow. 
More novel products are available in Colorfuldeco LED glow cubes.
DIY glamorous rooms - Light up cube table
A stylish ambiance is doable if you know the right furniture that can create an inviting elegance. Light up cube table can magically transform your simple place into a cozy home. Add sparkle to your house using a light-up cube table that shifts from one color to another using a remote control. Your choice of the environment is at the tip of your fingers! Kidding aside, it is festive lights that can brighten up your space, but the dimmer tones can bring gentle feels.
Although, the LED table is not necessarily perfect for your dining area. It can somehow find its place in your bar or poolside. As a glow cube seats. Best for outdoor parties or night activities.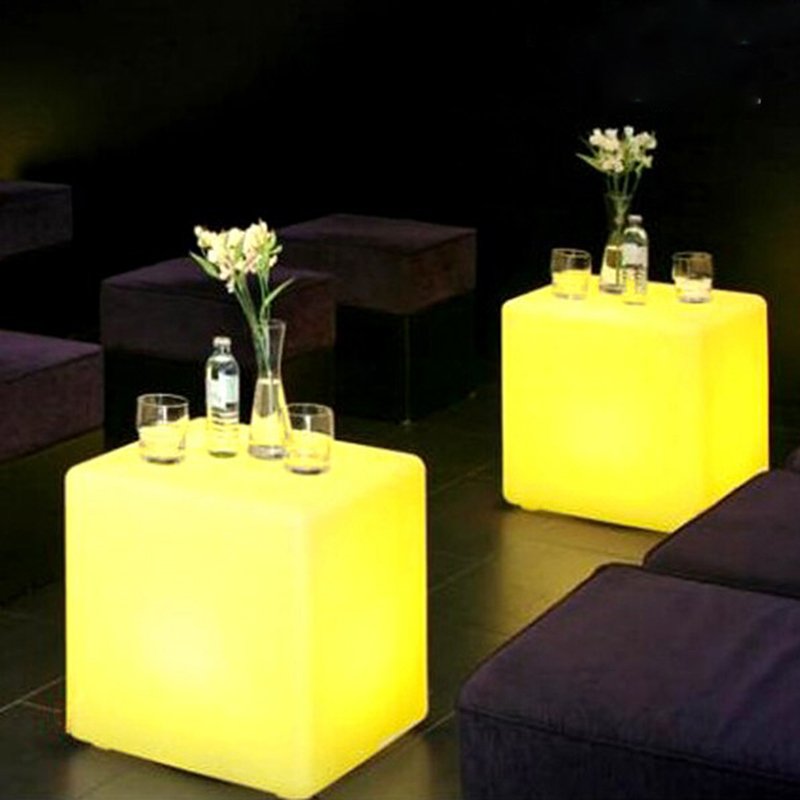 If you have a nightclub, a coffee shop, a restaurant, or a hotel, whew, dream on! It is a good bargain too. You may choose the LED cube table with the cube seats to make a stunning and modern business arrangement.
Outdoor conferences or celebrations may need it as well. So, if you are into the rental business, you will get higher gains or profits by purchasing an LED Cube table 73cm in bulk from Colorfuldeco. Complement it with a nice led cube chair, and you are ready for all occasions. 
Colorfuldeco color change glow cube table video
Model: D108
Product size: 73 x 73 x 73 cm
Adaptor: DC 5V adapto
Votage: AC 100V-240V,  DC 5V
Material: PE & Build-in LED lampwick
Light: RGB Light
Light Color: 16colors changeable or customize a color
Battery: Li-ion Rechargeable Battery(2000 mAh)
Lifespan: 50,000h-80,000h
Recharging Time:  3-5hours
Working Time: 10-20hours
Waterproof: IP65
Q1. Do you accept LOGO printing on the product?
Yes, we accept printing. Please send your LOGO to sales people.
Q2. What's PE?
Plastic PE, is Polyethylene, characterized by corrosion resistance, electrical insulation (especially high, frequency insulation), low pressure polyethylene suited to make corrosion resistant parts and insulation parts.
Q3. How long is the warranty?
The warranty is one year,under non-human damages.
Q4. Is it difficult to clean the products after using?
No, you can use alcohol or detergent to clean them, and it will look new.