LED Swings Playground Hanging Chair | Colorfuldeco
Brand: Colorfuldeco
Manufacturer: Colorfuldeco
LED swings chair furniture is a sure-fire way to really make your event stand out from all others. Glow LED hoops hanging chair Furniture for Events, Parties, Weddings, Hotel & Resort, Event Rentals companies, and more. Order now and enjoy exclusive deals!
If you're looking for a way to impress attendees and keep them engaged, The glow plastic swing from our glowing games furniture factory is your best choice! Available in a variety of colors, such as blue, purple, green, red, white, and pink, they can fit in with any type of event decor and color scheme. Whether you're planning a conference, trade show exhibit, wedding reception, or bar/bat mitzvah, our LED swings are the perfect way to liven up your event!
LED swings on sale for project
The swing is a hanging swing seat, often found at playgrounds for children, on a patio for joy, or in a park for relaxing. But for the LED swings, there is no united name for them. Many people also call that glow swings, LED swing chairs, LED hanging chair, glowing LED hoops, and so on. Different from ordinary swings, mostly LED swings are suitable items for outdoor furniture, such as Boston light up swings on the lawn, or light up swings at lighting shows in Vancouver. In addition, our glow swings are suitable for patio, park, indoor-outdoor, and events. Not only can colorful light-up swings create a romantic active atmosphere, but also in the daytime, pure white is also favored by adults and children!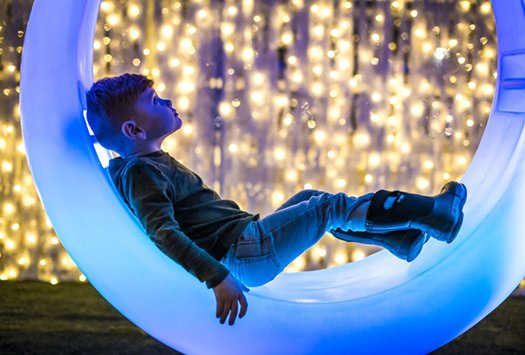 Outdoor LED swing chair of video
More usage scenarios of LED child swing chair
Government agency Downtown Development Board's urban planning and old city renovation, and city public park equipment add our entertaining Solar Power Glow Swings.
Landscape project design, indoor atrium in hotels and resorts, playground project or landscape project, and other projects.
Event planning projects, holiday lighting show, science experience museum, adventure experience hall, aquarium and company's brand activities, and other entertainment area facilities.
Features of plastic outdoor hanging LED swing chair
It is a plastic outdoor hanging LED swing chair, made of Polyethylene hard plastic material, built-in led light. The interesting part is visible during the night when this outdoor LED swing lights up, glowing into the darkness. It looks wonderful when seen from the inside, but I'm sure that for a kid it's very attractive. It's actually a good idea to make it glow into the darkness because this prevents your kid from bumping into it and getting hurt, and it also gives you the opportunity to clearly see when he's using the swing. it is also suitable for adults sitting on the swing, cause the loading capacity is up to 200KGS! Click here to learn more about similar glow games products.
Glowing LED hoop swing seat safety for People
1). Normal working temperature from -40° to +80°C
2). 100% tested before shipping. All the swings will pass burn-in test, waterproof test, function test. Waterproof Standard: IP65
3). The performance of shell Polyethylene is better than. It's safe for children and adult
4). Battery charge led light, it is not hot for people sitting on the chair. no electronic.
We also provided solar energy charging way if you need that.
5). Safety Hand Holders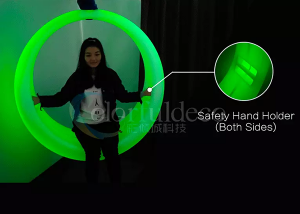 Improvement to other plastic round LED swing chair
1. Wireless Bluetooth Control
2. Touch Switch and charge groove
As a considerable glow swing LED lighted outdoor furniture manufacture, we design the touch switch to save more energy by preventing switching on automatically in transit time.
The function of the charge groove is to keep off the water on an outdoor rainy day.
If you want to order from us, pls let me know?
a. QTY -How many pieces do you want to order?
b. We always ship via sea, if CNF price, pls let me know your seaport. However, air freight will also be provided, and customers can choose according to the situation.
c. We also accept FOB Shenzhen. Factory Pirce(EXW)
d. Mix container available. we have so many clooection of such kinds of LED lighting product.
Product Name: Plastic round LED swing chair
Product model: A250
Product color: white
Product material: PE
Product size: 128 x 128 x 40 cm
Product weight: 17 kg
Product battery powered: Li-ion Rechargeable Battery(4000mAH)
Voltage: AC:100V-240V
Adaptor: DC 5V adaptor
Light: RGB Light
Charging time: 4-8hours
Working time: 10-12hours
Waterproof standard: IP65
Lighting mode: Intelligent remote control
1. Each product with 1pc adapter, 1pc remote controller, and 1pc user manual.
2. EU, UK, US, AU standard adapters are provided for custom options.
3. The adapter and IR remote are in common use, they are suitable for every different item.
Delivery
hip via international express :DHL /fedex.
Delivery Time:3-20 days after confirm order detail,delivery date should decide according to the production season and quantity.
Q1. When can I get the price?
We usually quote within 24 hours after we get your inquiry.
If you are very urgent to get the price, please call us.
We hope you can provide specific types or pictures, so you can get a more accurate quote.
Q2. Can I order samples?
Yes, we provide a sampling service to our hospitality and trade professionals. You will need to complete our sample request form. Please note we do charge for our samples, however, we can provide a full refund (minus delivery costs) if the samples are returned to us. Alternatively, if a subsequent order is placed after seeing the samples, we will deduct the cost from your final invoice.
Q3. Are your samples free or need cost?
Actually, it depends on the products.it requires spl cost and freight collection. Pls informed that all spls cost and freight costs can be returned to you after the order is placed. You're welcome to email us for checking.
Q4. Can you do the designs for us?
Yes! We have a professional team with rich experience in product design and manufacturing. We can design and manufacture the products as per your idea. Furthermore, we provide OEM or ODM services.
Q5. Do you provide international services?
Yes, we can deliver anywhere in the world using our network of reliable and fast couriers. If you can't see your country during checkout, please contact a member of our team, so we can calculate a rate for you.
Q6. Do you offer discounts?
Yes, we can offer discounts for members of the trade such as designers, architects, contractors, and hospitality professionals. In addition, we may be able to offer special discounts for large volume orders. Please contact our customer support team with any questions.