How to use decoration furniture for your bar club Christmas party?
The holidays are upon us, and with them all the hustle and bustle that comes with the Christmas holidays. One thing you need is how to use decoration furniture with LED for your bar Christmas party!
But fear not; if you're looking for a way to spice up Christmas holiday parties in your home, pub, pub, resort, and mall, you've come to the right place!
Outdoor furniture decor music bar for carnival Christmas party
Outdoor furniture decor music bar for carnival Christmas party
Choose a great Christmas themed decorated furniture for your bar
Christmas is a busy and exciting time for all of us. Make the most of foot traffic in bars, hotels, malls and public spaces by showing your patrons how much you, as a vendor, can embody the holiday spirit! Festive glowing furniture decorative is a must for public places and shopping malls if we are to impress and captivate the public. Studies have shown that bars, hotels and malls decorated for the holidays tend to inspire positive emotions in customers, making them feel at home and therefore more likely to make a purchase.
We offer a wide range of decor furniture for every Christmas occasion
Our LED outdoor furniture decor products cover various types of Christmas events, Christmas parties, retail events, hotel resorts, bars, and other decorations.
We at Colorfuldeco offer a wide range of bar LED decor rest furniture
to suit your unique preferences or tastes. If you want to stand out, stand out from other nightclubs. Please pay attention to LED decor rest furniture. Because that's one of the main things that makes all the difference. What are you still hesitating about? Buy a brand new set of bar decorated furniture today and completely transform the place.
Christmas decor furnishings create novel festive activities for your bars, hotels and resorts, shopping malls, and your home
A bar is an attractive place. Need to be constantly updated with the latest fashion. We offer bar lighting furniture in contemporary, contemporary, vintage, and traditional styles. Our LED bar counters and illuminated bar stools come in the latest trendy upholstery, colors, and designs. We will assist you in choosing the ideal decorated furniture to match your decorating style. You want your disco bar to be vibrant and exciting all the time, not a gloomy place. Luxe decor furniture that is in line with the latest trends can go a long way in attracting people to your venue.
Whether you're in your home or entertaining guests, get inspired by these fun, unique, and elegant decorative furniture pieces. No matter what you choose to decorate, fun and inviting decor furnishings are sure to attract more guests. Decorating can be a fun activity for your employees to build teamwork and morale. It also reflects your institution as one that is invested in culture and community. In addition, it is an excellent tool for building word-of-mouth promotion among clients and their peers.
We at Colorfuldeco offer a wide variety of indoor and outdoor bar LED lounge furniture to suit your unique preference or taste. If you want to stand out, stand out from other bars or pubs. Please pay attention to LED furniture lighting. Because that's one of the main things that makes all the difference. What are you still hesitating about? Buy a brand-new set of LED bar furniture decorations now completely changed the place.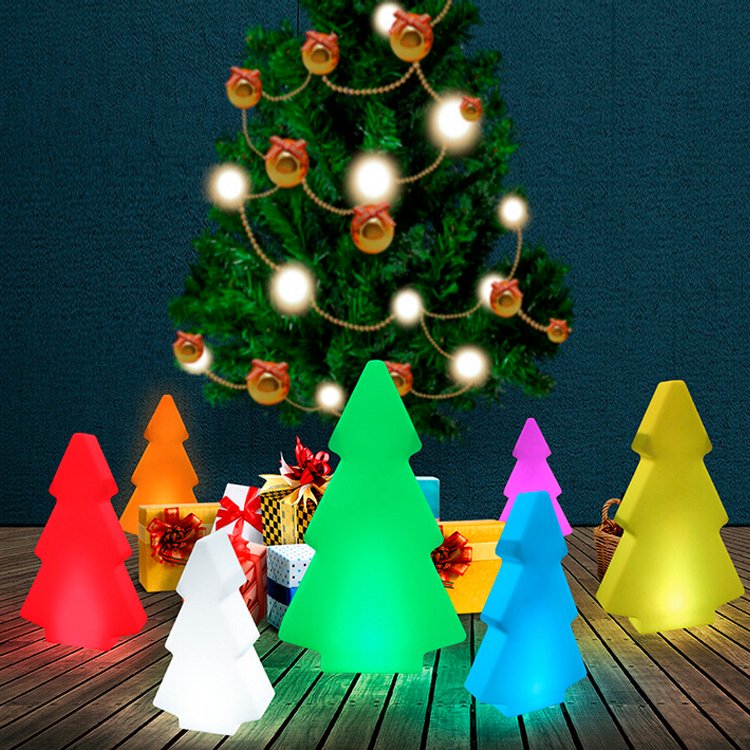 Color Changing LED Christmas Tree Lights
Decorating your tree every year brings a lot of joy—annual ritual, nostalgia, holiday cheer—but sometimes, year after year, it starts to get a little traditional. Why not change things up this year and go bold with the Christmas tree theme? Remote Control Waterproof Rechargeable Color Changing LED Christmas Tree Lights. It is suitable for Christmas decorations such as indoor and outdoor home garden bars KTV hotel courtyard swimming pools.
Use the Dark Night LED Stars Decor Lamp at your Christmas party! As interest in outdoor living grows, more and more people want to have their new outdoor event space in the best possible light. Create the right atmosphere for the event. Multicolor LED Star Lights are perfect for event decoration: no messy wiring and completely portable. Long battery life, battery powered table lamp for events, venues, bars, restaurants (as a table centerpiece). It's also durable and fun.
LED swings playground hanging chair is the perfect party entertainment game essentials
Our glow swing is the perfect outdoor furniture decor for a Christmas party. It will create an awesome party event atmosphere in family or business gatherings, birthday anniversaries, and wedding decorations. And a surefire way to really make your event stand out and boost your business.
With LED swings, how can it be without the unique lighting & decoration of its partner spun rocking chair
How could your outdoor Christmas bar line up with a piece of LED swings lighting to decorate the furniture. Of course, the spun chair combined with LED swings is the perfect party furniture. The Swivel Chair is a stool, chair, beautiful sculptural object and spinning top all in one. Surprisingly, we also offer illuminated swivel chairs. Choose the decor rest furniture you want.
LED Outdoor Light-Up Armchair
Chic, graceful, elegant and charming, glowing chic, graceful, elegant and charming in the LED Outdoor Light-Up Armchair that glows in the dark. Designed for functionality and comfort. With its stunning visual appeal, the glow chair will catch the eye in any setting, especially at a party or event. These ottomans will enhance the Christmas party atmosphere in any nightclub, bar, lounge, restaurant, patio or hotel lobby, as well as outdoors such as patios, gardens, patios, and more.
LED Bar Counter Straight With Bucket + LED Bar Counter Corner Table
Light up LED lounge bar furniture to keep your guests raving at your bar Christmas party. The bar is an ideal venue for social events or team building events. If you want to stand out in a competitive industry for your trendy bar. Christmas party events in pubs are simply orchestrated to dazzle guests and make them want to come back. Equipped with our illuminated bar furniture, realize your needs!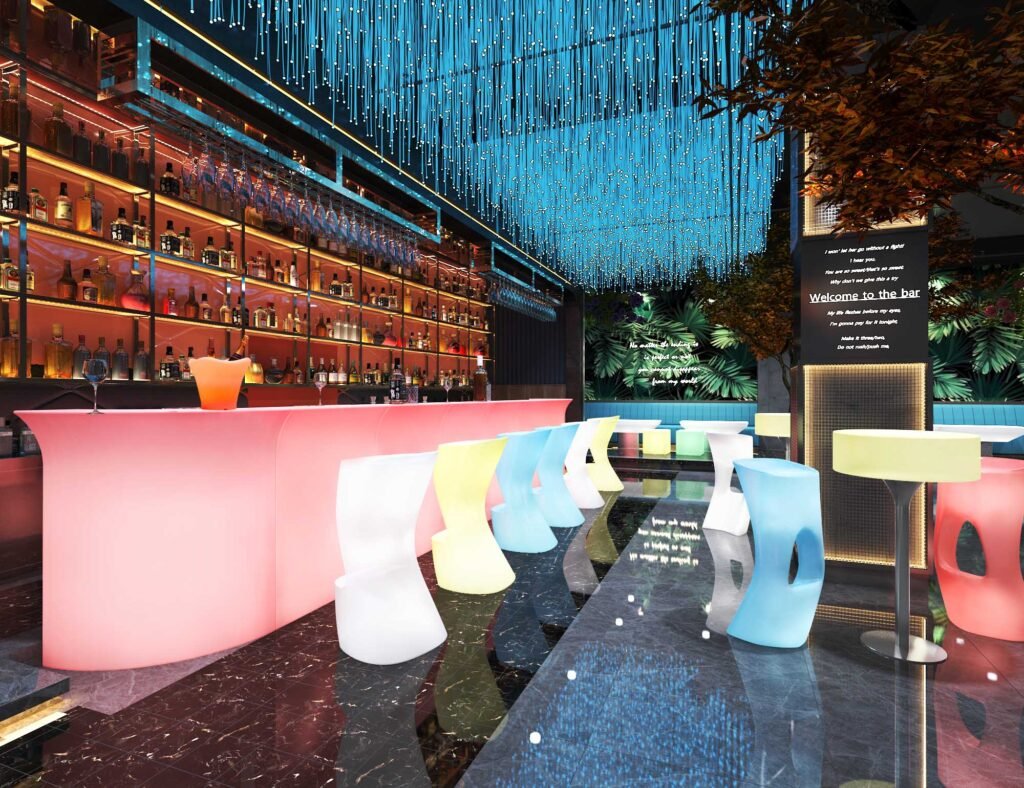 Colorfuldeco Lighted decorators furniture lighting manufacturer has the best selection of commercial grade restaurant bar stools online. We have over a dozen featured categories to make it easy to find the perfect illuminated bar stool to match your Christmas decor. If you are looking for a truly unique, high quality LED bar stool for your bar. This RGB Glow Bar Stool has a unique design that shows creative features despite its natural simplicity. Simple and stylish, this color changing furniture truly stands out in terms of aesthetics.
Whether you are opening a new bar lounge or simply looking to refurbish an existing bar hotel. There's no better way to stand out than with our Colorfuldeco decoration furniture. Wow your clients with these event cocktail table decorations that are sure to add a special touch to your next Christmas party event.
It can be set to a color of your choice, or set to scroll to a color of your choice. Or opt for the tall cocktail table without LED lights, which is available in 10 colours.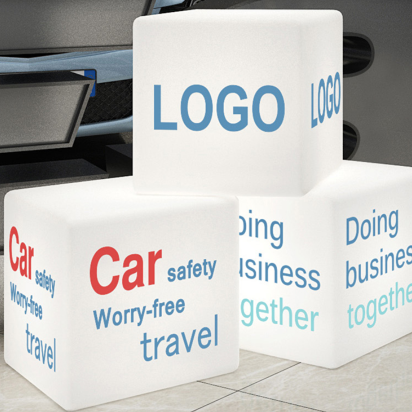 Customizable luxe decor furniture LED Christmas lighting
All of our LED luxe decor furniture can be customized. And the glowing furniture decor lighting is specially designed to add your logo and brand somewhere. Whether you're promoting your brand at trade shows and Christmas festive events, or just want to add your pub logo. We have options for all occasions. Since we do all the graphic design and printing at home ourselves, the options are endless! We can all work with you to make it the perfect fit for your application!
We are the main Chinese supplier of Christmas decoration furniture export all over the world
Colorfuldeco is experienced in indoor and outdoor holiday decorations all over the world. With our own team of creative designers, we are able to create unique decor furniture for any holiday – be it Christmas, weddings and social event parties! Every piece of our LED decor furniture is improved by our professional engineers to ensure safety and practicality. Enables us to provide you with the festive decorative furniture of your dreams.
We are the main furniture company of Christmas LED decoration furniture export, suitable for indoor and outdoor environments. Our outdoor displays include weather-resistant props and attractive LED lighted furniture decorative displays. With a smooth and efficient setup, you don't have to worry about logistics, or any renovation projects that are too extravagant – let us take care of it for you.
Christmas is a special time of year and our classic Christmas event theme service ensures your Christmas party or event lives up to expectations! If you want to stand out from other bars, focus on decoration furniture as it is one of the main differentiators. When you purchase bar furniture decoration at Colorfuldeco, you become the leader of the bar club. Your bar becomes the first place people want to go!
You can place an order with multiple styles in small batches and ship together to save shipping costs. We look forward to your emailing us!