LED Adult Seesaw On Sale, Colorfuldeco
Brand: Colorfuldeco
Manufacturer: Colorfuldeco
Colorfuldeco LED adult seesaw made of a high-grade, durable quality Polyethylene plastic that doesn't fade or crack in the sunlight as cheaper PVC-based plastics would. The polyethylene casing is with a subtle surface texture that helps to diffuse light. 
LED adult seesaw on sale for projects and events
The eye-catching feature of Colorfuldeco's LED adult seesaw will guide you to add interest to the lighting in the space. The LED adult seesaw has an attractive design, not just for efficiency. And it is to attract people's beauty. It can be used in a variety of places, from home use to leisure and entertainment environments. Therefore, they are the undisputed first choice for lighting solutions.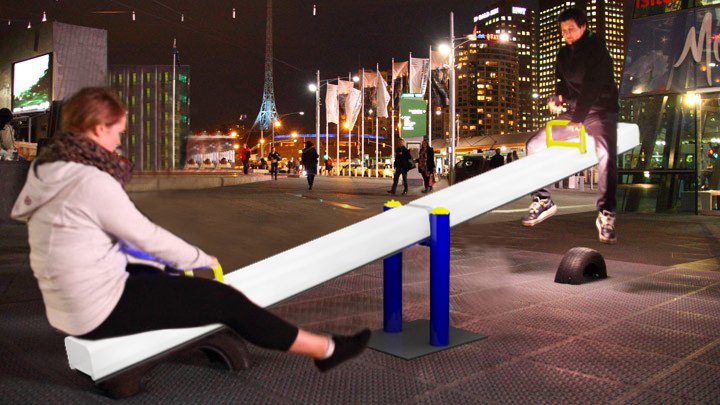 LED seesaws have impressive elasticity, ensuring they have a long life. Because they rarely need to be replaced, their maintenance costs are relatively low. Instantaneous switching of these. Even in very cold temperatures, the led seesaw is very attractive.
Advantages of our products
Our LED seesaws support 16 color options on the remote control by the free remote control. But if you choose to control the color with your phone, you can choose any color from thousands of RGB colors. Second, there are four color modes to choose from, such fade, smooth, strobe and flash.
If you forget your remote one day, don't worry. Because any of our LED furniture, including LED seesaw, is perfect for wireless bluetooth phone control. Just download a Happylighting app from the android market or APP store and enjoy the LED seesaw.
Our panel is different from other low-quality panels. Because we use SMD5050 RGB+W leds and 3014 white leds. Its advantage was mentioned in the introduction of Bluetooth glow swing. That is to say our power storage and usage time is 25% higher than other products.
1. Special events are held in the garden and other public areas in the hotel.
2. Private villas, private courtyards, restaurants and nightclubs.
3. Event/party/product, conference/exhibition, display/retail, display/wedding/corporate display.
4. KTV lobby, KTV private rooms, bars, cafes, discos, night clubs, parks, gardens, swimming pools, villas, cinemas, squares, etc.
Model: A250B-3
Product size: 22 x 22 x 400 cm
Power supply: Connected DC 12V wire directly
Material: PE & Build-in LED lamp wick
Light: RGB Light
Light Color: 16colors changeable or customize a color
Battery: Li-ion Rechargeable Battery(8800mAH)
Lifespan: 50,000h-80,000h
Recharging Time:  3-5hours
Working Time: 10-20hours
Waterproof: IP65
Q: Do you have your own factory?
A: Yes, we are a manufacturer with our own factory and molds and production line.
Q: How many kinds of products are in your factory?
A: We have a large range of products, led table, led chair/stool/sofa, ice bucket, led lamp, bar counter, flower pot, other decors, …
Q: May I see the sample first?
A: Of course, we're glad to provide the sample for you to test in advance.
Q: Do you have relevant certifications?
A: Yes, we have CE&ROHS certificates, so please be rest assured to purchase.
Q. How long is the warranty?
A: The warranty is one year, under non-human damages.
Recommend similar products