LED Double See-Saw 2.7m | Colorfuldeco
Brand: Colorfuldeco
Manufacturer: Colorfuldeco
Order now and enjoy exclusive deals! The outdoor playground is necessary – LED double see-saw. Backyard, park, and playground entertainment just got better.
With our extensive industry experience, we are listed as one of the renowned manufacturers, exporters, and suppliers of glow double see-saw. To meet the different needs of buyers, we offer see-saws in a variety of colors, sizes, and specifications.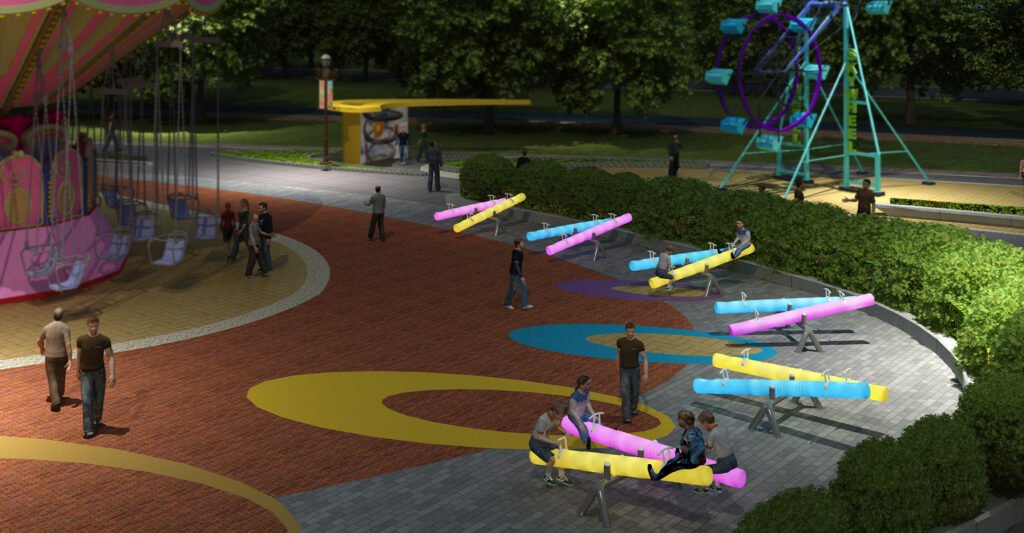 China's Leading Manufacturer of playground Double Seesaw for All Ages
We at Colorfuldeco are undoubtedly the most trustworthy and best quality Children's Play Equipment manufacturer and supplier with a huge range of outdoor playground setups, such as LED double see-saw, glow swings, magic spun chairs, LED floor tiles, and many more. Our rides are a favorite device for kids of all ages, with bright colors that enhance their charm.
Someone rightly said, "A child's laughter is the light of the home" since children are our present and future, we promote the concept of "The world needs play". Enjoy family time with our brands "Colorfuldeco" and "sports passion", "Eco-friendly", "Made in China". We manufacture in a variety of colors and designs, keeping in mind the diverse needs of our customers.
These are designed with child safety in mind. At the same time, it is very popular among children. Also, designed and built with the safety of kids and toddlers in mind, and doesn't have any sharp ends.
The swinging double seesaw LED adds to the social fun of students in school
Our Double Seesaw is a 4-seater game stick. It can be used by up to four children or adults at a time. It's a classic playground project that adds a social dimension to the fun of swinging. Swinging on the seesaw develops your child's motor skills, balance, and coordination.
An inspired update that makes this parallel bar LED seesaw a classic playground mainstay. The innovative plastic bearing is concealed and completely maintenance-free, eliminating the need for a seat bumper for a sleek and attractive design. Cooperation is still required between those sitting at either end, which increases social convenience for children and provides a great opportunity for parents to engage and play.
High-quality 4-seat light up see-saw (double) is mainly used in schools, playgrounds, garden, parks, entertainment and rest squares, etc.
We are committed to providing high-quality light up see-saw (double) to our customers. Mainly used in schools, playgrounds, parks, entertainment and rest plazas, and many other places. We offer a variety of sizes and seats to choose from to meet the different needs of our customers. This Double See Saw has been designed by our experts with the child's maximum comfort and safety in mind. This see-saw has enough capacity to resist varying loads and other breaks.
Product Highlights of LED playground seesaw:
Made of low linearity polyethylene
Resistant to rain and sun
Wireless remote system
solar energy
Change thousands of colors by RGB
Very resistant and light furniture
Virtually unbreakable
Does not need maintenance
Easy to clean and sanitize
Product Name: LED glow double see-saw
Product model:A250B-8
Product color: white
Product material: PE
Product size: 22 * 22 * 270 (cm)
Product weight: 70kg
Product battery powered: Li-ion Rechargeable Battery(8800mAH)
Voltage: AC: 100V-240V
Adaptor: DC 5V adaptor
Light: RGB Light
Charging time: 4-8hours
Working time: 10-12hours
Waterproof standard: IP65
Lighting mode: Intelligent remote control
1* Adapter (Plugs are different in different countries: AU, EU, UK, US)
1* Remote Controller
1* English Operating Manual