Outdoor twin LED seesaw 4 m playground equipment for sale to project and event
We are a professional twin LED seesaw 4 m factory providing various models of the LED seesaw, swings, dance floors & amp; other LED furniture.
Our plastic illuminated twin led seesaw support 16 color options on the remote control by the free remote control. But if you choose to control the color with your phone, you can choose any color from thousands of RGB colors. Second, there are four color modes to choose from, such fade, smooth, strobe, and flash.
Our Double LED seesaw is a 4-seater game stick. It can be used by up to four children or adults at a time. It's a classic playground project that adds a social dimension to the fun of swinging. Swinging on the seesaw develops your child's motor skills, balance, and coordination. It is very suitable for students to play in school.
An inspired update that makes this parallel bar seesaw LED a classic playground mainstay
An inspired update that makes this parallel bar LED seesaw a classic playground mainstay.
The innovative plastic bearing is concealed and completely maintenance-free, eliminating the need for a seat bumper for a sleek and attractive design. These are designed with child safety in mind. At the same time, it is very popular among children. Also, designed and built with the safety of kids and toddlers in mind, and doesn't have any sharp ends.
Cooperation is still required between those sitting at either end, which increases social convenience for children and provides a great opportunity for parents to engage and play.
The Application of lighted up LED seesaw:
1. Home use, like the garden, patio, home bar, living room, etc.
2. Party and events, like birthday, dancing party, festival decoration, Christmas decor, music concert, wedding, company events, etc.
3. Entertainment, like bar, night club, KTV, disco, bistro, pub, salon, SPA, cabaret, Light shows, etc.
4. Catering, like the hotel, restaurant, tea house, coffee shop, etc.
5. The school education activity venue provides a relaxing environment for students to have fun and rest.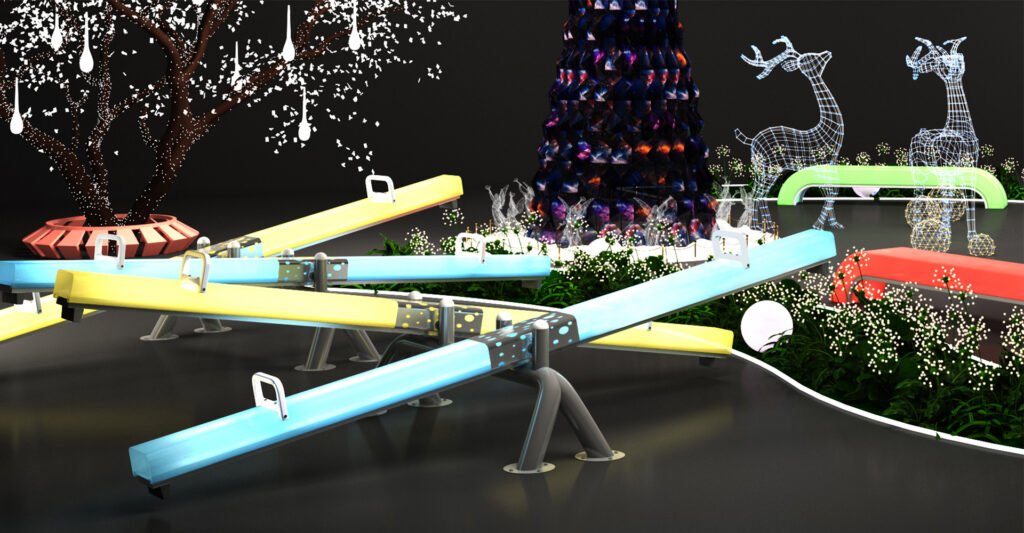 Product Name: Color change twin LED seesaw 4 m
Product model: A250B-7
Product color: white
Product material: PE
Product size: 22 x 22 x 400 cm
Product weight: 24 kg
Product battery powered: Li-ion Rechargeable Battery(1 x 8800mAH)
Voltage: AC:100V-240V
Adaptor: DC 5V adaptor
Light: RGB Light
Charging time: 4-8hours
Working time: 10-12hours
Waterproof standard: IP65
Lighting mode: Intelligent remote control
1* Adaptor (Plugs are different in different countries: AU, EU, UK, US)
1* Remote Controller
1* English Operating Manual
Q1. When can I get the price?
We usually quote within 24 hours after we get your inquiry.
If you are very urgent to get the price, please call us.
We hope you can provide specific types or pictures, so you can get a more accurate quote.
Q2. Can I order samples?
Yes, we provide a sampling service to our hospitality and trade professionals. You will need to complete our sample request form. Please note we do charge for our samples, however, we can provide a full refund (minus delivery costs) if the samples are returned to us. Alternatively, if a subsequent order is placed after seeing the samples, we will deduct the cost from your final invoice.
Q3. Are your samples free or need cost?
Actually, it depends on the products.it requires spl cost and freight collection. Pls informed that all spls cost and freight costs can be returned to you after the order is placed. You're welcome to email us for checking.
Q4. Can you do the designs for us?
Yes! We have a professional team with rich experience in product design and manufacturing. We can design and manufacture the products as per your idea. Furthermore, we provide OEM or ODM services.
Q5. Do you provide international services?
Yes, we can deliver anywhere in the world using our network of reliable and fast couriers. If you can't see your country during checkout, please contact a member of our team, so we can calculate a rate for you.
Q6. Do you offer discounts?
Yes, we can offer discounts for members of the trade such as designers, architects, contractors, and hospitality professionals. In addition, we may be able to offer special discounts for large volume orders. Please contact our customer support team with any questions.