LED interactive floor tiles
Brand: Colorfuldeco
Manufacturer: Colorfuldeco
LED Interactive Floor Tiles
Model: J104
Size: Dia.50 x H7.5 cm
Color: 16 Colors Changing & customized color
Light Source: RGBW LED SMD5050
Material: LLDPE Plastic Material
Protection: IP65
Certification: CE RoHS UL
LED Lifespan(h): 50,000-80,000
Power: AC110-240V or rechargeable for option
LED interactive floor tiles
A LED interactive floor tiles, illuminated dance floor, or disco dance floor is a floor with panels or tiles that light up with different colors. They are used for dance. They were popular for disco by the 1977 film Saturday Night Fever, which had gotten its inspiration from a floor that director John Badham had seen at "The Club", a private supper club in Birmingham, Alabama – Wikipedia.
Interactive LED floor tiles for kids
A good dance led floor tiles is one of the main attractions for people. Especially for children want to go to an amusement park, a lighting show. Well, LED interactive floor tiles to stand out when it comes to the varieties available in the market today. Most of the LED dance floor is prepared for adults. But our LED interactive floor tiles are suitable for kids. If you are looking for the best dance floor for kids to buy, the coloring changing stepping stone will be the best buy!
Controlled by phone and remoteLight up floor tiles
We will offer remotes to all of our light up floor tiles. If you believe that there is trouble carrying the remote, you can download an app. With this app, you choose any colors from RGB color. They come with free changing colors or interactive effects. That will dazzle your events and place them in a way you have never seen before. It combines hundreds of colors, harmoniously with spectacular and customizable, pre-set patterns.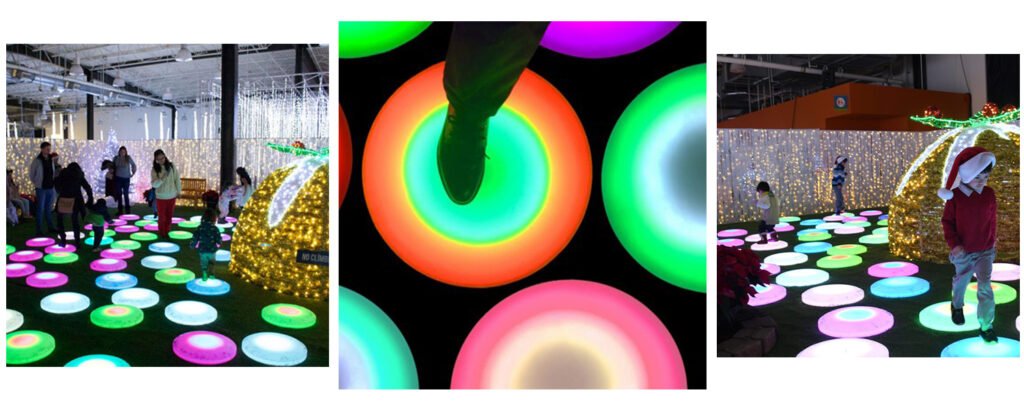 The convenience of the LED interactiveilluminated floor tiles
This illuminated floor tiles is also very easy to lay, but you can still get help in the initial set up if need be. And once you install, of course, you will acknowledge that they are one of the funny items of modern technology. They will transform your spot from an ordinary meet point to a master-class clubbing spot that people will enjoy. They just take your dance experience to the level of multi-billion dollar high club.
Dancing on these led lights is like the dancing of sea of lights, all dazzling in a way that makes the experience of those dancing on it to a completely different world! And thus, whether you want the LED dance floor to buy for your lighting show, amusement park, or even an upcoming event. It's the time you light up your dance floor with a state of the LED interactive floor tiles! In addition, adding the LED swings to make you are even more popular with kids and adults.
Colorfuldeco light up floor tiles scene video
The light up floor tiles or wall is also a way to draw attention to the event. It is used to highlight characters, stage backgrounds, a certain character, props, etc. In a deeper sense, stage lighting communicates with the audience through color, texture, and brightness. These will affect the way viewers affect a particular scene and allow them to read emotions.
Q1. How long is the warranty?
The warranty is 1 year.
Q2. What's PE?
Plastic PE is Polyethylene, characterized by corrosion resistance, electrical insulation (especially high, frequency insulation), low-pressure polyethylene suited to make corrosion-resistant parts and insulation parts.
Q3 Is it difficult to clean the products after use?
No, you can use alcohol or detergent to clean them, and it will look new.
Q4. What should we concentrate on when using this type of product?
Do not attempt to dismount any LED section. And don't place it too on the brink of the hearth and heat area. Use only the charger provided by our company. Skim the user guide sheet within the package carefully before using it.