LED furniture available at glowfurniturefactory.com are often found at pubs and restaurants. Their color, size and shape are designed to encourage dialogue. Because the person sitting on the bar stool is at eye level with the person standing. When seating arrangements are carefully planned, LED furniture will add style to your venue area. In addition, you can choose LED furniture that exactly matches your location.
LED furniture, a traditional piece of furniture made of chunky acrylic, is embedded with LED light emitting diodes. Most LED furniture can withstand up to 300 pounds, making it a sturdy choice for any environment. Due to the use of acrylic material, the furniture is waterproof and can be used indoors or outdoors. Most LED lights also have a variety of Settings, from flash or strobe to gradient or smooth.
LED illuminated furniture is exploding in the event industry as another way to impress attendees. It is usually made of opaque plastic and has LED lighting throughout the body of the piece, omitting the warm colours chosen by the designer. These can be adjusted directly on the device ($) remotely ($$) to match almost any shade ($$) or color in the preset options loop that you like.
Where to use LED illuminated furniture?
LED illuminated furniture is most commonly used in outdoor venues, bars and nightclubs, and other gathering places. LED chairs, stools, and cocktail tables are perfect for setting the mood or making a bold statement at any gathering. The beauty of these units is that they can be used indoors or outdoors. And still, have the same unique visual effect.

LED furniture can enhance the effect of activities
Choosing the right furniture for the right event can be a daunting task. But when you see the glow furniture at the event, it gives you a whole new experience. LED furniture isn't just a way to make an environment look incredible. It is also functional, low-cost and safe to use.
Create an elegant environment
Using an LED cocktail bar table or main led bar counter gives an impression. Your event is a hot spot and one of the must-see places. Everyone likes to feel as if they are part of something luxurious and glamorous from time to time. So give them what they want. Use soft LED furniture lights to create a beautifully lit path under the stairs or on the path leading to the main event. Can create a charming atmosphere and provide visitors with the feeling they want. This is what LED furniture can bring you.
Light rhythm is combined with music
LED furniture is programmed to blink in time with music playing in the background. This can create a music video. Just like people feel, let everyone get into the area, have a few drinks and have a good time. This will be an exciting addition to your activities.
Create a relaxation zone for your activities
Using LED sofa and table with soothing LED lights to control people's emotions is becoming increasingly popular. By contrast, providing bright, intense lights for events encourages people to go crazy and have a great time. Create a thriving, welcoming destination for others. Creating a different atmosphere with LED furniture is a very effective way. Blue lights are often used for events to create calm and quiet areas. To relax and chat with others. Having one of these areas at the event will ensure that you don't put off people who want that area to relax and unwind.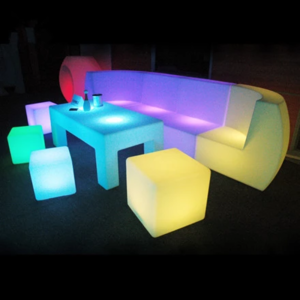 LED furniture will bring repeat customers
Usually, the most successful buildings have long queues that stretch from the entrance to the street.The most popular events are those where everyone attends, not those where ex-soldiers drink. Choose LED furniture for 25-35 year olds and your business will be successful. One thing about successful, popular, elegant events is that they are often packed with people who want to impress and who like to spend a lot of money.
A little LED furniture goes a long way
Any good designer will combine LED furniture in a way that celebrates the overall look and feel. Formal dinners may not be the best place for such rentals. But when you're fresh after a party, they'll make a big impression.
If you think about it, LED lighting can be added to any piece of furniture you want. You can consider the following options:
From catering to LED cocktail table and game tables, their inventory of LED-lit tables can create amazing surprises and interactive opportunities for your guests if you find the right vendors. LED table if you have raffles or auctions. You can plan to light up their tables when the winners are announced.Perhaps you incorporated led table lighting into stage entertainment. Again, the options are endless.
The LED cube seats furniture
The types of chairs, sofas and other alternative seating that can be illuminated with LEDS are endless. Be careful when you sit in a chair and never sacrifice comfort for a cool-looking chair. With advances in manufacturing and even 3D printing, it's easier than ever to explore creating your own, custom LED cube seat furniture.
The types of chairs, sofas and other alternative seating that can be illuminated with LEDS are endless. Be careful when you sit in a chair and never sacrifice comfort for a cool-looking chair. With advances in manufacturing, and even 3D printing, it's easier than ever to explore creating your own, custom LED cube seats.
This is one we are seeing more and more in events. The bar is one of the most popular places for activities, why not take the usual approach and make it more personal. One advantage of LED light-up bar counter lighting is that you can set multiple colors along the length of the strip to create color gradients. Bonus: This is a great way to impress the LED ice buckets bar.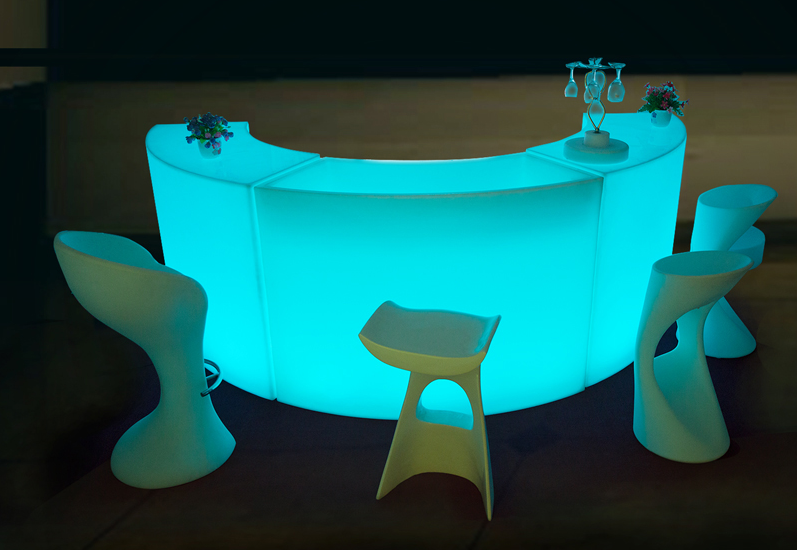 Colorfuldeco is a professional LED furniture manufacturer. What we do! Endless Entertainment can provide our customers with some incredible LED furniture choices. We are a LED furniture factory, the products include LED decoration lights, LED ball, LED cube, LED sofa, LED bar stool, LED table, LED counter, and so on.
In this competitive society, it is important to have the chance to stand out. With LED furniture, you're one step ahead of the business next door. Illuminate your workplace, bar, outdoor area or nightclub. Now that you've seen some of the existing LED furniture options, will you throw in some lights to make a statement at your next event?