Ahhh…the fun of nightlife…if you want your club to be the place to go. Nothing creates the atmosphere of a bar or nightclub like our nightclub LED lounge furniture. Stand out from our many table designs and give your customers a different experience. Whether you're looking to add something new to your bar or want to lure your customers into the lounge's VIP bottle service area. We all offer a range of nightclubs LED furniture lighting to suit any application!
Nightclub LED lounge furniture supplier
The club is an attractive place. Need to be constantly updated with the latest fashion. We offer nightclub illuminated furniture in modern, contemporary, retro, and traditional styles. Our LED sofas and illuminated lounge chairs feature the latest stylish interiors, colours and designs. We will assist you in choosing the ideal furniture to match your decor. You want your disco bar to be a constant buzz of activity and excitement, not a gloomy place. Stylish furniture that matches the latest trends can go a long way in attracting people to your place.
We Colorfuldeco offer a wide variety of nightclub LED lounge furniture to suit your unique preferences or tastes. If you want to stand out and stand out from other nightclubs. Please focus on LED furniture lighting. Because it's one of the main things that makes all the difference. What are you still hesitating about? Buy a brand-new set of bar furniture now to revolutionize the place.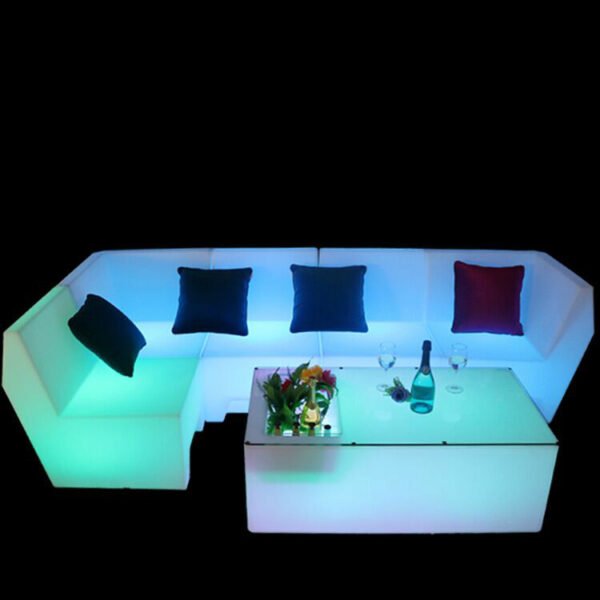 You can choose between fixed and swivel high stools in a variety of designs. All furniture is extremely durable and commercial grade. Colorfuldeco Luminous Furniture Lighting Manufacturer has the best online selection of commercial grade restaurant bar stools. With over a dozen featured categories, we make it easy to find the perfect illuminated bar stool to match your decor. If you are looking for a truly unique, high-quality nightclub LED bar stool, talk to us about customization. Check it out.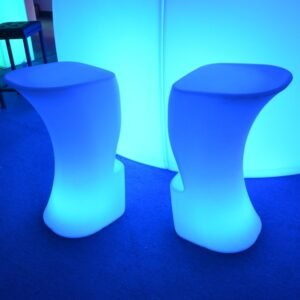 Wholesale LED sofa sets have more advantages than first seen. For those who spend a lot of time at the bar, opt for wholesale bar tables and chairs that are designed to be comfortable and convenient. Usually you can order with our LED table. This is the perfect set of nightclub LED lounge furniture.
Nightclub luminous LED end table
LED end tables create ambiance and atmosphere in the bar, which is important for customer retention. The retro designs of some tables and bar stools make them perfect for gentlemen's clubs, luxury bars, hotel lobby bars, and more. LED coffee table can vary in size from a small one-person table to an extra-large table that can accommodate many people. Unlike traditional tables, bar sets are designed to support the different preferences of customers: they can be very high or very low, depending on their position within the bar.
Modular LED bar counter furniture
Our modular LED bar counter furniture is the perfect solution for event companies. LED lighting furniture and decor are becoming more common at events today, so let us help create something that will really make your event stand out! Be sure to check out our Elements modular movable furniture too!
High-quality LED champagne ice buckets are made for special purposes, so be sure to find one that meets your everyday needs. They are a must-have in every home environment. They are inherently important to everyone. Be sure to invest in quality material that will serve you longer. Their different sizes make it easy to transport a variety of contents without too much stress.
They're waterproof, with an open-top and a flat bottom to help keep them stable on the ground. High-quality LED champagne ice bucket comes in a variety of sizes and materials, as they are designed to store or carry items from one place to another.
LED lighted flower plant pots
Our LED lighted flower plant pots, whether plant pots, large pots, outdoor seating, or lamps, transform the simplest spaces into beautiful environments. Our products enhance indoor or outdoor spaces. With its modern and contemporary design, the overall building will have greater appeal.
Our illuminated pots with smart LED lighting can be easily set to display different colors via the app. This way you can instantly create a good vibe. Glowing planters add a little extra touch. That's why Colorfuldeco's LED lighted flower plant pots are so popular.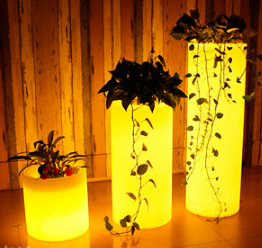 Center decorative lamp - egg-shaped wireless charging desk lamp
Our small rechargeable cordless egg-shaped desk lamp differentiates you from your competition day and night, thereby attracting more customers. The wireless charging egg-shaped light is a key ambience trigger. It will make people walk into your place, feel good and consume your product. Your employees, waiters, managers and housekeepers will find these lights easy to use!
Customize your nightclub LED lighting furniture
All of our LED furniture can be made to order. Our LED furniture is specially designed to add a logo and branding somewhere. Whether you're promoting your brand at trade shows and events, or just want to add your pub logo. We have options for all occasions. Because we do all the graphic design and print at home ourselves, the options are limitless! We can all work with you to make it the perfect fit for your application!
If you want to stand out and stand out from other nightclubs, focus on furniture as it is one of the main things that makes all the difference. When you get your nightclub furniture at Colorfuldeco, you'll be a nightclub club leader. Your nightclub becomes the first place people want to go!
You can order small quantities and multiple styles together and ship them together to save shipping costs. Looking forward to your emailing us!
Location: Jiangbei of Huizhou Road, Huizhou City, Guangdong, China
Tel: +86 18923606158
Email: info@glowfurniturefactory.com
What's app: +86 18923606158