Planning a surprise party? Country Club Fun From - LED Resort Furniture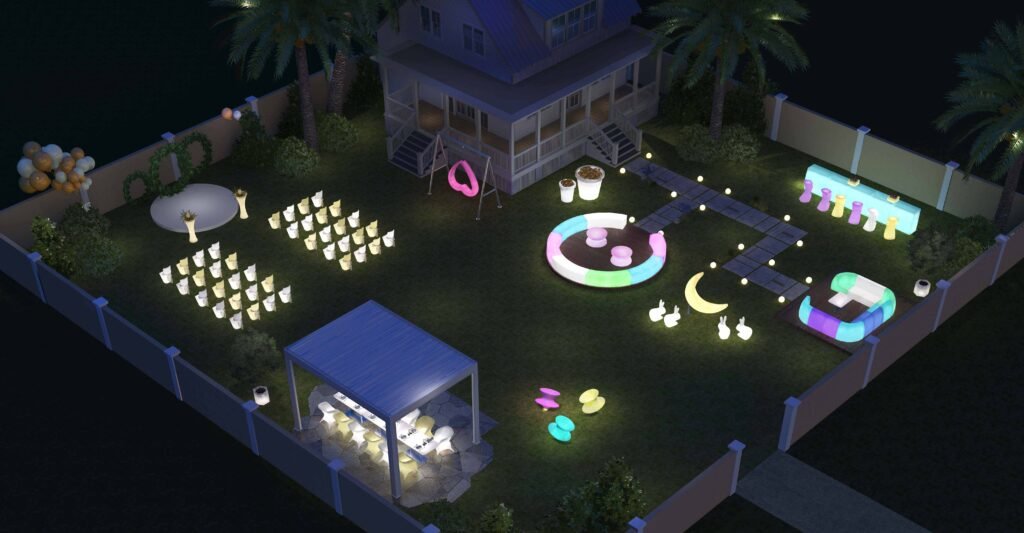 Planning a surprise party? Country Club Fun From - LED Resort Furniture
The tranquility of this country club-resort furniture will provide you with a much-needed escape from busy city life. Bring you and your guests a multi-sensory journey beyond sight, providing an unprecedented novel experience; a visual feast for you and your guests in the dark environment! This is a rare and unique social event and party experience you definitely don't want to miss!
Resort outdoor furniture for wholesale
This grand resort patio furniture is filled with an array of activities to keep your guests busy throughout the party. Featured facilities are; the LED swing, spun chair, glowing rabbit chair, moon decorative lights chair; different lounge areas: illuminated dining area, sofa combination lounge area, LED curved bench and table combination, bar area – a comprehensive outdoor bar concept; The event ceremony area; a variety of LED decorative furniture to create a party atmosphere: LED flower pots and LED ball lights.
Whether you want to host weddings and celebrations, social events and parties, or corporate events and exhibitions, Colorfuldeco's modern LED resort style outdoor furniture can make your guest stay an unforgettable memory. Make your hotel resort the perfect place to host any type of party!
Grand resort patio furniture manufacturer
We are the most professional furniture resort factory in China. And specialize in providing the best-customized services. Offers grand resort patio set furniture lighting products for home decor, party events, and business enhancement.
Low MOQ and door to door delivery
The MOQ of most products is 1pc, and we have a variety of styles to choose from. You can order small quantities and multiple styles together and ship them together to save shipping costs. All our glow products are shipped directly from the China factory to your warehouse. Especially in Europe, America, Canada, and Southeast Asia.
The above for resort furnishings product display