Spun Chair Cheap Large, 88x88x60cm
Brand: Colorfuldeco
Manufacturer: Colorfuldeco
Fun, functional, and light-up chairs are here to rock your world around. The Spun Chair Cheap Large 88cm from Colorfuldeco. It rotates but won't let you slip! A great way to infuse activity in your whole day sitting routine. Glued at work? Spin and swivel with this stylish LED chair.
Spun Chair Cheap Large 88 cm
The Cheap Large Spun Chair is excellent outdoors, but you may place it inside if your place is not narrow. If your patio or garden is smooth concrete, you can also introduce the cheap spun chair for an added flair.
Because of its shape, we also call it the Gyro Chair. It is appropriate for a minimalist style since the shell of this cheap large spun chair is color white, but you can choose the color you like. It will exude a warm ambiance in its dim light and a neutral feeling in broad daylight. There is no problem leaving it outside because its main feature is its sturdy case that is waterproof, dust-free.
A Friendly Spot - Spun Rotating Chair
Lockdowns are everywhere, and these have forced people to stay home and live bare. There are no malls, playgrounds, and tourist places to visit for a quick getaway. But fret not if you feel bored because the large spun rotating chair can be an excellent start for a surprising upgrade, a play area at home for kids and adults.
If you have to think of a fashionable and careful design to make your place look chic and comfortable, it does not only mean you need decor. You can have both aesthetics and function in just one piece of furniture, like the large magic spin chair. It is interactive. And a fascinating visual item suggesting play and friendship. 
Perfect Coffee Nook - Spun Rocking Chair
Reveal a delightful coffee area by incorporating items that match and complement each other. The large spun rocking chair with Coforfuldeco's coffee table is a remarkable ensemble that will give your house a contemporary look.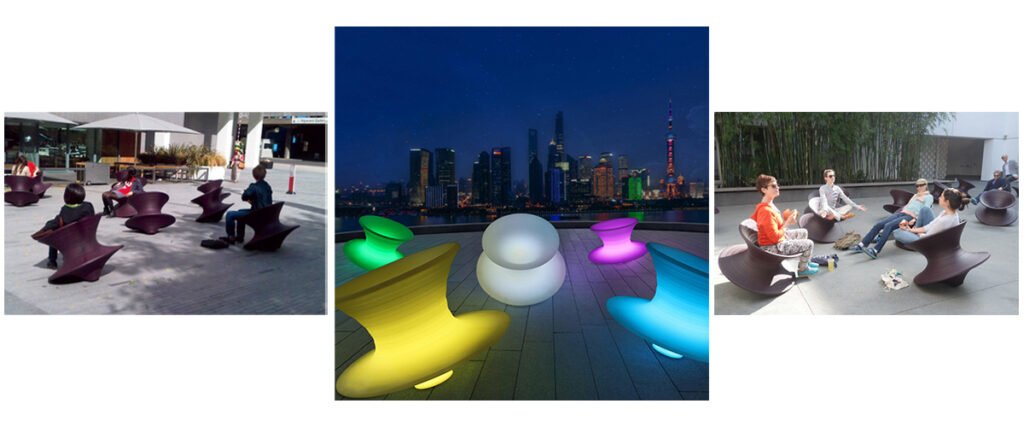 The outdoor magic spin chair is a good investment through this pandemic. Despite the negative vibes outside our homes, we can choose to be happy and sane. Spin around, feel the air, breathe and have fun!
Factory Video of Colorfuldeco
Length: 88 cm.
Width: 88 cm.
Height: 60 cm.
If you want to know about the different sizes of Gyro chairs. Click to check it out.
Q1. How long is the warranty?
The warranty is 1 year.
Q2. What's PE?
Plastic PE is Polyethylene, characterized by corrosion resistance, electrical insulation (especially high, frequency insulation), low-pressure polyethylene suited to make corrosion-resistant parts and insulation parts.
Q3 Is it difficult to clean the products after use?
No, you can use alcohol or detergent to clean them, and it will look new.
Q4. What should we concentrate on when using this type of product?
Do not attempt to dismount any LED section. And don't place it too on the brink of the hearth and heat area. Use only the charger provided by our company. Skim the user guide sheet within the package carefully before using it.