Spun Chair Cheap Large, 88x88x60cm
Brand: Colorfuldeco
Manufacturer: Colorfuldeco
Fun, functional, and light-up chairs are here to rock your world around. The Spun Chair Cheap Large 88cm from Colorfuldeco. It rotates but won't let you slip! A great way to infuse activity in your whole day sitting routine. Glued at work? Spin and swivel with this stylish LED chair.
Spun Chair Cheap Large 88 cm
Introducing the Spun Chair Cheap Large – the perfect addition to your home or event space! This stunning piece of furniture is not only stylish and modern, but also incredibly affordable. With its spacious dimensions of 88x88x60cm, the Spun Chair provides ample seating for guests of all sizes.
Crafted from high-quality materials, this Peg-Top Chair is durable and long-lasting, ensuring you get the most value for your money. The spun chair is a stool, chair, beautiful sculptural object, and spinning top all in one. Surprisingly, we also offer illuminated swivel chairs. Choose the outdoor furniture you want.
Because of its shape, we also call it the Swivel Gyro Chair. It is appropriate for a minimalist style since the shell of this cheap large spun chair is color white, but you can choose the color you like. It will exude a warm ambiance in its dim light and a neutral feeling in broad daylight. There is no problem leaving it outside because its main feature is its sturdy case that is waterproof, dust-free.
A Friendly Spot - Spun Rotating Chair
Lockdowns are everywhere, and these have forced people to stay home and live bare. There are no malls, playgrounds, and tourist places to visit for a quick getaway. But fret not if you feel bored because the large spun rotating chair can be an excellent start for a surprising upgrade, a play area at home for kids and adults.
If you have to think of a fashionable and careful design to make your place look chic and comfortable, it does not only mean you need decor. You can have both aesthetics and function in just one piece of furniture, like the large magic spin chair. It is interactive. And a fascinating visual item suggesting play and friendship. 
Perfect Coffee Nook - Spun Rocking Chair
Reveal a delightful coffee area by incorporating items that match and complement each other. The large spun rocking chair with Coforfuldeco's coffee table is a remarkable ensemble that will give your house a contemporary look.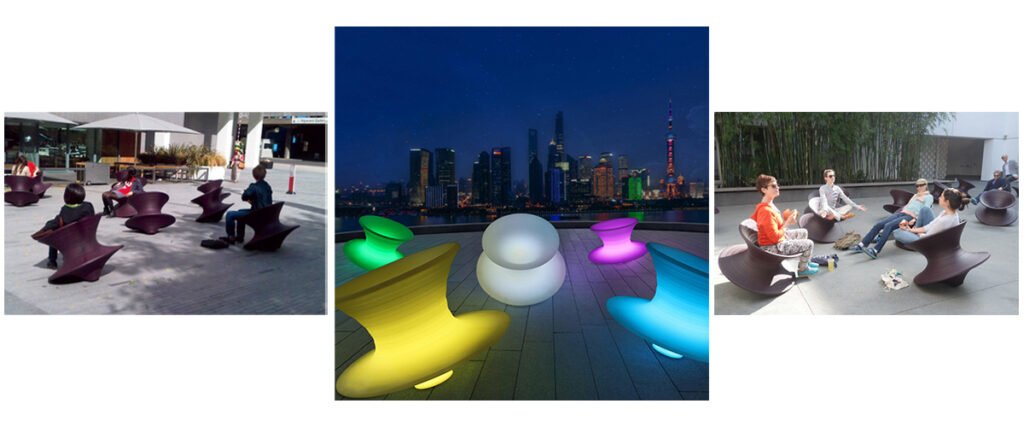 A design with the same contours for the seat, backrest, and armrests was achieved by rotational plastic molding. The result is not immediately apparent as a chair. When placed on its side, the spun chair forms a comfortable and fun-to-use chair in which the occupant can sway from side to side and even 360° rotation in full circle. So, if you've never been one to sit still, the glow gyro swivel chair is for you. Indoor or outdoor, rock or spin your way to creativity or relaxation. Bright and whimsical, this is a chair that defies definition.
But don't let its stylish design fool you – the Spun Chair is also incredibly comfortable. With its soft, cushioned seat and backrest, you and your guests can relax and enjoy your event in complete comfort.
So why wait? Upgrade your event space with the Spun Chair Cheap Large today and experience the perfect combination of style, comfort, and affordability!
Factory Video of Colorfuldeco
Length: 88 cm.
Width: 88 cm.
Height: 60 cm.
If you want to know about the different sizes of Gyro chairs. Click to check it out.
Q1. How long is the warranty?
The warranty is 1 year.
Q2. What's PE?
Plastic PE is Polyethylene, characterized by corrosion resistance, electrical insulation (especially high, frequency insulation), low-pressure polyethylene suited to make corrosion-resistant parts and insulation parts.
Q3 Is it difficult to clean the products after use?
No, you can use alcohol or detergent to clean them, and it will look new.
Q4. What should we concentrate on when using this type of product?
Do not attempt to dismount any LED section. And don't place it too on the brink of the hearth and heat area. Use only the charger provided by our company. Skim the user guide sheet within the package carefully before using it.