Brand: Colorfuldeco
Manufacturer: Colorfuldeco
Colorfuldeco offers a color-changing led stool for your dream backyard. So, feel free to create a comfortable spot outdoor to welcome your guests. If you have lots of people coming, you should conjure more chairs. Use Light-up RGB led stools that function as night lights and extra seats!
Creating a well-lit home is already a challenge for savvy home designers but making the outdoor extravagant as well is probably the next level. With no walls and lots of uninvited crawling guests, the Light-up RGB Stool will add some brightness.
An outdoor setting is quite a task since there are lots of things you should consider. The landscape, the mood, the theme, light-up furniture fixings, and even the plants must complement each other. To save you some time in terms of lighting, here are simple tips for your home improvement planning.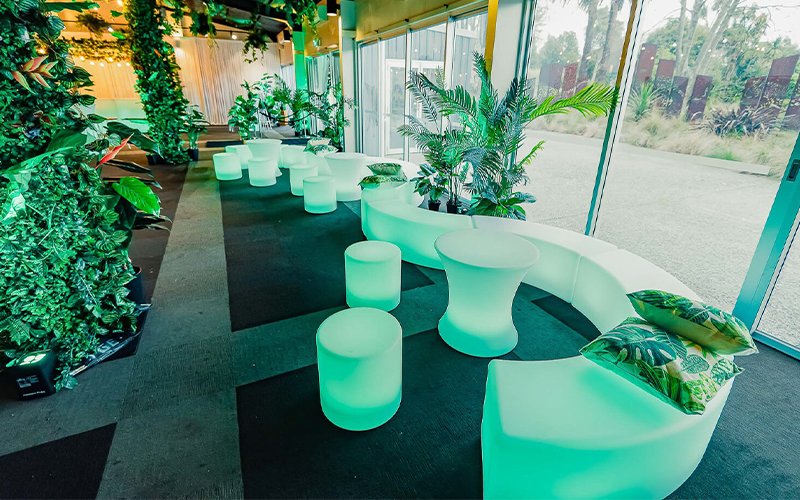 Look And Feel
You probably have a different preference for the view. With the feel, however, I guess everyone loves comfort and peace. So, plan a design that can evoke a positive environment. You are on the right track by thinking your garden needs some lighting effect for quick night-time pondering. Use an RGB light-up stool that can function as a seat and indirect light source.
Work On Your Budget
Lighting your garden may look pretty easy to you, but you have to understand that different lights come at different prices. Using a color-changing led stool is a good move since the color may change depending on your mood. You do not need to purchase different lights for various events, you can simply push the button in its remote and you can change the lights to whatever you intend.
Function And Sophistication
Outdoor lightings must have safe fittings to prevent accidents. You need to light the pathways and illuminate garden beds. Also, install some festoon lights to emphasize the beautiful highlights of the garden. We also recommend an outdoor garden LED pineapple stool.
LED Lights
With lesser heat output, led lights are the better option when it comes to lighting outdoors. The Light-up RGB stool is among the best fit since it produces warm tones that relax our eyes. It gives off the right kind of light we need at night, subtle and not glaring or blinding to the eyes. Its cylindrical shape complements any space, and since its material is polyethylene, you can be sure of how durable and long-lasting it can be.
Specifications:
Length: 41 cm.
Width: 41 cm.
Height: 42 cm.
Weight: 7.28 kg. or 16.05 lbs.