With the increasing popularity of led furniture, it is used more and more frequently in many events, hotels, bars and nightclubs. Colorfuldeco introduces 15 very popular and used glow in the dark furniture to you, hope it can help you.
LED Glow Table
Colorfuldeco lighted highboy cocktail table features a white top with glass and RGB LED lighting. Just put the stretch spandex cover on the table, and use the remote control to choose the color what you like.
LED Glow Chairs

This durable LED light up serious are fun. With 16 different colors of RGB LED lights and 5 level dimming and 4 lighting modes to choose from including strobe, fade, flash, and smooth, you'll never get tired of looking at it. In additions it is perfect for most decoration. The extremely sturdy PE cube shell looks like a plain white body. When you switch on the rechargeable remote controlled LED glowing cube, the colors change and fade.
LED Glow Stools
You can set this light to the RGB color of your like choice, or choose one of the modes of color-changing. That must be seen romantic. By the gradual color change option, this light will blend from one color to another, creating a modern atmosphere
LED Glow Sofas

The illuminating sofa is a great choice to bring a modern touch to your event venue, office, or convention hall. Create ambiance with suitable RGB color and brightness settings to match the mood. Add to events like bar and banquets with our trendy luminous sectional sofa LED furniture that's sure to kick things off. Whether it's a nightclub, trade show lounge, or a wedding, our led sofa seats with lights are supreme for adding to the environment.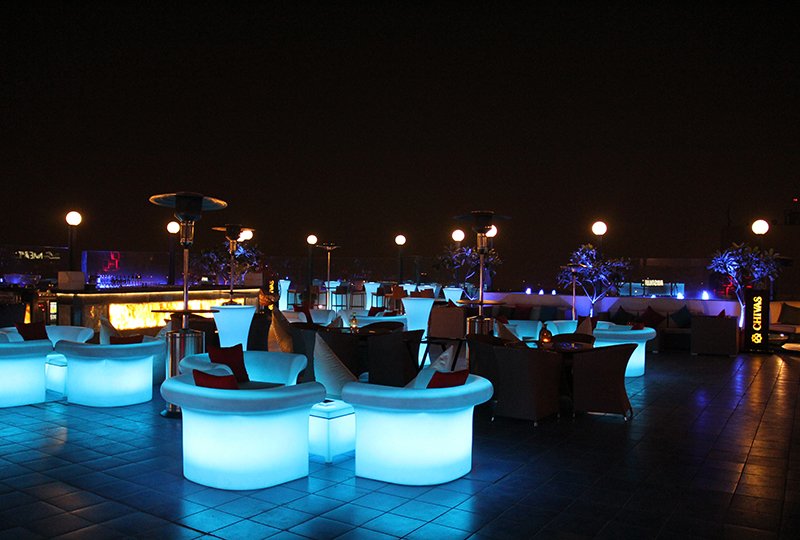 LED Bar Counters

Our Colorfuldeco illuminated modular LED bar counter units can be used as single bars, exhibition counters and reception desks, even they can also combinate together to form an impressive lighting round bar of any size or shape.
Every LED illuminated bar unit can be individually lighting to suit the requirements of the event, with any RGB lighting color choices and various lighting strengths.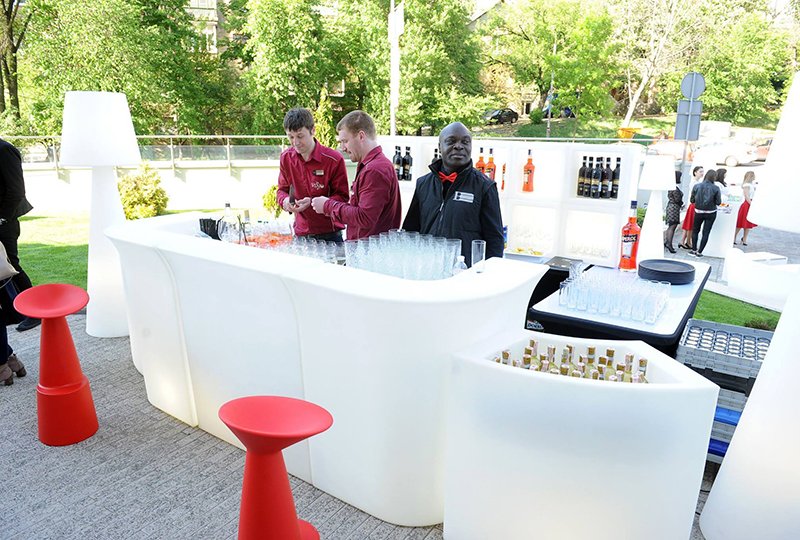 LED Glow Swings

Our round LED glow swing is a great way to add lots of color and energy to your event by impressive experience while also offering your guests a great place to sit and socialize. With it's gentle curve round, this glow LED swings adds elegance and color to your event. This crowd pleasing favorite comes alive at night to impress user and make sure that the energy stays high until the end!
LED Flower Pots & Planters

LED flower pots are also perfect to light up your patio, roof deck, hotel, living room, and great for club, banquet, spa, park and more. IP68 waterproof can be used indoor or outdoor all the time.They look beautiful in day light but look stunning at night or in the dark.
LED Glow Balls

This unique and contemporary Floating Pool Light will create an amazing effect on your pool or backyard – lighting your patio or pool. The LED glow ball lamps have a flat base so they can also put on a flat surface when you wish to use them outside of the pool.
Just put the LED glow balls on their base to recharge and then enjoy a whole day of delightful light.
LED Glow Cubes

The LED glow Cube is funky LED furniture at it's finest. This 40cm3 color change cube can be as the stools or end-table to light areas both indoors and outdoors. So it is becoming hugely popular for use in party, nigtclub and event spaces, as well as in the patio and home.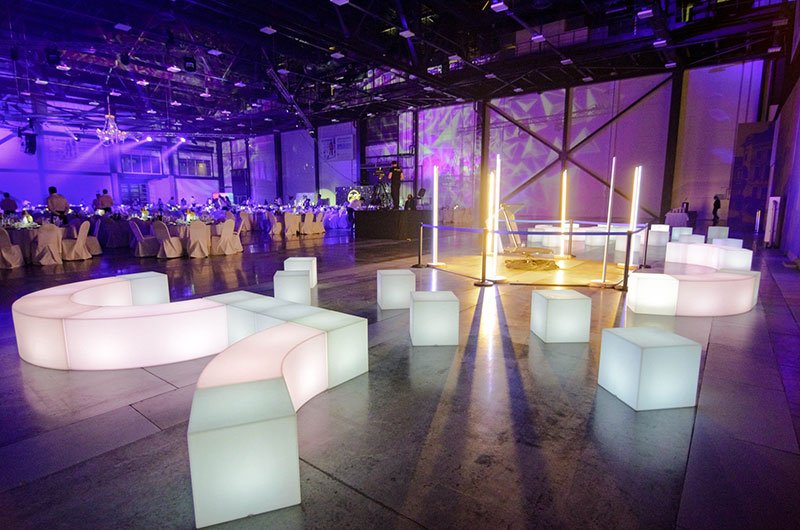 LED Decorative Floor Lamp

Premium large decorative cordless floor lamp from Colorfuldeco. Create a striking feature piece with this premium large decorative LED floor lamp. This cordless floor lamp has a gradual color changing sequence. Being rechargeable, so there is no mains power or messy cables to worry about. It is perfect for events, atmosphere light, decorative lamp for home, event, wedding, party, restaurant, hotel, lounge, bar, club.
LED Glow Letters

The giant LED glow letters spelling LOVE or any other letters can provide a creative photo to shine across social media. LED furniture is popular all year 'round by any color free change but our pieces always make lifetime memories — weddings, birthdays, retirements.
LED Ice Buckets
If you are trying to create that VIP feel, LED glow ice bucket must be the most glamorous way for serving drinks at your event. The LED bucket can hold all your favourite beverages like bottles of champagne, wine, spirits and beer. At the same time, they are suitable for soft drinks, water and juices. The glowing ice buckets are remote controlled by remote or phone, so you can set the color or make it flash fast or slowly fade between colors.
LED Speak Lamps

It's a lamp! But it is a wireless speaker! This stylish LED lamp combines lamp and speaker into a single handy unit. You could listening to electric books in the bedroom at night, or playing music while going patio and outing, this product is portable to carry, and literally brighten your day!
LED Decoration Table Lamp

Each lamp contains a premium LED bulb or panel for supreme richness and warmth with an authentic flicker effect. Plus, the Colorfuldeco have also managed to build a long-life rechargeable battery and phone control sensor into each light for the pinnacle of functionality.
LED Glow Rabbits

The rabbit is a gentle animal, attractive and lovable. It symbolizes love and fertility in Western and Eastern culture , it is a sweet and lucky animal that brings good fortune and good wishes. Whenever in day or night, the young and olds can sit on the rabbits' back. In park or some event, lean the back against LED glow rabbit's ears or on the opposite side, riding it, enjoy the good time.