LED Apple Ball Chair Large, 65x65x50cm, D117
Brand: Colorfuldeco
Manufacturer: Colorfuldeco
The LED Apple Ball Chair Large 65x65x50cm from Colorfuldeco can be a statement furniture piece for your hotel lobby, pool area, or spa. Or you may let it exude a luxurious feel for your patio and outdoor lounge at home. Enjoy its soft texture, smooth touch, and warm glow at night.
LED Apple Ball Chair Large 65x65x50cm
Incorporate your style with the LED Apple Ball Chair Large 65x65x50cm. Matching its delicate design is its utility and function to complement big and open spaces like your porch, garden, or swimming pool area. 
You may appreciate this indoors as well, but to optimize your space, leave the bulky led furniture piece outdoor.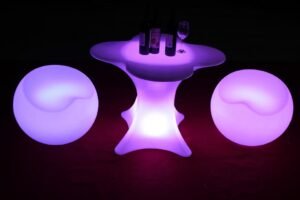 The size of the chair is a paramount consideration in choosing its location, and as such, the LED Apple Ball Chair Large 65x65x50cm is perfect outdoors. With its sturdy material, the led apple stool can withstand heavy rains and the scorching heat of the sun. 
Enjoy a nostalgic and refreshing day with your family and friends from day to nighttime. Although it is in default white, this minimalist piece has led lights. So, when dusk covers the place in the dark, complete the ambiance with the apple ball chair's rich and warm hues. If you are in for a cocktail drink, use its synchronous color-switching mode to change the mood.
If you have a pretty big place to utilize, these led outdoor light chairs can be an asset for your house too. The bar area can become luxurious and inviting that will surely suit your taste. Its ability to glow can add up to a subtle classical indoor. With its sleek lines and smooth edges, the LED apple ball chair will appear clever and fashionable. 
If you have kids and safety is also your priority, you have nothing to worry about because the LED Apple Ball Chair Large 65x65x50cm has a remarkable design. It is wireless and battery-powered. Thus, there is no way to get tangled in any twisted wires. 
The LED lighting system makes it possible to power up led bulbs using batteries since they are energy-saver. With the led apple ball chair, you can experience a dreamy outdoor look in a chic and stylish way. 
Length: 66 cm.
Width: 66 cm.
Height: 52 cm.
Weight: 8.24 kg. or 18.17 lbs.