If you're planning to organize an outdoor event party, you've come to the right place. We at Colorfuldeco help you create an extraordinary outdoor luxury picnic event that is carefully planned. Don't worry, we offer the best different types of outdoor LED event furniture for sale to help you make the best summer picnic party possible!
As the weather warms, activities move outdoors. Discover some fresh decorating, dining, and entertaining ideas to complete this summer! During the summer months, interest in the outdoors increases. Outdoor activities such as luxury picnics engage our senses outdoors and boost our energy and immune systems. Because we are close to nature, it gives a very fitting feeling and enhances our mood and concentration.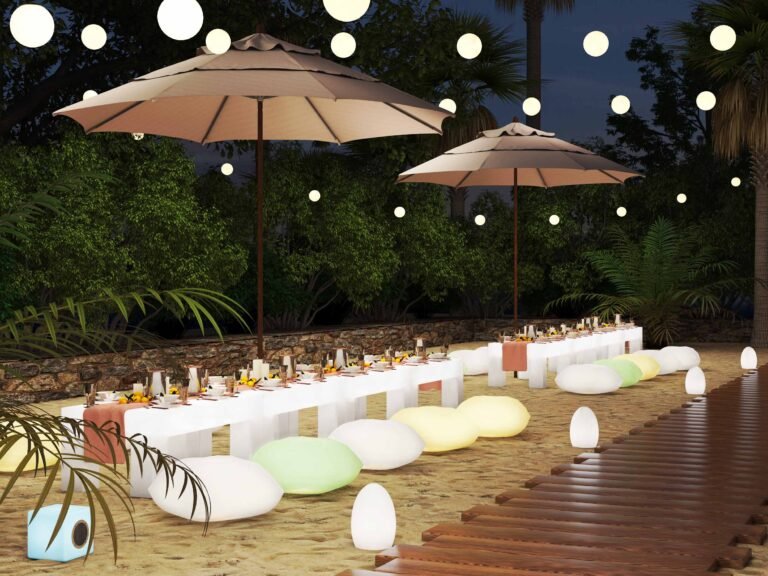 What is LED event furniture?
Whether you're organizing a party, a wedding, or just looking for extraordinary decorations, outdoor casual LED event furniture is the latest trend in event planning.
LED (Light Emitting Diode) furniture is also known as "glow furniture". It has the basic concept of a piece of furniture with an LED embedded in it. The LEDs consist of red, green and blue LEDs, each of which can be controlled by a microcontroller. LED lighting gives us beautiful upward lighting, monitors, projectors, and yes, furniture.
LED furniture is one of the most interesting inventions of LED applications to date. It comes with a dense acrylic coating in which LED light-emitting diodes are embedded. This ultra-bright LED bulb consumes less energy and is an innovative way to light up a space for large or small events. LED furniture is made of high-quality materials that resist heat, rain, or other weather elements.
It can be on any furniture of your choice, from beds to sofas, stools, and tables. At certain events, this innovation becomes very popular. This is because of its innovative and stylish design.
What other functions does LED event furniture have?
The remote can set the lights and colors of these different types of furniture to whatever you want. You can set the lights to dimmer where you don't need much brightness. You can change the colors according to the theme of the occasion. You can also set it to blink mode to add energy to the event for larger parties!
How to choose the right color for your glow event furniture?
It comes in any color you want; you need to point the remote at the glow event furniture and press your favorite color. It also has a setting that lets you choose from static colors to slow color changes. When the party gets tough, you can change it to blink mode. Depending on the party, you can choose from a variety of colors that suit your needs. Some examples of these color sets are:
Kids Birthday Party – Blue and Pink (Gradient)
Teen Party – Purple and Pink (Blink Mode)
Warming Occasion – Yellow or Green (slowly change color to flashing pattern)
Graduation Day Celebration – Black or Yellow (Static Color)
Backyard Wedding – Red and White (Static Colors)
Office stakeholders – orange, green, purple and yellow (static color to flashing pattern)
Cocktail Party – Purple and Red (Static Colors)
Any other party – all the colors you want (all the ways you need)
LED event furniture for outdoor luxury picnic events
Any good designer will incorporate LED light furniture in a way that complements the overall look and feel of the event. A formal evening might not be the best place for this type of rental, but these can make a big impression after your energized party.
We provide a variety of high-quality LED event furniture experiences for indoor and outdoor luxury picnic events, such as LED tables and chairs, LED stools and tables, LED sofas and tables, etc. Perfect for group social picnics, romantic wedding picnics, family reunion picnics, fancy picnic company, and other outdoor picnic sets. You can also request a luxury picnic quote that is fully customized for your own event. We offer another lighting decorative furniture such as LED Bluetooth speakers, portable lamps, animal lamps, floor lamps and LED flower pots. 
So you can have each table with trim and flowers, complete table tops, decorative pillows and floor coverings in custom colors. Create a unique event theme, which will definitely be praised and affirmed by the guests.
Recommend the best LED event lounge furniture for your luxury picnic and beautify any picnic event
Anyone can install LED glow furniture inside and outside your home. Whether you want it to be an indoor party or an outdoor party. The versatility of this innovation depends on the creativity of the owner.
A futuristic approach to events, parties and other fun-filled occasions. LED event furniture is the new trend when gathering with loved ones. This innovation is gaining popularity for its use at parties and events in our homes.
Modular LED Curved Light-Up Bar Counter
This is what we see more and more in events. The bar is one of the most popular venues for events, why not take the usual approach and make it more of a statement piece. One advantage of LED lighting is that you can set multiple colors along the length of the bar to create color gradients. Our modular Curved Light-Up Bar Counter furniture is the perfect solution for event companies.
LED lighting furniture and decor are becoming more common at events today, so let us help create something that will really make your event stand out! Be sure to check out our modular moveable LED bar counter furniture!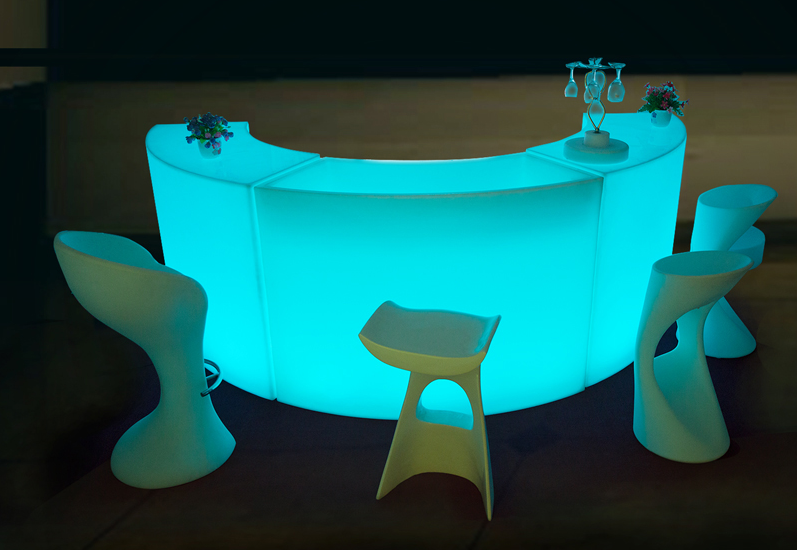 The types of glow chairs and sofas that can be LED-lit, as well as other alternative seating options, are endless. As far as seating is concerned, one thing to note is that you should never sacrifice comfort for a chair that looks cool.
The LED Lighting End Table creates atmosphere and atmosphere at a picnic, which is important for customer retention. The retro design of some tables and bar stools makes them perfect for picnic events, clubs, lounge bars, hotel lobby bars, and more. The Lighting End Table can range in size from a small table for one person to an oversized table that can accommodate many people.
There are many options for lighting your trim pieces – from glow flower pots, centerpieces, floor lamps, and more, LED lighting can truly be the centerpiece of your event decor. In this way, you can instantly create a good atmosphere.
Outdoor entertainment furniture is also a must - Illuminated LED Swing
Whether for kids, outdoors, or indoors, you can choose from a range of unique luminous LED swings. We prioritize safety and ergonomic design. Luminous rocking products are available in materials such as plastic and metal. The beautiful items on this site are designed with comfort and aesthetics in mind. This great round swing chair is the perfect addition to any home, picnic or hotel garden.
Who is using LED event lounge furniture?
Perfect for event planning companies, wholesalers, online sellers, hotels, bars, and more. A wide variety of LED furniture to light up and beautify your event!
Can offer some incredible LED glow furniture options to our customers. Will you also make a statement by throwing in some LED Event furniture at your next event?
Customize Your Luxury Picnic Event Party Furniture
All our LED event furniture can be customized. Our outdoor glowing decorative furniture is designed to add your logo and branding somewhere. Whether you're promoting your brand at trade shows and events, or just want to add your pub logo. We have options for all occasions. Because we do all the graphic design and printing ourselves at home, the options are limitless!
Offer low MOQ and delivery from factory to your warehouse
The MOQ for most products is 1 piece, and we have a variety of styles to choose from. You can order a variety of styles in small quantities.
Location: Jiangbei of Huizhou Road, Huizhou City, Guangdong, China
Tel: +86 18923606158
Email: info@glowfurniturefactory.com
What's app: +86 18923606158