LED wireless speaker ball lights manufacturer
We are a professional LED wireless speaker ball lights factory in China. Providing customized various models of glow decoration lighting furniture. And, provide a variety of innovative products for planning companies, wholesalers, online sellers, hotels, bars, park projects and other organizations.
Product name: Portable led wireless speaker ball lights
Product model: A103B
Product color: white
Product material: PE
Product size: 20 x 20 x 20 cm
Product weight: 0.65 kg
Product battery powered: Li-ion Rechargeable Battery(4000mAH)
Adaptor: Input:110V-240V, Output: DC 5V
Charging time: 4-8hours
Working time: 8- 48 hours up to what color you use
Waterproof standard: IP65 
Lighting mode: Intelligent remote control
LED speaker ball lamp feature:
1. Polyethylene (PE) is a kind of thermoplastic material, not easy to broken but suitable for long time delivery
2. Non toxic, safe for human healthy
3. Rechargeable battery and remote control
4. Multi-colors change & color selection
5. Anti UV & waterproof
6. Adopt the EPISTAR led chip to ensure the color quality and life time.
7. Hooks available. So it can be easily installed.
Float ball with LED light and speaker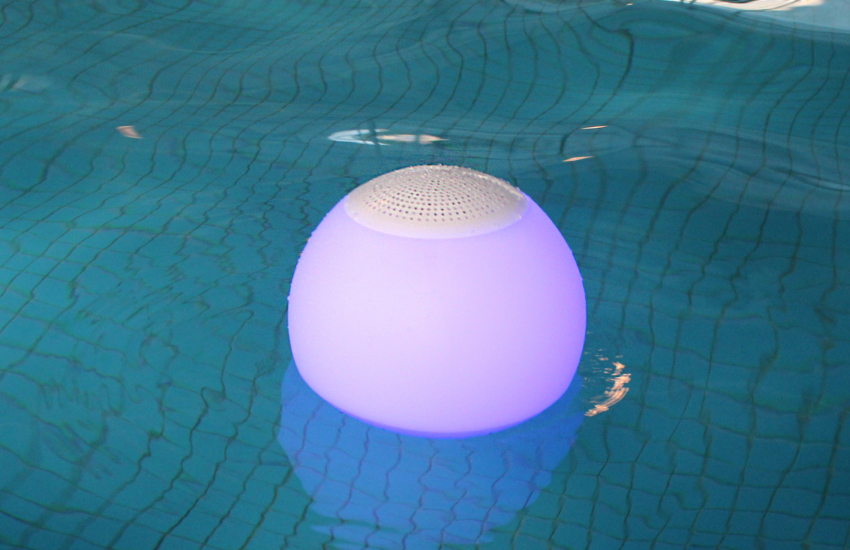 This spherical wireless bluetooth speaker can float in swimming pools and various waters. You can also play music with your kids as they enter the tub! Very safe for human body.
LED speaker ball lamp hanging
Create a party indoors or out with this.
Portable Bluetooth speaker light ball. This speaker ball light has 16 LED colors. High waterproof rating. Can be used indoors and outdoors. The hanging LED Bluetooth speaker ball lamp controls the change of light and music size through wireless remote control. The lights change with the rhythm of the music.
Our Colorfuldeco factory in China
We are a professional LED wireless speaker factory. The factory is in Guangdong, China. As long as you place an order, we can deliver the goods to you directly from the factory. At the same time, we have a variety of styles to choose from. For example, our portable Bluetooth speaker with LED lights. You can order small quantities and multiple styles together and ship them together to save shipping costs.
Welcome event planning companies, wholesalers, online sellers, hotels, bars, park project companies to cooperate. You are also welcome to become our agent.
If you need an LED ball shape speaker light, please contact us. We can offer various LED speakers, you can send an inquiry at the bottom of the page. Due to the time difference, we may reply to you later, but generally not more than 6 hours.
Q1. Can cordless LED ball light speakers be used outdoors?
Yes, our cordless LED ball light speakers are designed to be used both indoors and outdoors. Please check your chosen lamp specification for IP rating.
Q2. Are glowing ball Bluetooth speaker lamps waterproof?
Yes, our glowing ball Bluetooth speaker lamps are IP65 rated, which means they are waterproof to splashes (such as rain) and dust resistant. However, they are not suitable to be submerged in water.
Q3. Is it safe for children?
Yes, the lights we use are low-voltage and low-current. The product has a built-in lithium battery. When it is out of power, it can be charged with a USB cable.
Q4. Do you provide international services?
Yes, we can deliver anywhere in the world using our network of reliable and fast couriers. If you can't see your country during checkout, please contact a member of our team, so we can calculate a rate for you.
Q5. Can I order samples?
Yes, we provide a sampling service to our hospitality and trade professionals. You will need to complete our sample request form. Please note we do charge for our samples however we can provide a full refund (minus delivery costs) if the samples are returned to us. Alternatively, if a subsequent order is placed after seeing the samples, we will deduct the cost from your final invoice.
Q6. Do you offer discounts?
Yes, we can offer discounts for members of the trade such as designers, architects, contractors, and hospitality professionals. In addition, we may be able to offer special discounts for large volume orders. Please contact our customer support team with any questions.