When it comes to the world of nightlife, creating a captivating ambiance is essential. As a visionary business owner in the realm of commercial nightclubs, you understand the significance of leaving a lasting impression on your patrons. This is where LED commercial nightclub furniture takes the spotlight – a fusion of innovation and aesthetics that revolutionizes the way nightclubs craft their atmospheres. In this article, we'll explore the captivating journey of LED furniture as it transforms ordinary nightclub spaces into immersive realms of sensory delight.
Setting the Stage: An Illuminating Symphony of Creativity
LED End Table:
Every detail counts in a nightclub's design, and LED end tables are no exception. Placed strategically around the dance floor and seating areas, these tables seamlessly combine function with artistry, offering guests a space to rest their drinks while basking in the enchanting LED glow.
LED Bar Stool:
The heartbeat of a nightclub is often found at the bar, where connections are forged and memories are made. Introduce LED bar stools to this space, and you'll witness an instant transformation – patrons perched on these stools become part of an interactive light display.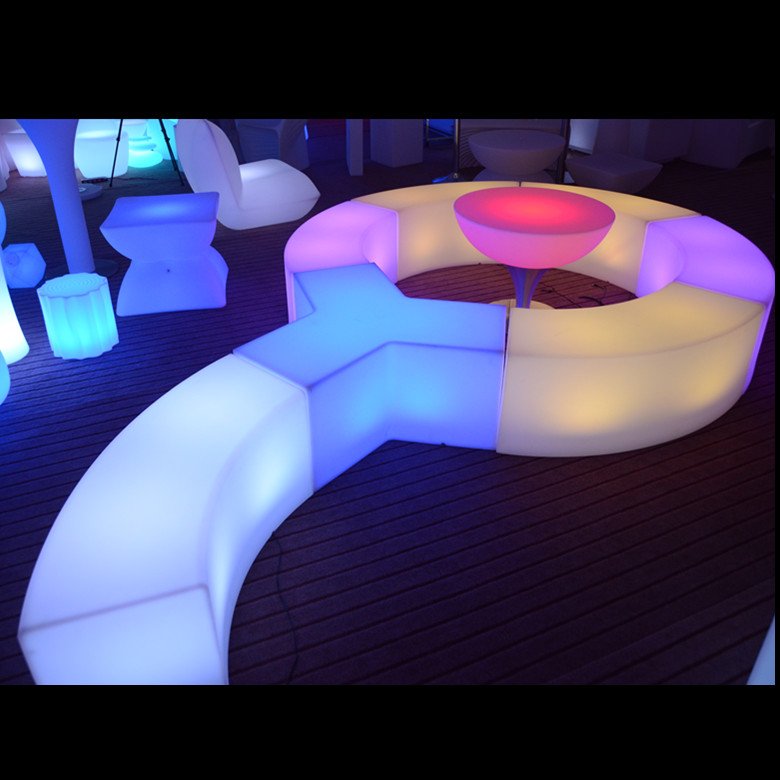 Modern Sectional with LED Lights:
Elevate the concept of lounging with modern sectional with led lights. These chic pieces not only offer comfort but also create an intimate nook where guests can relax, converse, and absorb the pulsating energy around them.
LED Bar Counter:
The bar counter is a canvas waiting to be illuminated. By integrating LED lights, led bar counter can infuse this space with dynamic visual energy, enhancing the act of ordering drinks and enticing patrons to linger.
Outdoor Illuminated Sphere:
Extend the nightclub experience outdoors with outdoor illuminated spheres. These mesmerizing orbs beckon patrons to explore the outdoor spaces, transforming every corner into a captivating stage.
Light Up Cube Table:
Versatility meets visual intrigue with light up cube tables. These pieces serve as functional tables and seating options, adapting their glow to the mood of the moment – from subtle warmth to vibrant animation.
LED Seating Cubes:
Create an interactive dance floor experience with LED seating cubes. Responding to the music's rhythm, these cubes engage patrons in a sensory dance, amplifying the excitement on the floor.
LED Floor Interactive:
Transform the dance floor itself into a dynamic canvas with LED floor interactive elements. As patrons step and groove, the floor comes alive with light, turning every move into a visual spectacle.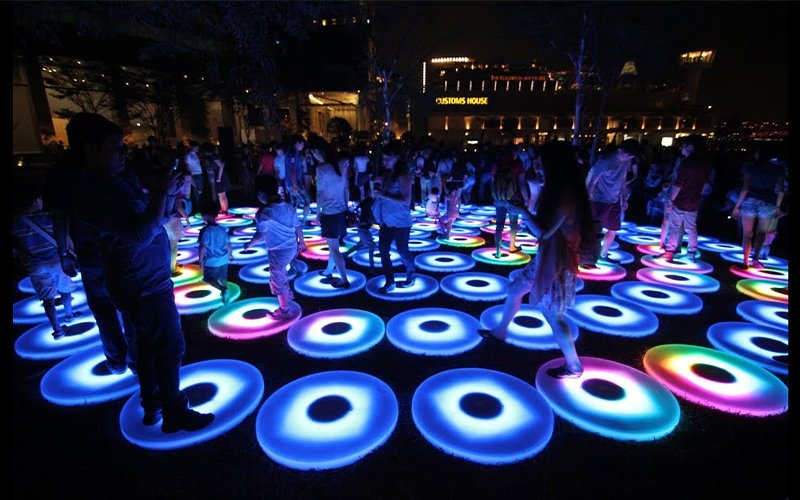 Elevate your nightclub's outdoor spaces with LED planters. Wholesale options allow you to seamlessly integrate these luminous accents, enhancing both aesthetics and ambiance.
Real-Life Case Study: Luminary Nights at Starstruck Haven
Starstruck Haven, a premier nightclub known for its avant-garde approach, harnessed the power of LED commercial nightclub furniture to create a truly immersive experience. LED bar stools and end tables were strategically placed to offer patrons an intimate escape amidst the vibrant atmosphere. The dance floor became a realm of interaction with LED seating cubes and an LED floor interactive, making every night a symphony of light and movement. Starstruck Haven not only retained its loyal clientele but also became a beacon of innovation.
Colorfuldeco LED Furniture: Pioneering Transformation, Elevating Experiences
Colorfuldeco LED Furniture Wholesale Company leads the charge in transforming nightlife landscapes. Their collection of LED commercial nightclub furniture seamlessly marries modernity with spectacle, enabling you to redefine your nightclub's ambiance. Your patrons deserve an experience that lingers in their memories – it's time to make it happen.