Brand: Colorfuldeco
Manufacturer: Colorfuldeco
The contemporary design of Twisted LED Glowing Stool exudes clean lines and an abstract twist, but its asymmetry adds beauty from a different perspective. It is Colorfuldeco's illuminated glowing stool. Angular minimalist in all-white that is a perfect decor at your home or even outside.
Enjoy a refreshing and airy ambiance with this white Twist LED Glowing Stool from Colorfuldeco. Although it does not have a natural design, it can satisfy our craving for elegance and function with simple and clean lines and its classy white tone.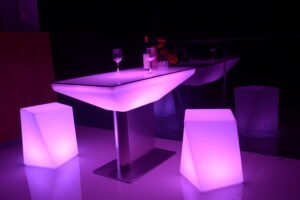 It is a furniture item that can be a focal point at home, in your office, hotels, bars, or outdoors. The Twist LED Glowing Stool's unique style is ecological since it uses led lights that do not emit too much heat and save energy. Yes, unusual, but it is indeed battery-operated. If you match it up with a led coffee high end table, you will be amazed by it. 
Illuminated Color Changing Furniture
 In the field of art, this furniture evokes freedom. Its asymmetrical lines depict beauty with simply breaking free. It doesn't follow the most popular designs for led stool. Instead, it defies by being unpredictable. This led bar stool has a flat surface ideal for sitting, but it has a unique detail around its sides that looks stunning.
Now, another thing to consider is its ability to change colors. The Twist LED Glowing stool can pass as a night lamp, a bedside table, or an emergency light. It uses led bulbs to illuminate a place, and because it is waterproof, you can use it in just about any space. 
Coffee Lounge
The Twist LED glowing light up stools is a piece of beach-inspired furniture that is suitable for coastal houses. It is cozy and comforting while drinking your tequila or wine in a bar overlooking the sunset.
Thus, it can create a refreshing vibe that is perfect for a party night. The Twist LED stool is also great for morning coffee as you watch the daybreak. Travel around with this led stool since it is easy to carry with its four (4)-Kilogram weight.
Specifications:
Length: 50 cm.
Width: 50 cm.
Height: 52 cm.
Weight: 4 kg. or 8.818 lbs.