Best Soccer Ball Light LED 30 cm With 3D Hand-Painted For Theme Party Décor
Brand: Colorfuldeco
Manufacturer: Colorfuldeco
This 3D hand-painted soccer ball light is a fun, unique way to add lighting to your holiday or themed party decor! This novel ball light features an interesting black-and-white football design. Perfect for football fans or football-themed parties!
Get a free quote on soccer ball light now. And click here to see all of our factory exclusive deals. High-end custom Soccer ball light.
New design black and white texture hand painted hanging soccer ball light stage decoration for the World Cup
New design black and white texture hand painted hanging soccer ball light stage decoration for the World Cup
We are the original creators of the unique 3D DMX hand-painted soccer ball light since 2016.
We see that products in this form can incorporate interesting images, people's hobbies, and elements into our designs. Combined with the glowing plinth, our creative minds found their way to show, and it was fun. The LED soccer ball is sure to be the ideal choice for lighting in your holiday or themed party decor.
Features of light up soccer ball:
1. Modern football sport style ceiling light, or floor lamp design, can decorate your bar, any event party in a hotel resort into an unique style.
2. 30 cm diameter soccer lamp can fulfill your thoughts on event decoration.
3. RGB 16 colors changing / Dimmable / 4 modes of color flashing (Flash, Strobe, Fade, Smooth)
4. It can decorate for home, theme cafe, bedroom, hotel, restaurant, library, bar, theme store.
5. Waterproof, UV resistant
6. Remote control is easy to use and easy to clean.
7. 100% waterproof and UV resistant, suitable for outdoor and indoor use.
8. No bulb included, combined with the glowing plinth.
9. Your LOGO can be customized as a branding campaign.
The soccer ball light size: Dia.30 cm
IP Rating: IP68 (completely sealed against dust ingress and moderate water jets)
Rechargeable: 2000mAH, Li-ion Battery
Output: DC 5V 1A
Working time: 8- 16 hours (depending on brightness and color settings)
Recharging time: 2-4 hours
Material Type: Plastic (can float in the swimming pool)
Light Color: RGB 16 color changing freely
Colors and fades controlled by DMX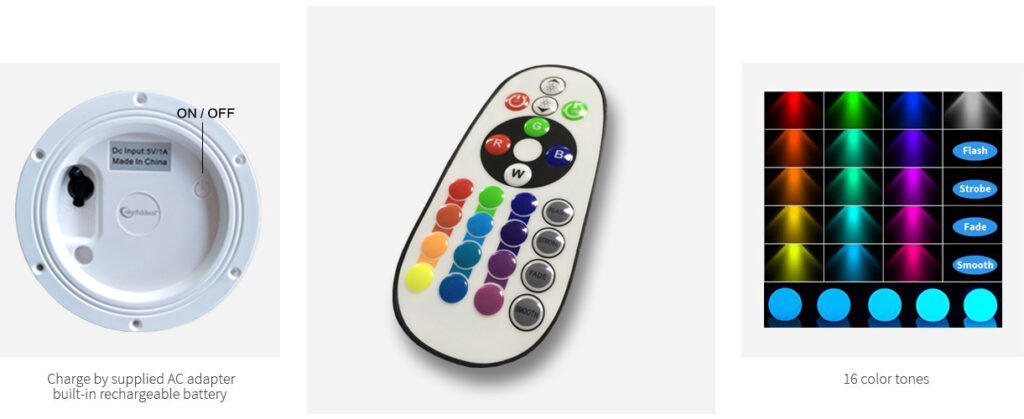 The glow soccer ball lamp package includes:
1 x LED-shaped light soccer ball
1 x Remote control
1 x USB charging cable
1 x hook
1 x Grounding installation
1 X User manual (with full instructions)
Note:
1. Due to the light and screen difference, the item`s color may be slightly different from the pictures.
2. Please allow 0.5-2 cm differences due to manual measurement.
Q1. Do you accept LOGO printing on the product?
Yes, we accept printing. Please send your LOGO to sales people.
Q2. How long is the warranty?
The warranty is 1 year.
Q3. What's PE?
Plastic PE is Polyethylene, characterized by corrosion resistance, electrical insulation (especially high, frequency insulation), low pressure polyethylene suited to make corrosion resistant parts and insulation parts.
Q4. Is it difficult to clean the products after use?
No, you can use alcohol or detergent to clean them, and it will look new.
Q5. What should we concentrate on when using this type of product?
Do not attempt to dismount any LED section and don't place it too on the brink of the hearth and heat area. Use only the charger provided by our company, and skim the user guide sheet within the package carefully before using it.