Brand: Colorfuldeco
Manufacturer: Colorfuldeco
Colorfuldeco's Light-up Cube Seat 30cm is designed to accentuate your house indoors or outdoors. This LED Plastic Night Furniture boasts its colorful ray of strobe lights and its portability. Bring your party wherever you want! The darker the place, the better the view! It can be a captivating sight for a romantic evening too.
A light-up cube seat 30cm is perfect for indoor or outdoor set-up. Its led lamp base is stable in the shape of a cube. Its material is polyethylene, so this cube seat that lights up is sturdy enough to illuminate your balcony or patio. 

It can be an excellent addition to your home décor since its classy look and changing colors can be a great way to impress your guests. You may place them in the playground area, bar, and garden. Don't worry about the led lighting power because the light-up cube seats are fully waterproof, they can withstand rain showers.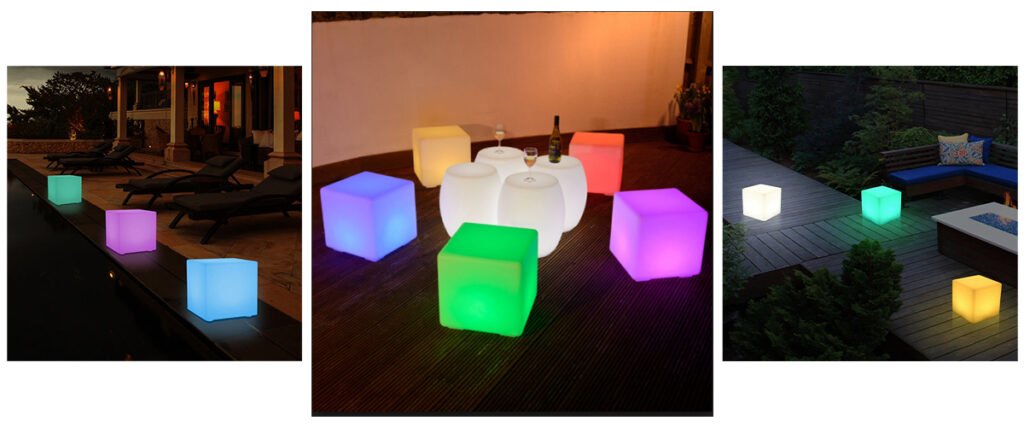 If you have a bar or restaurant to improve, led lighting will surely bring the groove. Since it is a cube lamp, it can make your place stand out with beautiful and color-changing night lights. Let's not forget that it is a seat, so the magical glow underneath can be a fascinating experience for your customers. 
Spas, offices, and hotels may also use these led lights for room accents at their lounge or waiting area. These light-up cube seats are portable, so you can arrange them the way you like them. It is appropriate for corporate events, formal celebrations, or night parties. 
Safe to have indoors - Glow cube chairs
These light-up cube seats are kid-friendly. So you can place them in the playroom or living area. But, they look like light-up ice cubes, don't they? If you fear that they may spike your kids' curiosity, don't worry, the lights are inside the acrylic cube, so it will be difficult for kids to play with.
You may also use this in your bedroom since the led lamp bulbs are color-changing. Switch to dimmer hues in time for sleeping. Light-up cube seats 30cm are not only great for sitting, but they are also aesthetically designed to complement any space. 
Colorfuldeco LED cube light seat video
Model: D103
Product size: 30 x 30 x 30 cm
Plug type: 2 pin plug
Adaptor: DC 5V adapto
Votage: AC 100V-240V,  DC 5V
Material: PE & Build-in LED lampwick
Light: RGB Light
Light Color: 16colors changeable or customize a color
Battery: Li-ion Rechargeable Battery(2000 mAh)
Lifespan: 50,000h-80,000h
Recharging Time:  3-5hours
Working Time: 10-20hours
Waterproof: IP65
Q1. Do you accept LOGO printing on the product?
Yes, we accept printing. Please send your LOGO to sales people.
Q2. What's PE?
Plastic PE, is Polyethylene, characterized by corrosion resistance, electrical insulation (especially high, frequency insulation), low pressure polyethylene suited to make corrosion resistant parts and insulation parts.
Q3. How long is the warranty?
The warranty is one year,under non-human damages.
Q4. Is it difficult to clean the products after using?
No, you can use alcohol or detergent to clean them, and it will look new.