LED Cube Bedside Lamp 15cm
Brand: Colorfuldeco
Manufacturer: Colorfuldeco
Colorfuldeco has an easy way to make your bedroom feel more soothing for a good night's sleep. You can convert your space into a comfortable and romantic nook using a classic piece of RGB Night lamp. Yes, you are not dreaming! LED cube bedside lamp 15cm is an excellent addition to bring out the dreamy side of your favorite sleeping space.
LED cube bedside lamp 15 cm
The LED cube bedside lamp 15 cm is a unique furniture item that can help you focus on your bedtime routine. It creates a relaxing ambiance. So, you can enjoy quality sleep. The Led Cube Bedside Lamp is adjustable to a dimmer tone that makes it the ideal lighting to use before bed.
Complete rest is essential, but for some, it is a luxury. So, how do we get a comfortable sleep to keep us going? Surprisingly, aside from a cozy bed and a cuddle temp, the led cube bedside lamp is what you need to improve your sleep.
Like most of the rooms at home, the bedroom needs ample light to illuminate every space. If you know the basics of layering, then try to use it to define and accustom yourself to the different moods your lights may set. You may need to add stylish led bedside lamps plus led lighting fixtures in your bedroom to send you a signal that it's time for you to sleep.
Benefits of LED cube bedside lighting
The led cube bedside lamp 15cm is flexible. It can promote comfort and productivity while keeping the bedroom well-lit. Its adjustable led light colors can match the interior decorations in the room since they can change from bright to dimmer tones. Super bright-led is something you need to avoid when it comes to bedroom light. Studies show that well-lit rooms can make people sleep less than what he needs.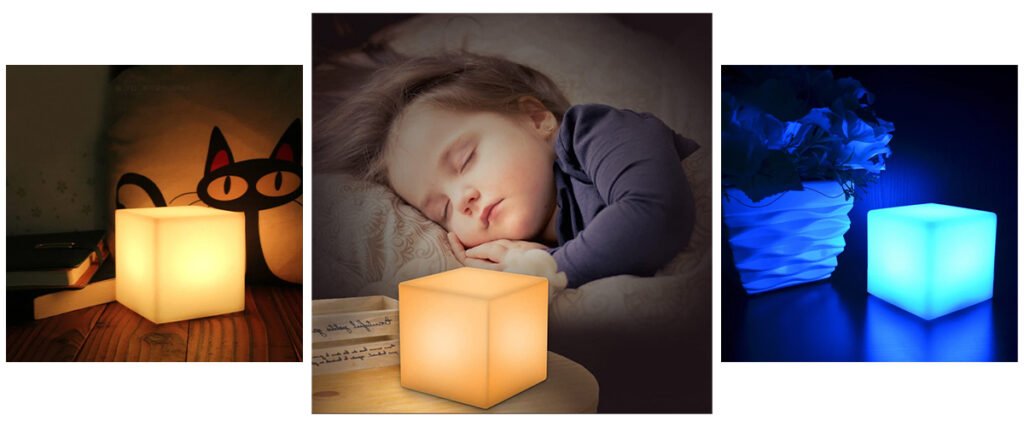 The led cube lamp uses bulbs that can last longer than the ones used for other reading lamps. Since it is a Light-Emitting-Diode, it is energy-efficient, and it will not get hot like fluorescent or incandescent light bulbs. You may say it's a safer option since the lamp bulbs do not emit heat. 
The LED cube lights can magically fit in your bedroom regardless of the size of your space. Its shape can complement a minimalist, classical or contemporary look. 
After a stressful day at work, a comfortable bedroom can keep you connected and feel at home. LED Cube Bedside Lamp 15cm is a great add-on to have if you want to wake up with a smile on your face.  
Welcome to learn more about Colorfuldeco LED glow cubes product.
Mood glow cube light video
Model: D101A
Product size: 15x 15 x 15 cm
Plug type: Without plug
Voltage: AC 100V-240V
Material: PE
Light Color: RGB or custom colors
Battery: No need
Lifespan: 50,000h-80,000h
Q1. Do you accept LOGO printing on the product?
Yes, we accept printing. Please send your LOGO to sales people.
Q2. How long is the warranty?
The warranty is one year,under non-human damages.
Q3. What's PE?
Plastic PE, is Polyethylene, characterized by corrosion resistance, electrical insulation (especially high, frequency insulation), low pressure polyethylene suited to make corrosion resistant parts and insulation parts.
Q4. Is it difficult to clean the products after using?
No, you can use alcohol or detergent to clean them, and it will look new.