LED Column Lights, Lighting LED Table Lamp, Colorfuldeco
Brand: Colorfuldeco
Manufacturer: Colorfuldeco
LED column lights. Indoor and outdoor LED square table lamp operated by rechargeable batteries – 16 colors available remotely. Colorfuldeco Luxury rechargeable LED desk lamp. If your house has a high specification function and needs the highest quality desk lamp. Then this is the best option.
LED column lights of table lamp
The LED column lamp is the perfect accessory for any modern decoration indoors and outdoors.
LED column lights of table lamp
The LED column lights are the perfect accessory for any modern decoration indoors and outdoors.
Waterproof remote controlColumn lights indoor
For those who spend a little more time at home or in the garden. They are perfect. Also, it's a difference that you can see and feel.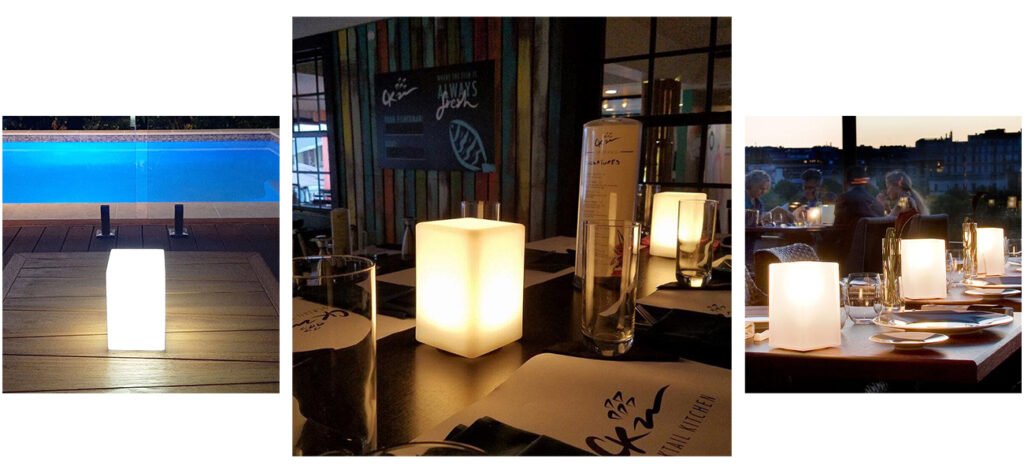 Because it frees of UV, IR, lead, mercury, and other toxic elements. Fits in with any occasion. It is very suitable for desktop lighting, accent lighting or children's lighting.
In addition, the LED table lamp is well-lit and does not get hot. Just charge the lamp through the power supply. Once charged, you can use the lights wirelessly anywhere.
Outdoor column LED lights table lamp features
Portable & Rechargeable: Cordless, can be used anywhere, inside or out.
Color Changing: 16 beautiful RGB colors settings. 16 different color lights, 5-level dimming, and 4 cool light transition effects.
Remote Control: Control the LED lights in one click. Functions include on/off, timer, steady light, candle flicker mode, gradual colour change and dimmer.
IP44 Waterproof: Fully water resistant and dust-protected. Toss them Into a tub or Pool, which may be a floating LED pool light.
Touch-Sensitive: Control the lights. Inductive touch switch.
Model: A126B
Size: 10 x 10 x15 cm
Color: 16 Colors Changing & customized color
Light Source: RGBW LED SMD5050
Material: LL DPE Plastic Material
Protection: IP44
LED Lifespan(h):50,000-80,000
Power: AC110-240V or rechargeable for option
If you only want to invest in your home for the best safety, durability, quality, life and function, beautiful lighting effects. Add a beautiful warmth to any room. So these Colorfuldeco rechargeable LED table lamps are perfect for this.
Q1. Do you accept LOGO printing on the product?
Yes, we accept printing. Please send your LOGO to salespeople.
Q2. How long is the warranty?
The warranty is 1 year.
Q3. What's PE?
Plastic PE is Polyethylene, characterized by corrosion resistance, electrical insulation (especially high, frequency insulation), low-pressure polyethylene suited to make corrosion-resistant parts and insulation parts.
Q4. Is it difficult to clean the products after use?
No, you can use alcohol or detergent to clean them, and it will look new.
Q5. What should we concentrate on when using this type of product?
Do not attempt to dismount any LED section and don't place it too on the brink of the hearth and heat area. Use only the charger provided by our company, and skim the user guide sheet within the package carefully before using it.