Brand: Colorfuldeco
Manufacturer: Colorfuldeco
If you feel like your house is a bit dull and boring, it is never too late to make it look stunning. With the LED cube stool 43cm from Colorfuldeco, you can transform your place into a cozy and enjoyable home. Let the color-changing glow cube create a warm touch in your delightful abode.
Purchasers of led furniture are slowly learning the importance of making a good buy, and LED Cube Stool 43 cm is among their list of must-haves. The stool is sturdy enough to sit a person comfortably. Made of quality material, and it has built-in LED lights that make it stand out from the rest of its kind.
Colorful Illuminated LED Cube Chair can be a decoration for a family party or a cube chair for a playroom. This is definitely a great addition to your home or party! Just enjoy it.
Color changing glow LED light cube stool
LED light cube stool to show various colors that can strobe, flash or fade with some adjustments in the remote control. Its material is polyethylene plastic, which makes it waterproof and durable. Powered by a rechargeable battery, the lights can continue working for long hours.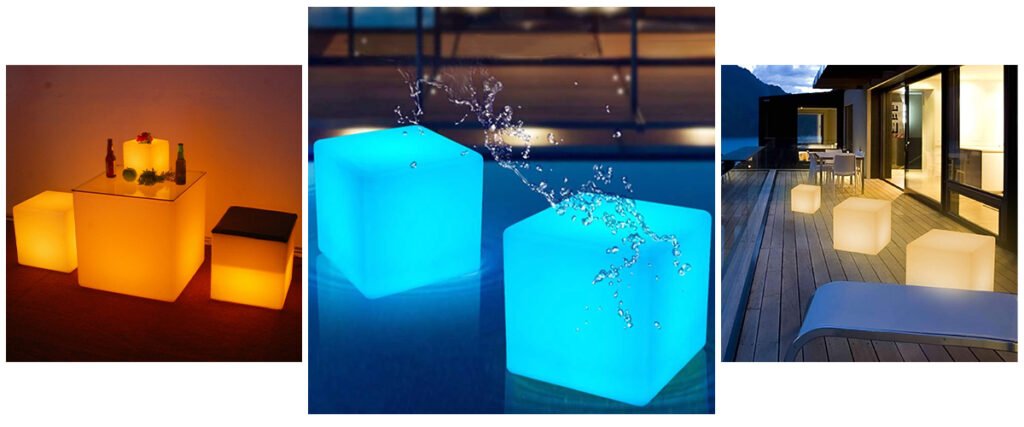 By nature, the LED cube stool is portable. So, you can make use of them anywhere. Whether you place it in your dining area, bedroom, or outdoors. Also, an LED cube chair is a great choice. Hence, it is ideal for occasions or events at night, but it can also be a great addition to illuminate your living room with its warm hues.
An Innovative Decoration - Light up cubes furniture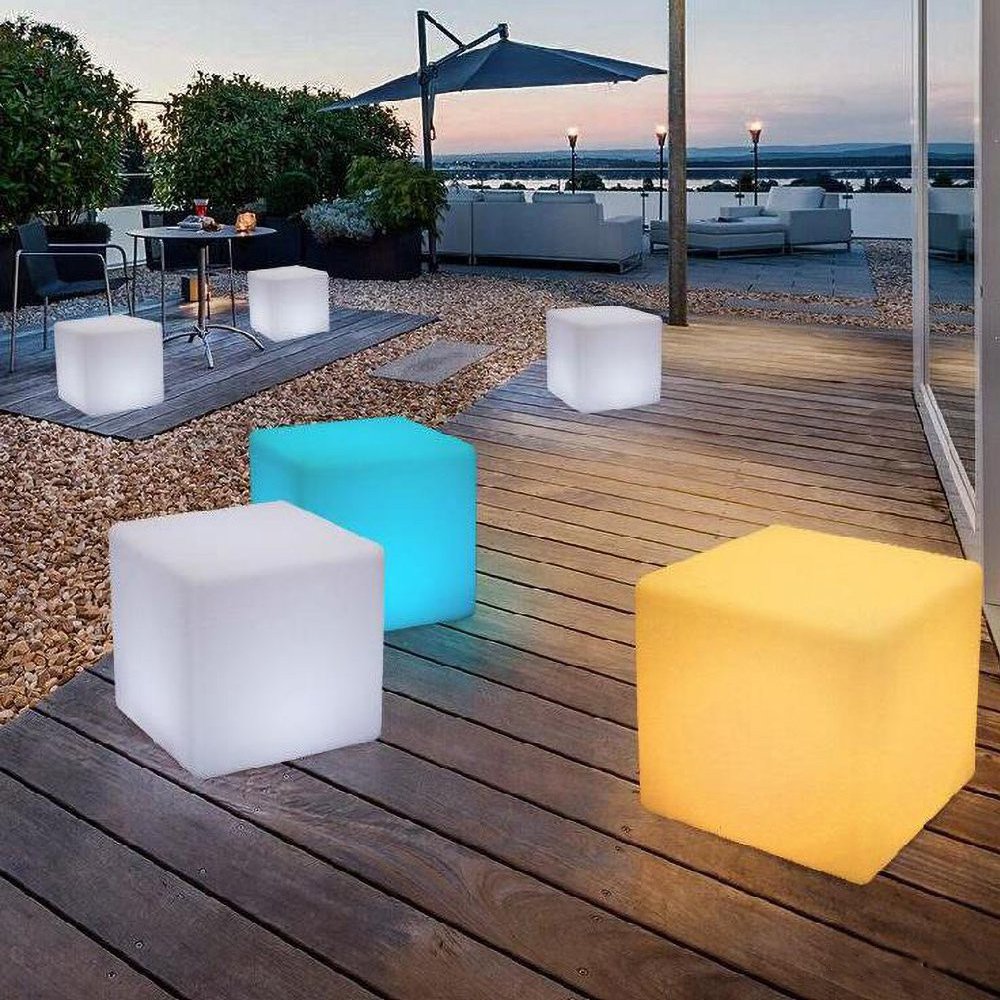 Aside from its principal function of being a comfortable seat, the LED cube stool is also a great addition to your home decoration. It is modern and suited to give a relaxing mood, and it is made possible by the smooth transition of lights. The built-in battery allows it to be a comfortable lounge in your garden or patio.
You can also control its brightness and make your environment dimmer for a more romantic look. If you want to host a party night, you don't need to buy new lights because the LED cube stool has elegant multicolored LED lights to bring in the vibe. Be sure to order in bulk for huge discounts if you want to use them for your next event! More novel products are available in Colorfuldeco LED cube light.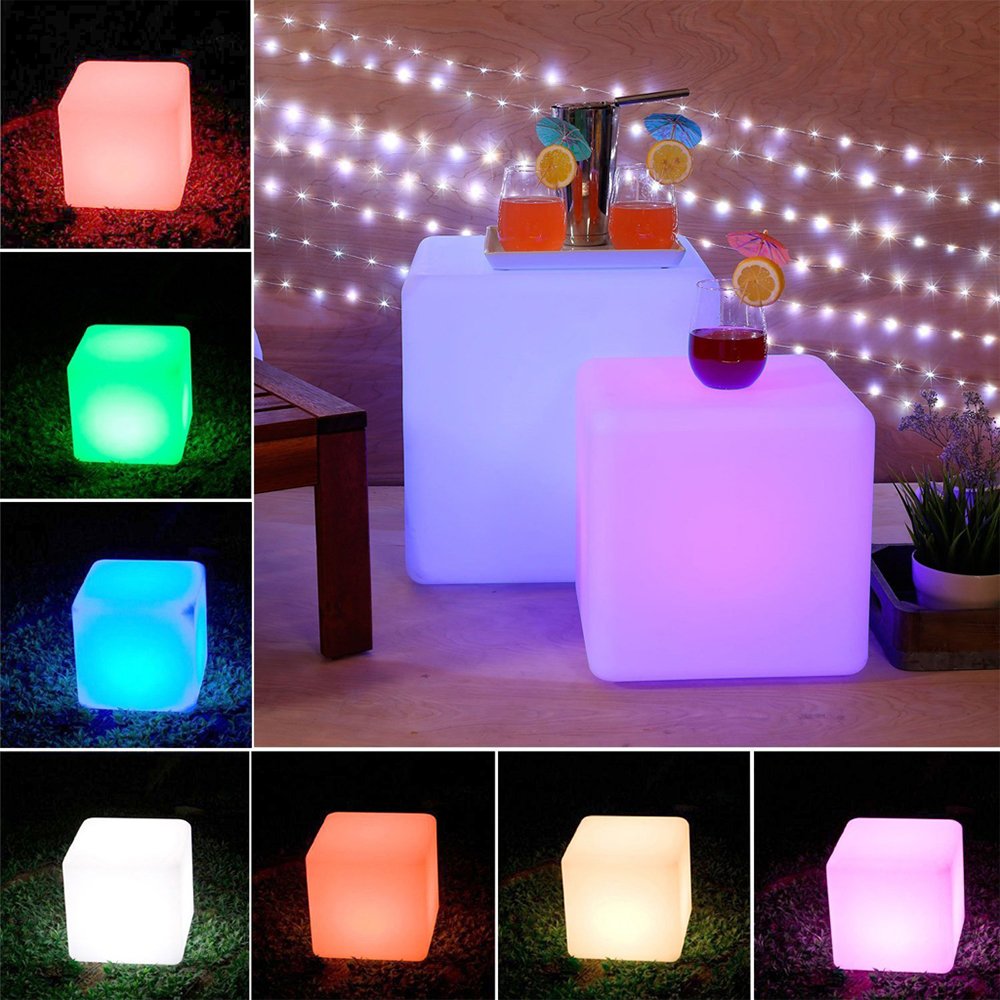 Cube seats that light up of video
Features of LED cube chair light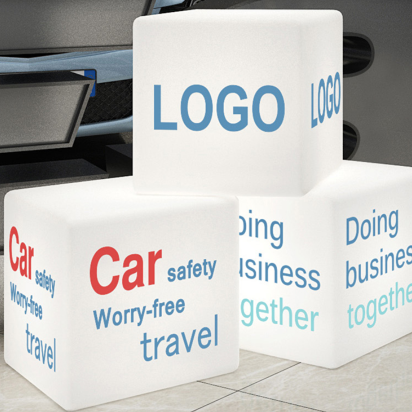 Various DIYs:
.
Cordless portable design;
Monochrome & discoloration;
LOGO stickers required for DIY;
Up to 6 layers can be stacked;
Perfect for weddings, parties, pools, events, hotels, patios or home decor.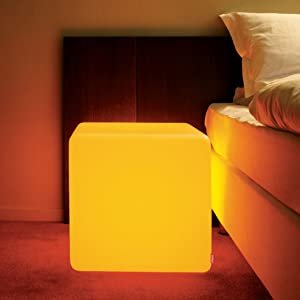 Security Improvements:
.
BPA free for safety.
Short circuit/overload double protection.
Korean PE material;
UV resistant and unbreakable;
Adult maximum loading capacity of 300 ponds;


Two-way control solution:
.
Manual operation and remote control,
Super bright: 10W LED power;
Remote control distance 5-8 meters;
Brightness options: 10-100%;
Waterproof: outdoor IP65;
Model: D105
Product size: 43 x 43 x 43 cm
Adaptor: DC 5V adapto
Votage: AC 100V-240V,  DC 5V
Material: PE & Build-in LED lampwick
Light: RGB Light
Light Color: 16colors changeable or customize a color
Battery: Li-ion Rechargeable Battery(2000 mAh)
Lifespan: 50,000h-80,000h
Recharging Time:  3-5hours
Working Time: 10-20hours
Waterproof: IP65
Q1. Do you accept LOGO printing on the product?
Yes, we accept printing. Please send your LOGO to sales people.
Q2. What's PE?
Plastic PE, is Polyethylene, characterized by corrosion resistance, electrical insulation (especially high, frequency insulation), low pressure polyethylene suited to make corrosion resistant parts and insulation parts.
Q3. How long is the warranty?
The warranty is one year,under non-human damages.
Q4. Is it difficult to clean the products after using?
No, you can use alcohol or detergent to clean them, and it will look new.
We do not accept merchandise for return unless items are defective, in which case they will be replaced, subject to availability, or refunded at buyer's discretion.
If the return is caused by the product quality or a mistake from us, you will be guaranteed to get 100% refund.
We offer a 90-day return policy.
Gifts redeemed are non-returnable and cannot be exchanged for cash.
If we have refunds agreements, you will be responsible for the return shipping charges. The balance will be refunded back to you after we receive the items.