Color Changing LED yo-yo Stool
Brand: Colorfuldeco
Manufacturer: Colorfuldeco
The Color changing LED Yo-Yo stool is a new furniture development from Colorfuldeco. It is a cute white stool with an hourglass design. It allows people to move comfortably while providing an adequate amount of light. This LED outdoor light showcases a pinch of contemporary style. Pair it with a gorgeous led table lamp for a classic sight.
Color Changing LED YoYo Stool
If you want to create an astounding outdoor view at night, the Color Changing LED yo-yo Stool from Colorfuldeco will surely be a delight. Whether you are preparing for a family gathering or a formal celebration at work, the yo-yo stool can make your event amazingly beautiful.
The Color-changing LED yo-yo stool is perfect for a spacious layout. With its small diameter, you can easily transport it to places which makes it suitable for events and meetings. It is white in default, but the built-in led bulbs can switch colors from green, red, blue, warm yellow to white.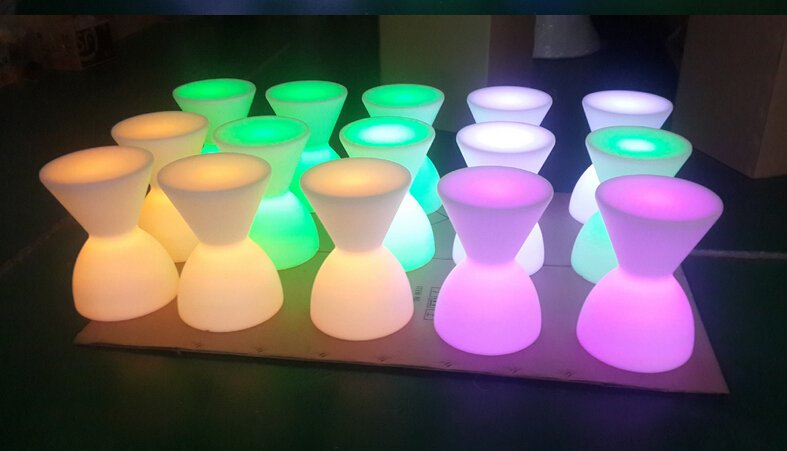 LED Outdoor Light
Roughly about four (4) Kilograms in weight, you may carry this Color-changing LED Yoyo-stool by its waist. Although it is a yo-yo stool, surprisingly, it also depicts the image of an hourglass. A subtle dramatic touch and you can boost the design plot of your garden or patio with the color-changing led yo-yo stool. Since its color changes, be careful not to use dimmer hues in dark places to avoid accidents.
You can transform your humble home into a modern and well-lit place with just these stools alone. Set it up with Colorfuldeco's led glowing end table piece to complete your coffee nook. 
A Robust Statement Piece
Do you want to optimize the use of this led bar stool? Enhance the quality of your home by making it accentuate your living area. If your bar or kitchen may seem outdated, improve its look by putting up some color-changing LED yoyo stool to provide more seats. You may even create an opulent ambiance in your bedroom with this.
As a nature-inspired lamp in pearl white, the color-changing LED yo-yo stool is the chic light-up bar stools that complement various interior designs. Whether loud or subdued, it can adapt to whatever environment you choose. 
Short Description
Length: 42 cm.
Width: 42 cm.
Height: 37 cm.
Weight: 3.54 kg. or 7.80 lbs.