Want to invite your friends to a one-of-a-kind party? Then you should consider having a pool party in the evening! Make your pool party feel like an incredible nightclub. This party swimming pool room furniture is the perfect setting for creating unforgettable events.
Take the time to purchase a fun swimming pool LED furniture bar that can amplify the party atmosphere. While regular lights can get the job done, your party will look even cooler if the neon lights are flashing underwater. Don't forget to install additional lights around your deck if lighting is insufficient. People need to move around safely and see what they are eating and drinking.
Luxury indoor LED pool furniture designed to complement your hotel resort
The pool furniture ideas are endless. So let's go bold and decorate a swimming pool bikini themed party!
Here are our adult pool bikini LED furniture bar party ideas on how to create the perfect party, giving you and your guests the peace of mind knowing you've paid attention to every detail.
LED furniture for mini family pool house
Would you rather invite friends over than chat over cocktails at the hottest new bar? If you do, I highly recommend you consider setting up a mini home bar. That's because home entertainment has never been cheaper, and making cozy drinks at home for your friends is fun and exciting! Also, the trendy mini home bar is sure to be the talk! We can help you achieve this goal. You can create a mini home bar with our pool room furniture products such as portable bar counters, LED cube stools, LED sofa covers and more.
Removable LED cocktail drink table for swimming pool
The removable LED cocktail drink table is a stool that consists of a round surface on the top and a cone on the bottom, and a lamp in the inner. It is perfect to furnish terraces and patios and a swimming pool in an unusual. Drink Table is a design item with double function: it is a cocktail table but also a decoration light.
swimming pool table and stools
The Color changing LED Yo-Yo stool is a new furniture development from Colorfuldeco. It is a cute white stool with an hourglass design. It allows people to move comfortably while providing an adequate amount of light. This LED outdoor light showcases a pinch of contemporary style. Pair it with a gorgeous led table lamp for a classic sight. but also a swimming pool table.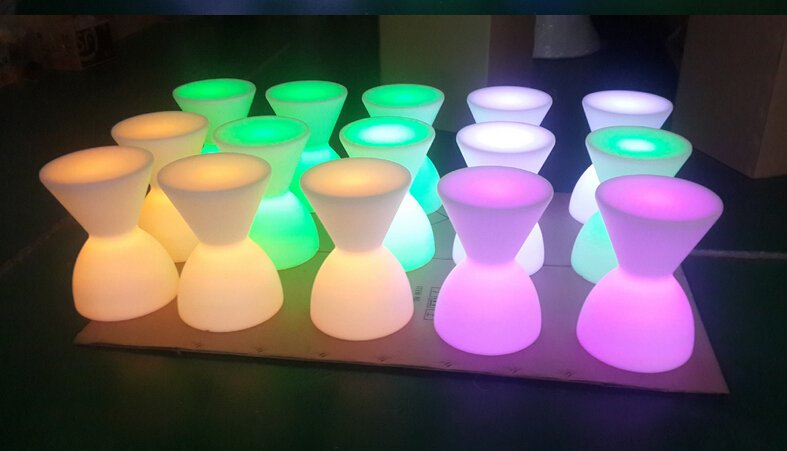 Surf design LED lounge chair, outdoor chair furniture in pool
The flowing waves that make up the SURF seat and leg rest suggest a sense of calm. Surf design led lounge chair with smooth line interaction. Ideal for garden, pool, SPA, or home or office. Available in matte or high-gloss plastics. This outdoor surf lounge chair creates a sense of calm and relaxation with its smooth silhouette. Reminiscent of soft ocean waves.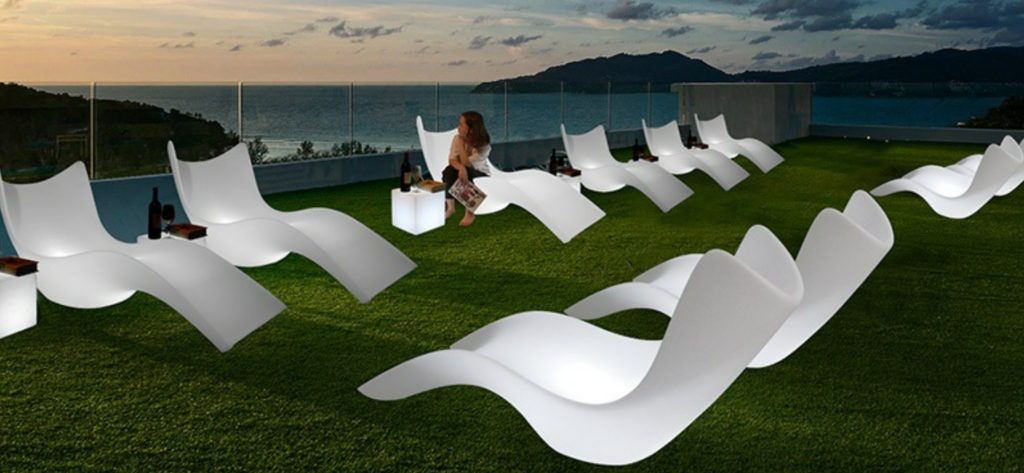 Wave LED bar counter straight
This Wave LED Bar Counter Straight is easy to circle about whether you're drinking wine with some friends or arranging led bar furniture next to it. Its open design keeps the piece unobtrusive and gives you and your guests a great place to kick back and stretch out around. It's ideal for small swimming pool room furniture.
Koncord Bar Stool in pool furniture
The Koncord bar stool pool furniture is stackable, lightweight, and easy to transport. It is excellent for both indoor and outdoor functions. However, it may deform under excessive heat temperature or in case of overloading.
Most high-end celebrations are inclined to use this stool with its sleek and sensual form. It is the kind of style that can complement most spaces.
Glow in the dark ball lamp
Perfect Glow in the dark ball lamp 25 cm decoration adds light for your yard, swimming bath, garden, backyard, terrace, bedroom, and great path. It is often persisted in a tree or ceiling, or it is often fixed on the bottom with wooden stakes. Ambient light, creating a soothing and relaxing environment for indoor and outdoor.
As a China LED swimming pool room furniture manufacturer, we specialize in the design, production, and selling of indoor-outdoor LED swimming furniture. Colorfuldeco specializes in production and sales so that customers all over the world can buy LED swimming pool bar furniture of higher quality.
Colorfuldeco has had more than two hundred types of light-up party furniture since its creation in 2016 and strives to make it possible for every customer to buy any LED pool lighting furniture they want from us.
Offer low MOQ and delivery from factory to your warehouse
The MOQ for most products is 1 piece, and we have a variety of styles to choose from. You can order a variety of styles in small quantities. It can meet your promotional business very well.
Location: Jiangbei of Huizhou Road, Huizhou City, Guangdong, China
Tel: +86 18923606158
Email: info@glowfurniturefactory.com
What's app: +86 18923606158