The VIP lounge area in a gym is a space dedicated to providing an exclusive and luxurious experience for premium members. Integrating LED furniture into the VIP lounge of the gym can take the concept of luxury to new heights, creating an environment that exudes sophistication and indulgence.
LED Lounge Seating: Plush and comfortable lounge seating embedded with LED lighting can transform the VIP area into a captivating oasis. LED-lit sofas, ottomans, and lounge chairs can emit soft, ambient lighting, setting a relaxed and inviting atmosphere for VIP members to unwind and socialize. The customizable lighting options can be adjusted to match the mood or theme of the lounge, whether it's a vibrant, energetic ambiance or a soothing, calming environment.
Illuminated Cocktail Bar: A VIP lounge is incomplete without a well-stocked cocktail bar. Incorporating LED lighting into the bar area can create a visually stunning focal point. LED-lit bar counters, shelves, and bottle displays can showcase an impressive collection of beverages while providing an alluring glow that enhances the overall ambiance. The LED lighting can be programmed to change colors or patterns, adding an element of excitement and enchantment to the VIP lounge experience.
Interactive LED Glow Games: To further elevate the VIP lounge experience, consider integrating interactive LED games. LED swing chair or interactive LED floor tiles can provide entertainment and engagement for VIP members. From sitting in glow seating and talking elegantly to interactive games, these LED-powered glow games add a unique and playful touch to the lounge area, fostering a sense of camaraderie and fun among the VIP clientele.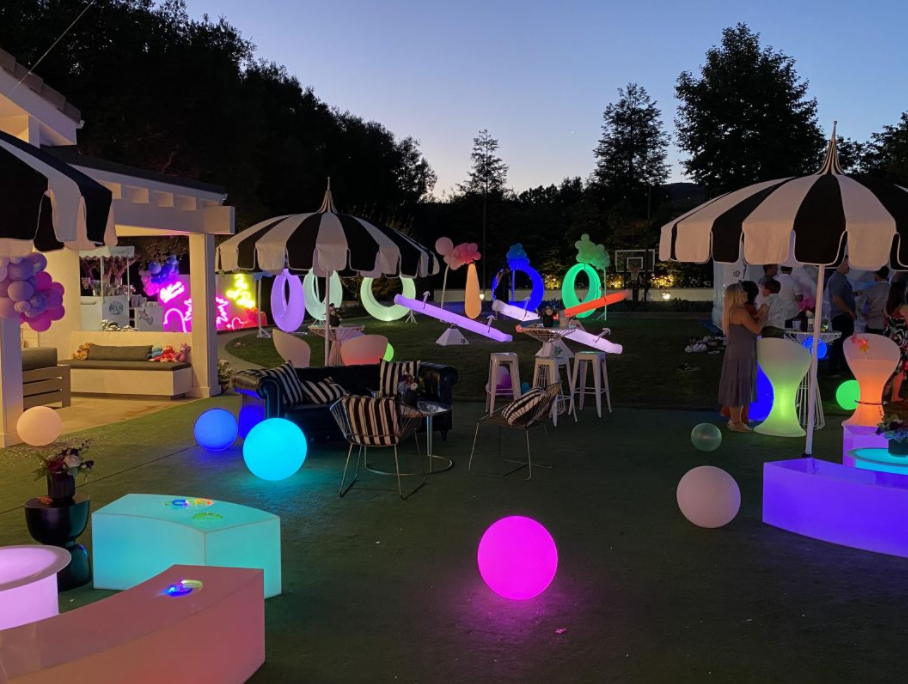 Real-life Example: The EliteFit Gym implemented LED furniture in their VIP lounge area to create a truly immersive and upscale experience. LED-lit lounge seating, a mesmerizing illuminated cocktail bar, and interactive LED games became the centerpiece of the lounge, impressing VIP members with their exclusivity and adding a touch of glamour to their fitness journey.
By incorporating LED furniture into the VIP lounge area of your gym, you can create a space that goes beyond expectations. The captivating illumination, stylish design, and interactive elements of LED furniture will leave a lasting impression on VIP members, making them feel valued and pampered.
At Colorfuldeco LED Furniture, we offer a wide selection of LED furniture designed to elevate VIP experiences in gyms. Contact us today to discover how our LED furniture can transform your VIP lounge into a haven of luxury and sophistication.