Are you looking to take your rooftop bar to the next level? Do you want to create an atmosphere that will make your guests never want to leave? LED glow furniture is the perfect addition to your rooftop bar!
LED furniture has become increasingly popular in the hospitality industry, and for good reason. The vibrant colors and unique designs of LED furniture can create a visually stunning ambiance that will leave a lasting impression on your guests. Not only that, but LED furniture is also functional and versatile, allowing you to create different seating arrangements and social spaces.
One example of a successful rooftop bar that has incorporated LED furniture is the WET Deck at the W Hotel in Barcelona. The rooftop bar features a variety of LED furniture, including illuminated tables, chairs, and even a glowing bar. The vibrant colors and unique designs of the LED furniture add to the already impressive views of the city skyline and create an unforgettable experience for guests.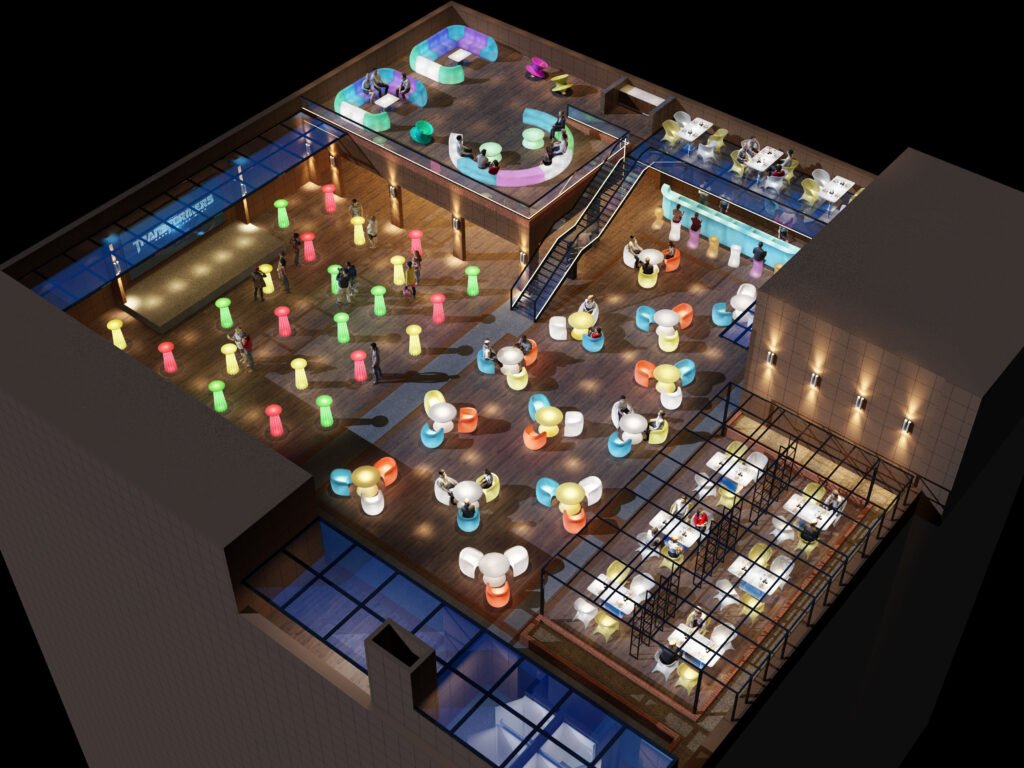 Design Considerations for rooftop bars
When designing your rooftop bar layout, consider the flow of traffic and the placement of key features such as the bar and seating areas. It suggests that LED furniture, including tables and chairs, can be used to create different seating areas and social spaces, and that LED decor items such as pillars or archways can be added to enhance the overall ambiance of the rooftop bar.
Furthermore, interactive elements such as LED glow games(LED swings, seesaw, LED dance floor tiles) or LED cubes photo booths can be incorporated to engage guests and make the experience even more memorable. By doing so, guests will not only enjoy the beautiful view and drinks but also have an opportunity to participate in fun activities.
Overall, the importance of designing a rooftop bar layout that is both functional and visually appealing. The use of LED furniture and decor items can help to create a unique and exciting atmosphere that sets the bar apart from others. LED furniture is also practical for outdoor spaces, as it is waterproof and durable enough to withstand different weather conditions. This makes it a perfect option for rooftop bars or other outdoor events.
In conclusion
At Colorfuldeco LED Furniture, we offer a wide range of LED furniture options that can be customized to fit your specific needs and preferences. Whether you're looking for a specific color scheme or design, we can work with you to create the perfect LED furniture pieces for your rooftop bar.