Snowfest events usher in the enchanting beauty of winter, creating a wonderland of snow and joy for families and revelers. But what if you could elevate this magic to an entirely new level? Enter LED furniture – the secret ingredient to turning your Snowfest event into a luminous spectacle that leaves everyone in awe. In this captivating journey, we'll explore how LED furniture from Colorfuldeco LED Furniture Manufacturer can redefine the winter festival experience.
Enchanting Winter Ambiance:
Picture this: a serene snowy landscape illuminated by the soft, mesmerizing glow of LED chairs, stools, sofas and bar counter. Our LED furniture is designed to transform any Snowfest event into an enchanting wonderland. With a spectrum of colors at your fingertips, you can create an ambiance that matches the magic of the season.
As the snow blankets the world around you, our LED furniture comes to life, infusing warmth and brilliance into your event. Imagine your guests, wrapped in cozy blankets, gathered around LED coffee tables, sipping hot cocoa, and sharing stories. These moments, bathed in the gentle embrace of LED light, become cherished memories that last a lifetime.
LED Furniture for All Ages:
When it comes to Snowfest events, inclusivity is key. That's why our LED furniture lineup caters to all ages, ensuring everyone can join in on the fun.
Imagine swinging under the starry night, surrounded by a mesmerizing LED glow. It's an experience that appeals to both the young and the young at heart.
LED Seesaws:
Our LED seesaws combine safety and entertainment, bringing smiles to children and parents alike. They're the perfect addition to family-oriented Snowfest gatherings.
The whimsical charm of our Spun chair adds a touch of magic to Snowfest events for all generations to enjoy. It's not just a chair; it's a portal to a world of fun and delight.
But the excitement doesn't stop there. Our LED Interactive Floor Tiles take Snowfest to a whole new level. These cutting-edge tiles turn the ground beneath your feet into an interactive canvas of light and color. Kids and adults alike can explore and create, adding an extra layer of enchantment to your event.
Experience the magic of Snowfest event with our LED games furniture. It's more than furniture; it's a gateway to unforgettable moments for everyone.
Capturing Memories with Light:
LED furniture isn't just about aesthetics; it's about crafting memories that last a lifetime. Imagine your guests gathered around an LED coffee table, sipping hot cocoa, and sharing stories. These moments, captured in the warm embrace of LED light, become cherished memories. To add a personal touch to your Snowfest event, consider our customizable LOGO LED cube seats. They not only provide comfortable seating but also a unique way to showcase your brand or event logo, leaving a lasting impression on your guests.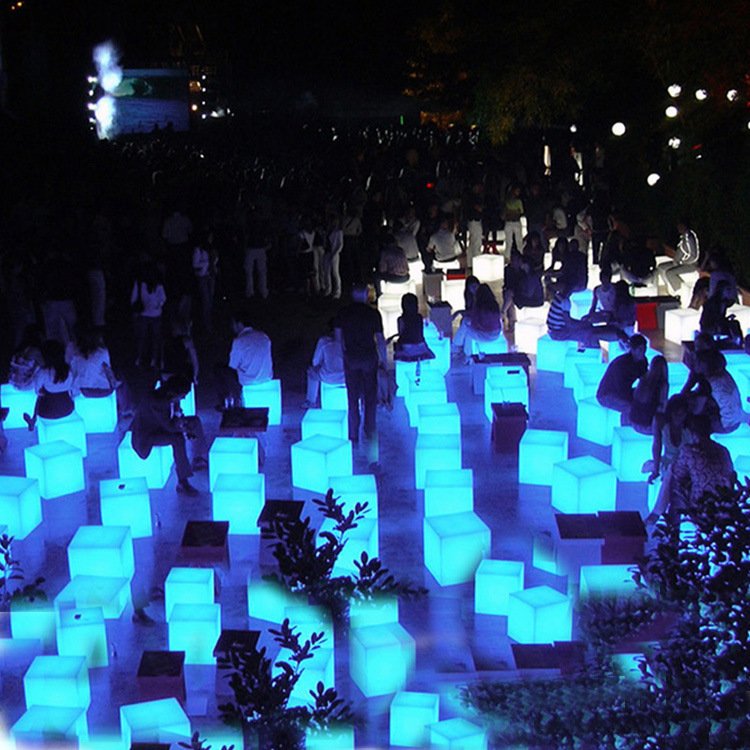 Eco-Friendly Brilliance:
At Colorfuldeco LED Furniture Manufacturer, we're committed to sustainability. Our solar-powered LED furniture not only adds charm to your Snowfest event but also aligns with your eco-conscious values. Solar light planters and planter lights blend the beauty of nature with the brilliance of LED technology.
Contact Colorfuldeco LED Furniture Manufacturer:
Are you ready to make your Snowfest event shine brighter than ever? Explore our extensive range of LED furniture and create a winter wonderland that guests will never forget. Contact Colorfuldeco LED Furniture Manufacturer today and illuminate the magic of Snowfest events.
Conclusion:
As you prepare for your Snowfest event, remember that the magic lies in the details. LED furniture isn't just furniture; it's the key to creating an enchanting winter experience. Whether you're planning a community Snowfest, a romantic evening under the stars, or a family-friendly gathering, our LED furniture sets the stage for unforgettable moments. Embrace the LED revolution today, and let Colorfuldeco LED Furniture Manufacturer be your partner in creating winter wonder.