Introduction:
Lights, camera, action! Imagine watching your favorite movies in the comfort of your own home, surrounded by a mesmerizing display of LED glow furniture. In this article, we'll explore how LED furniture can enhance your movie-watching experience and transport you into a world of cinematic magic.
Setting the Stage: Designing Your LED Movie Room
To create an immersive movie experience, start by designing your LED movie room. Consider the placement of LED sofas, chairs, and tables to optimize comfort and viewing angles. Round LED Ceiling Light can be installed along the walls or ceiling to create a captivating ambiance, while LED interactive floor tiles can add a futuristic touch to the overall decor.
Enhancing the Viewing Experience with LED Furniture
LED furniture goes beyond aesthetics; it can also enhance the functionality of your movie room. LED coffee tables with built-in coolers keep your beverages within reach, while LED Glowing Side Table provide a convenient spot for snacks and popcorn. LED recliners with built-in speakers and subwoofers lights provide a truly immersive audio experience, making you feel like you're part of the action.
Real-life Example: The AMC Theater in Los Angeles has incorporated LED glow furniture into their VIP movie rooms. Guests can enjoy the ultimate movie experience while lounging on LED sofas, sipping drinks from LED Tray holders, and marveling at the LED decor lights that transforms the space into a cinematic wonderland.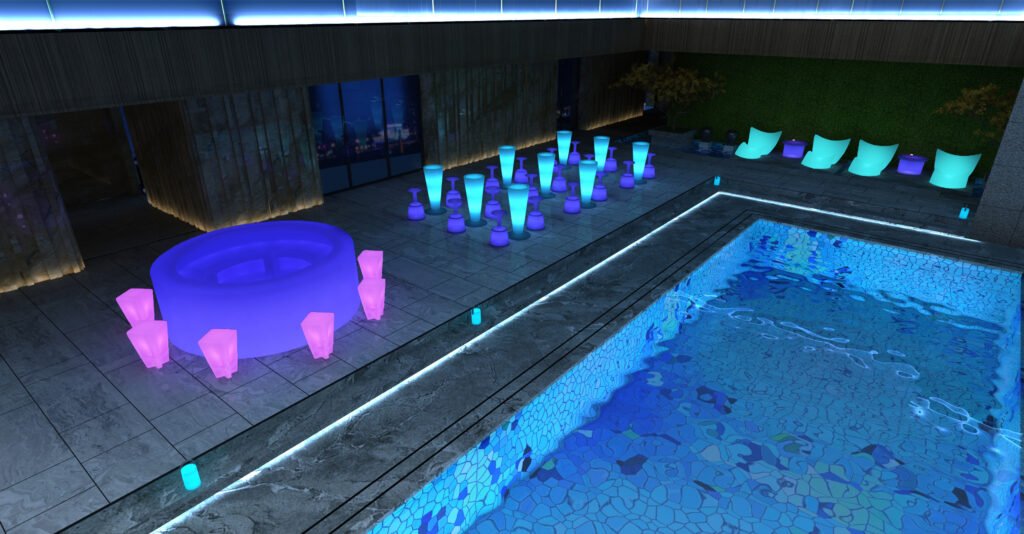 Creating Dynamic Lighting Effects
Take your movie experience to the next level by utilizing the dynamic lighting effects of LED furniture. color-changing LED coffee tables and LED end tables can sync with the on-screen action, immersing you in a world of vibrant colors and mood-setting lighting. LED floor panels can simulate the flickering of candlelight or the glow of a sunset, adding depth and dimension to your viewing experience.
Conclusion:
Transform your movie nights into unforgettable cinematic adventures with LED furniture. From designing your LED movie room to incorporating functional and visually stunning LED furniture pieces, you can create an immersive experience that rivals a trip to the theater.
At Colorfuldeco LED Furniture, we offer a wide range of LED furniture options that can be customized to fit your specific needs and preferences. Whether you're looking for a specific color scheme or design, we can work with you to create the perfect LED furniture pieces for bringing the magic of LED glow furniture into your luxury theatre.