As a leading planter lights outdoor factory, we wholesale multiple models of outdoor planter solar lights for your social events and weddings. Today we introduce a range of attractive planter lights outdoor for social events and weddings.
What type of lighting is best for outdoors?
Light-emitting diode (LED) bulbs are a popular option, and while they cost more than other bulbs, they last considerably longer. Other common options are compact fluorescent (CFL) or halogen bulbs.
Our planter lights outdoor panel is different from other low-quality panels. Because we use SMD5050 RGB+W LEDs and 3014 white LEDs. Its advantage was mentioned in the introduction of the Bluetooth glow swing. That is to say, our power storage and usage time are 25% higher than other products.
The RGBW LED SMD 5050 is actually a 'quad' chip, meaning it has for smaller chips in every SMD. So each white LED actually has four chips inside.5050s can also be used for color-changing LED tape, with red, green, blue and white chips inside each LED. By linking this type of RGB LED strip light to a controller, you can mix any shade of any color you choose. Therefore, our LED panel can save more electric energy to work a long time, reach to 8~10 hours. At the same time, because of the 4 in-1 RGBE LED, our light panel can accommodate more LEDs. So our light panel is lighter than the ordinary light panel.
Best outdoor planter lights
Our best outdoor planter lights are versatile, weather resistant, and used indoors and outdoors plus they come in many different sizes and shapes. Some illuminated planters with solar power allow them to be placed anywhere. Others that require power limits their ability for placement in some spaces. Use them stand alone around a pool, the entrance to a home, out on the patio, or a variety of other locations. What's more exciting is, some of these planter lights outdoor lighting devices come with a rechargeable battery and can be turned on and off using a remote control!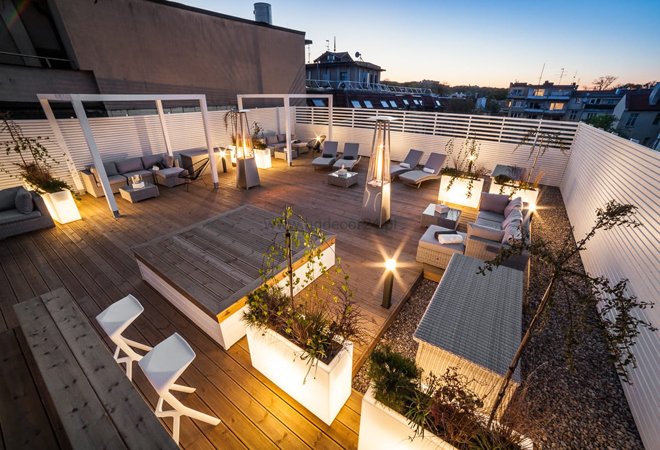 The most basic functions of outdoor planter solar lights
These outdoor planter solar lights do not look to be anything out of the ordinary. They can act as a light source, useful in multiple ways. They are very attractive, and they can be used ordinarily as pots or double as an ice bucket when entertaining, either indoors or outdoors. Furthermore, they're eye-catching glow in the dark flower pots.
This white planter lights outdoor design is simple yet seems very elegant. It blends well with any surroundings, and the "glow" will surely make it the center of attention. These solar power flower pots come in vivid and memorable colors that emit a slight glow to excite visual interest. The glow does not entirely illuminate the patio, either.
Ways to create a cozy atmosphere with outdoor planter pots lights
This outdoor planter pots lights made from a polyethylene material lights up and emphasizes the beauty of your treasured flowers whether it is night or day, making them a real centerpiece of your garden. Create a geometrically and aesthetically pleasing theme for your garden at night with these outdoor planters that will light up your path.
Colorfuldeco outdoor planters with solar lights Factory For Various Event Party Occasions
Colorfuldeco is a professional outdoor planters with solar lights furniture factory in China. Focus on exporting planter lights outdoor for hotel, bar, and resort event decorations all over the world. We have a variety of styles to choose from. To help make your event party planning process as stress-free as possible, we have a range of event party decor LED furniture lighting to suit your needs!
You can order small quantities of multiple styles together and ship them together to save on shipping. Looking forward to your emailing us!
Location: Jiangbei of Huizhou Road, Huizhou City, Guangdong, China
Tel: +86 18923606158
Email: info@glowfurniturefactory.com
What's App: +86 18923606158